Saoirse Ronan joined Jennifer Lawrence, Blanca Blanco, Allison Williams, and Sofia Carson on the red carpet at the 2018 Academy Awards held at the Dolby Theatre on Sunday in Hollywood. She wisely chose not to show off her crypt keeper feet that shocked everyone on Saturday.
Working with stylist Elizabeth Saltzman, the first-time 'Lady Bird' nominee hit the red carpet in a lovely pink Calvin Klein by Appointment gown featuring a voluminous bow and long train. She styled her silk faille strapless dress with Christian Louboutin pumps, a Jimmy Choo clutch, and Cartier jewelry. Don't you think her gown would have been more appropriate for the Tony Awards or even the Emmy Awards?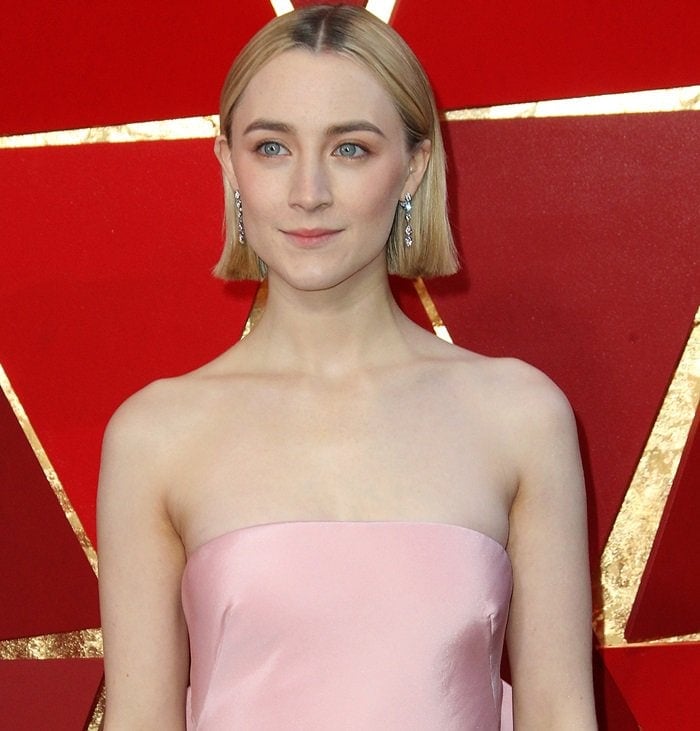 Saoirse Ronan accessorized with Cartier jewelry at the 2018 Oscars at the Hollywood & Highland Center in Hollywood, California, on March 4, 2018 
"It's almost like everything disappears and there's Saoirse," says Saoirse's stylist Elizabeth Saltzman. "The dress is absolutely simple, clean, and then you turn around! But it's all about the art of dressmaking at its finest. This was about, 'How do you make all the attention just be on Saoirse? How do you make it iconic and memorable? ' We started by thinking of words like 'clouds' or 'the sky' which made everyone think of billowy and big. But then we realized that it was more about angelic and ethereal. So that's where we went. And then we went for timeless. It won't be dated. It could be any era but it's still very modern. I'm sure that people will think it's simple, but if they only understood the construction and how much work and time and talent it actually takes to make a simple dress, to keep deconstructing while constructing—I'm in awe of the team that made it."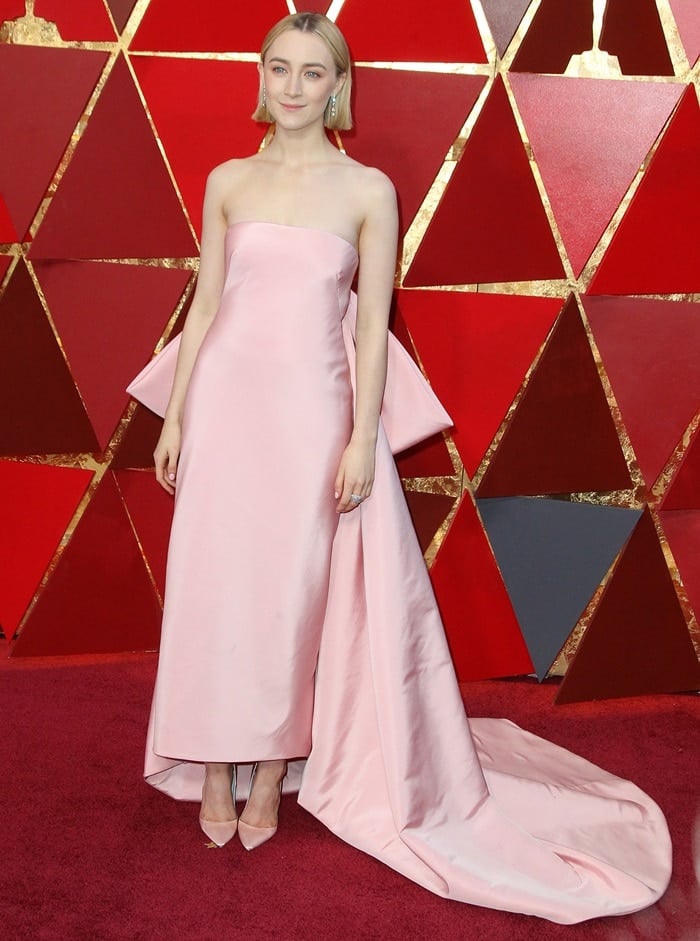 Saoirse Ronan in a lovely pink Calvin Klein by Appointment gown featuring a voluminous bow and long train
Saoirse Ronan's feet in pointy-toe pumps by Christian Louboutin
Saoirse also hit the blue carpet in a custom lime jacquard shift dress by Prada at the 2018 Film Independent Spirit Awards on Saturday afternoon. She completed her outfit with bow-embellished sandals from the same fashion house, a Jimmy Choo clutch, Piaget 'Sunny Side of Life' High Jewelry earrings, and a bracelet in 18-carat rose gold. We think Elizabeth Saltzman made a good choice by hiding Saoirse's crypt keeper feet at the Oscars.
Saoirse Ronan wearing Piaget 'Sunny Side of Life' High Jewelry earrings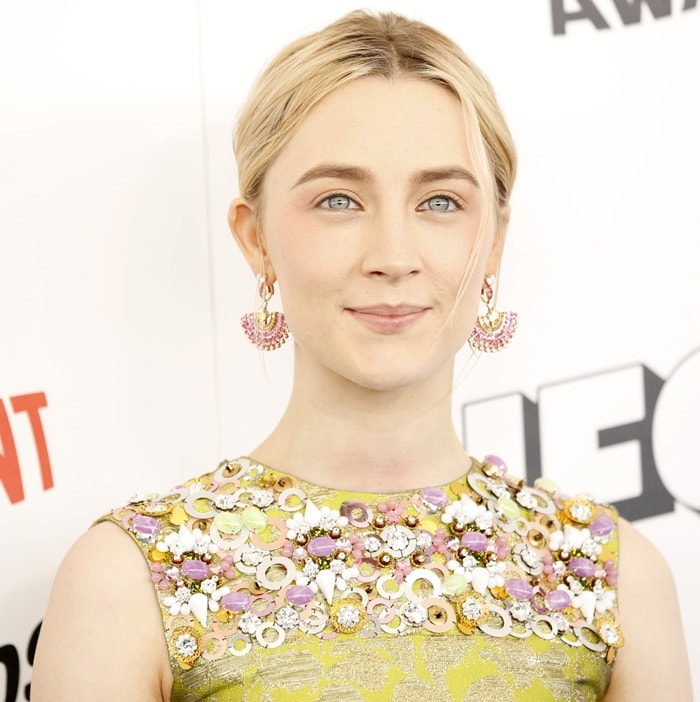 Saoirse Ronan at the 2018 Film Independent Spirit Awards in Santa Monica, California, on March 3, 2018
Saoirse Ronan wearing a custom lime jacquard shift dress by Prada
Saoirse Ronan wearing a bracelet in 18-carat rose gold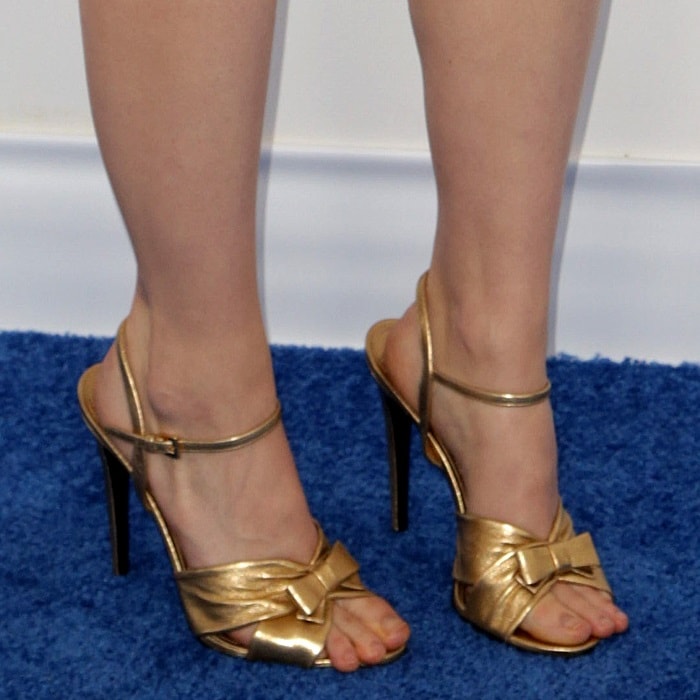 Saoirse Ronan's crypt keeper feet in bow-embellished sandals
Saoirse Ronan's feet in Prada heels
Credit: Brian To / Apega / FayesVision / Adriana M. Barraza