In February 2016, City of Ember actress Saoirse Ronan was only 21, but she had already cemented her status as one of Hollywood's brightest stars with her second Oscars nomination.
Born on April 12, 1994, in the Bronx borough of New York City, she turned 22 on April 12, 2016.
Saoirse Ronan wears her hair down at the 88th Annual Academy Awards Nominee Luncheon held on February 8, 2016, at the Beverly Hilton in Los Angeles (Credit: Brian To / WENN)
The Irish-American actress was up for Best Actress for her portrayal of Eilis Lacey in "Brooklyn."
She competed against Cate Blanchett, Jennifer Lawrence, Brie Larson, and Charlotte Rampling. At the 88th Academy Awards ceremony, Brie Larson won Best Actress for Room.
8 years earlier, Saoirse starred as the heroic teenager Lina Mayfleet in the 2008 American science fiction adventure film "City of Ember" that was released on October 10, 2008. Saoirse Ronan turned 14 on April 12, 2008.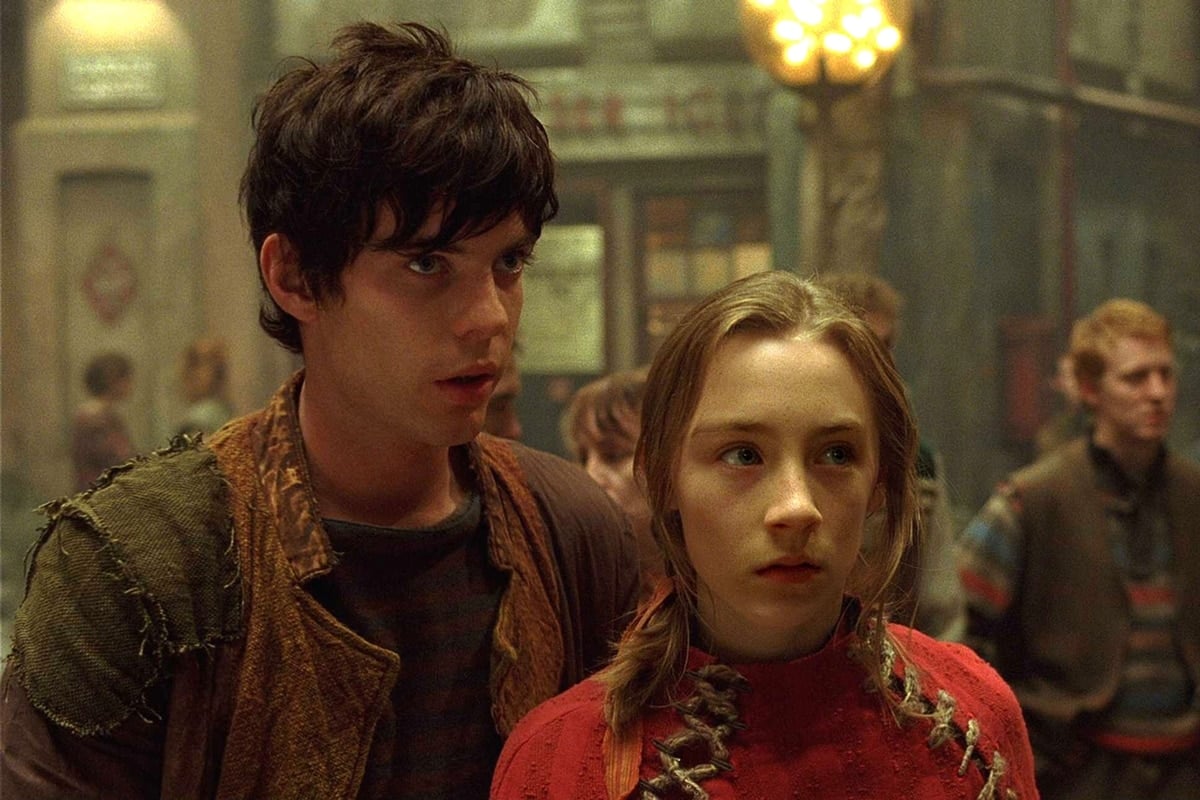 Saoirse Ronan as Lina Mayfleet and Harry Treadaway as Doon Harrow in City of Ember (Credit: 20th Century Fox)
A box office failure, Oscar winners Martin Landau and Tim Robbins also appeared in the film.
"I was sent the script as well and my dad put me on tape and he forwarded it to Gil and he was touring around London at the time looking for Lina and Doon and we sent the tape over and then I went over and met Gil and we immediately clicked and I got a call a week later saying that I had gotten the part," she told Collider about her role in the movie.
"Of course, I was thrilled. I think basically what Tim and Bill said is what I feel about the script. It's not about environmental issues. I guess if you read into it, you could think that but it's basically about the hope and the hope of the people of Ember and that there is a way out and that there is more to everything than just this."
The City of Ember is based on a post-apocalyptic primary-to-middle-grade science fiction novel by American writer Jeanne DuPrau. Filming for the movie wrapped in October 2007 when Saoirse was 13 years old.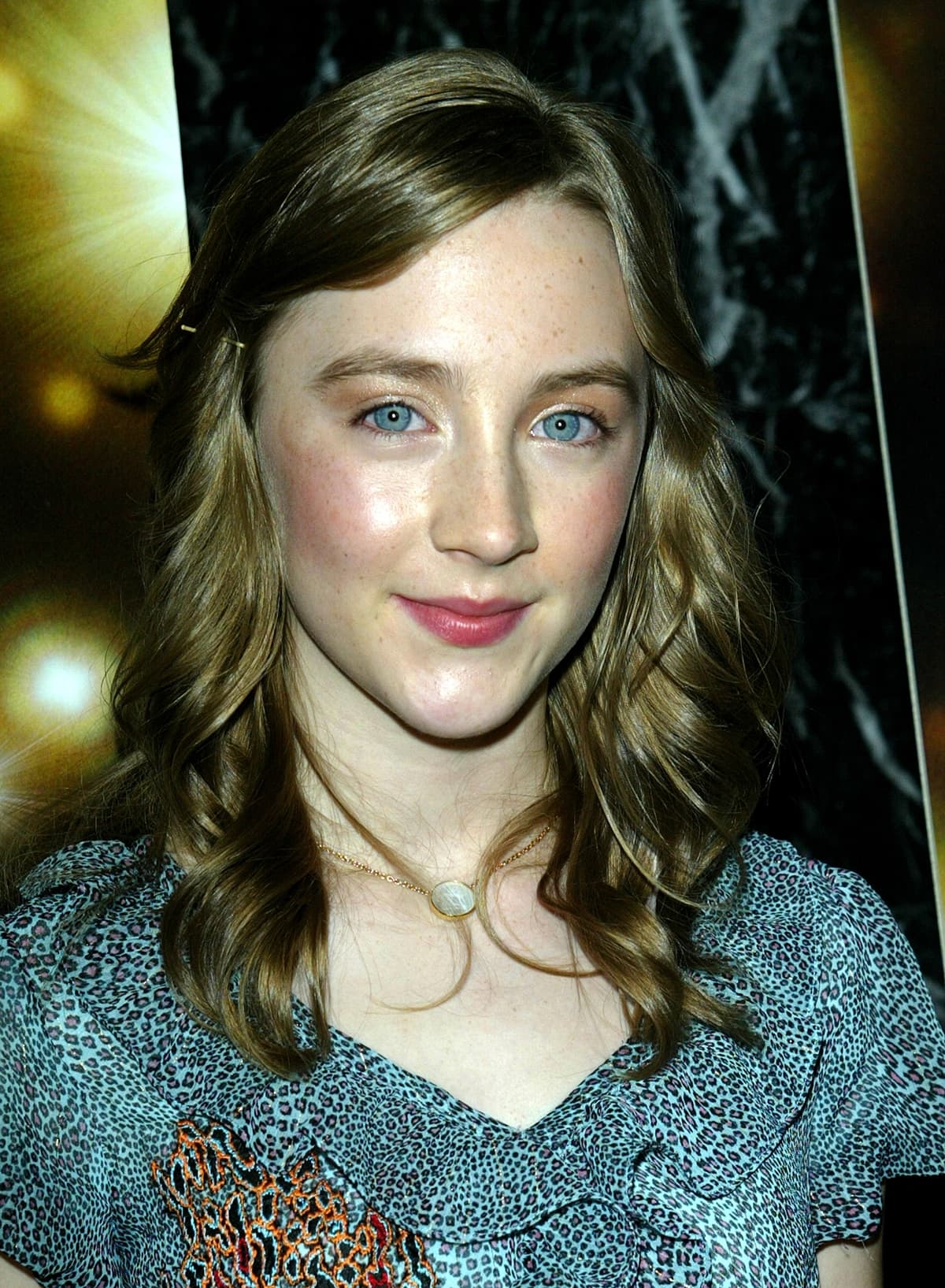 The then 14-year-old Saoirse Ronan at the premiere of "City of Ember" at the AMC Loews 19th Street East theatre on October 7, 2008, in New York City (Credit: HRC / WENN)
"I am becoming more well-known as an actress, which I like the sound of that, that's OK," Ronan told Reuters in an interview in October 2018.
"If I am around my friends, even if they are a bit older, I am a 14-year-old, I act like a 14-year-old," she added.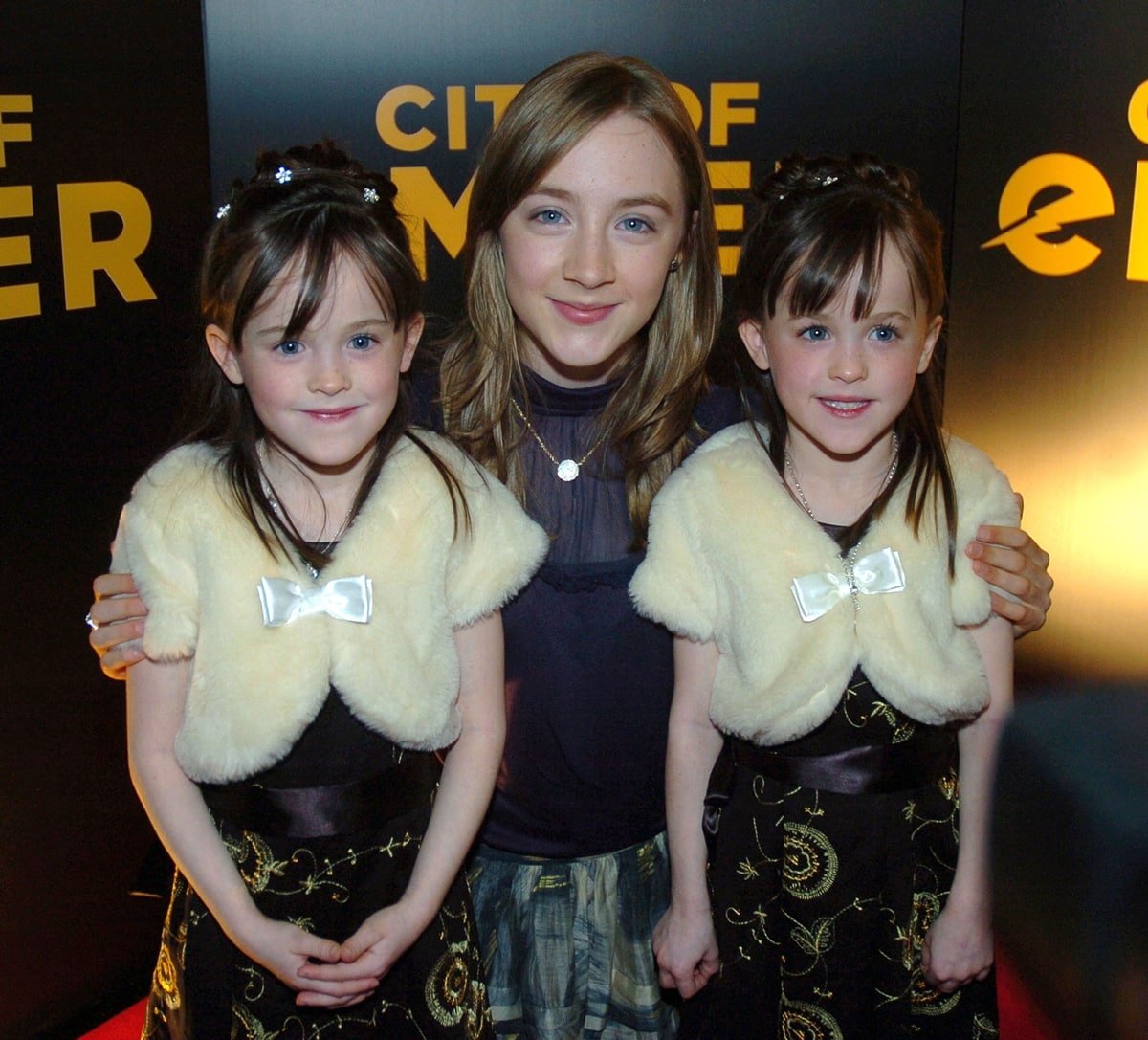 Saoirse Ronan poses with her City of Ember co-stars Amy and Catherine Quinn (Credit: WENN)
The "Hanna" star arrived at the 88th Academy Awards Nominees Luncheon in Beverly Hills looking simple and chic in a monochrome ensemble.
Saoirse's simple-but-elegant two-piece short suit by Laura Basci included a monochrome blazer, a pair of puffy shorts, and a cream top with bow detail.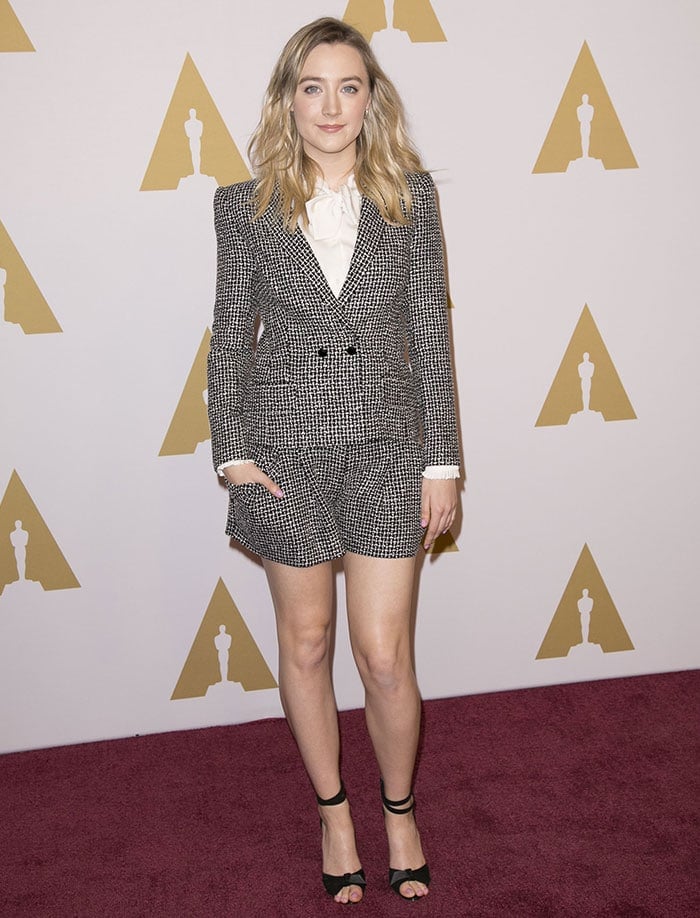 Saoirse Ronan wears a two-piece Laura Basci ensemble on the red carpet (Credit: Brian To / WENN)
She kept her accessories to a minimum and simply teamed the ensemble with a pair of black heels. The Lovely Bones actress completed her look by wearing her hair down in tousled waves and sporting barely-there makeup.
Saoirse Ronan keeps it professional in a two-piece short suit and strappy black heels (Credit: Brian To / WENN)
Saoirse received her first Oscars nomination for Best Supporting Actress for "Atonement" back in 2008 when she was only 13.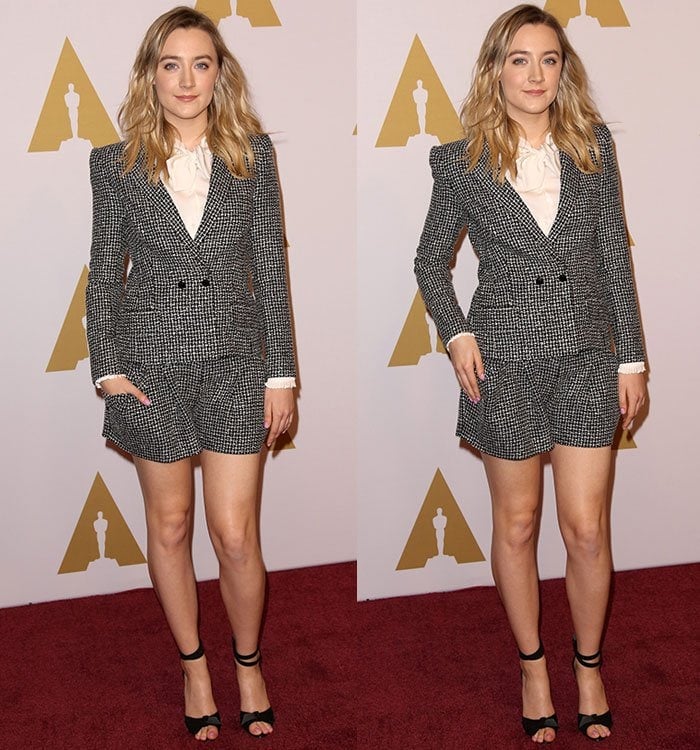 Saoirse Ronan shows off her legs in a Laura Basci short suit at the Oscars' Nominees Luncheon (Credit: Brian To / WENN)
Saoirse's sandals are similar to Alexandre Birman's "Clarita" sandals. They have knotted front straps, wrap-around ankle ties, and about four-inch heels.
Saoirse Ronan's feet in black peep-toe sandals (Credit: Brian To / WENN)
Here's a similar pair of ankle-tie sandals from Alexandre Birman that we found at Saks Fifth Avenue.
Alexandre Birman "Clarita" Sandals, $595