Olivia Palermo hardly makes a mistake with her sartorial choices. Most often, she aces each look, whether it's for a red carpet appearance, a high-profile event, or simply just running errands. But, Olivia is human after all, and there are days when we know she could have done better.
Take for example the outfit she put out for the J.W. Anderson show during London Fashion Week. The ultra-fashionable socialite somehow decided to dress like a, er, rabbi. Oh, don't get us wrong, she didn't look bad. The outfit was alright, but we're so used to seeing her look très chic that the three-piece ensemble she put together yesterday was just not up to par.
Olivia slipped into a very conservative getup consisting of a pleated midi skirt, a long-sleeved sweater, and a calf-length sleeveless coat for the occasion. The pieces were in muted grey and light beige, and thus, looked really somber. She then teamed the outfit with a gray clutch and ankle strap pumps in the same color as her jumper.
Olivia Palermo goes extra conservative for the spring 2015 J.W. Anderson show during London Fashion Week, September 13, 2014
Do you approve of Olivia's London Fashion Week style?
Yes, we agree. She could have at least chosen something more exciting, agree? But then again, the thing with Olivia is that she can pull off just about anything, and this outfit is no exception.
Not surprisingly, the socialite actually wore three different looks for the shows she attended yesterday. While not as shapeless, the other two outfits were just as conservative. Olivia decked herself in a chunky gray sweater and black asymmetrical skirt for the Emilia Wickstead show, and then traded in the separates for a romantic long lace dress as she hit the Marchesa presentation.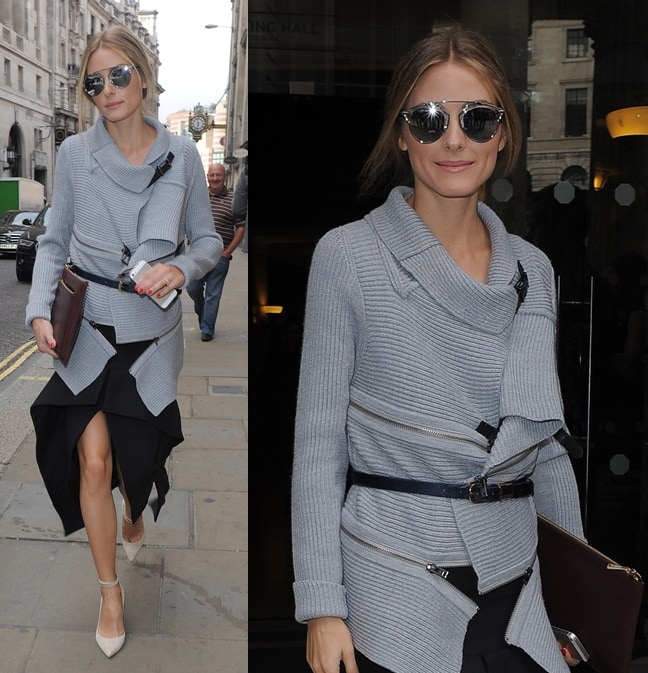 Olivia Palermo wears a chunky sweater and an asymmetrical skirt for the Emily Wickstead show during London Fashion Week
Olivia switches into a romantic lace dress for the Marchesa presentation
What she didn't change, however, were her ankle-strap heels. The pair complemented all three looks so it was just as well. Below is a closer view of Olivia's pumps. We've yet to ID the pair, but have a strong feeling they're from Gianvito Rossi.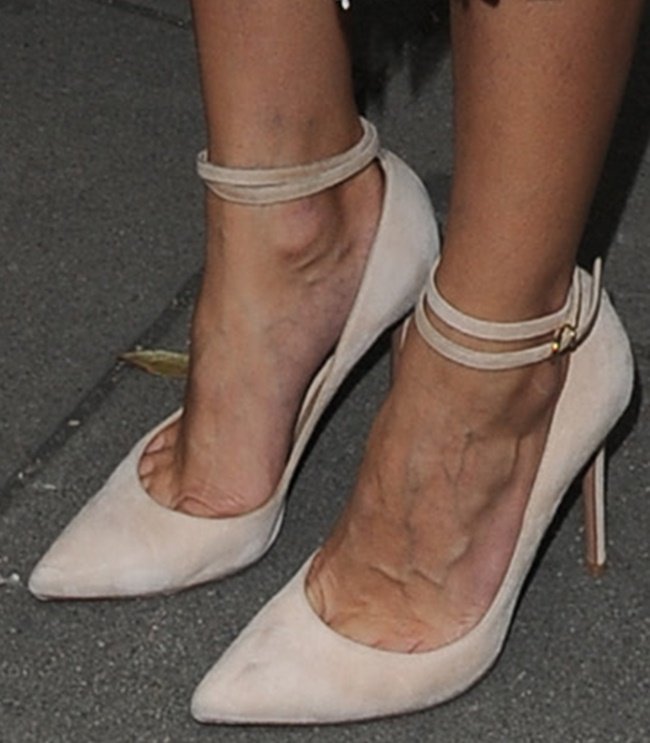 A closer look at Olivia's double ankle-strap pumps
Below are similar style shoes in dark gray and black suede. Both feature 4-inch-tall heels, a sophisticated pointed silhouette, and double ankle wrap straps. Check them out and see if our hunch is right on the money:
Gianvito Rossi Double Ankle Wrap Pumps in Gray Suede, $795 at Saks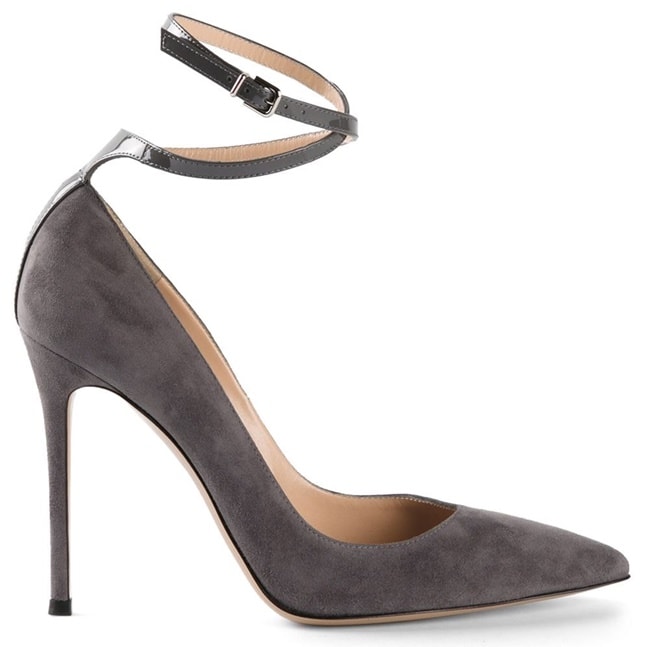 Gianvito Rossi Double Ankle Wrap Pumps in Black Suede, $795 at Saks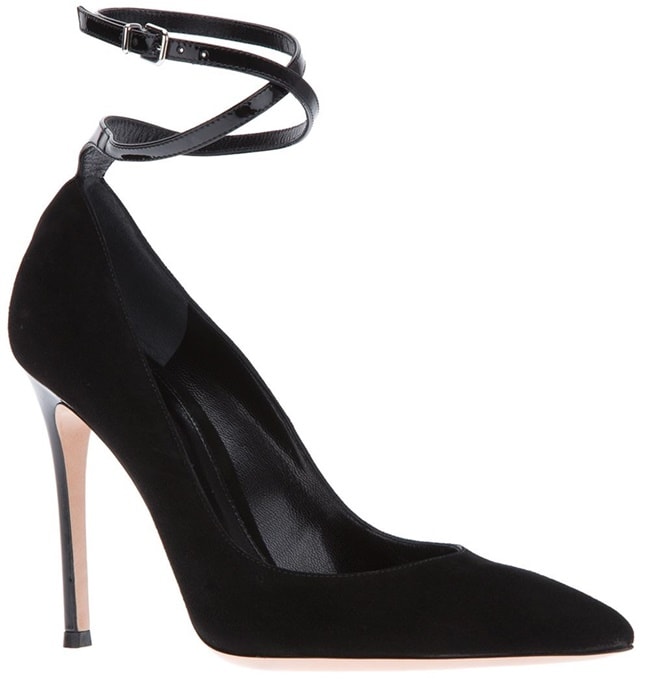 Credit: Stuart Castle / Will Alexander / WENN