We all know how Olivia Palermo has a knack for mixing and matching pieces with flair. Sure, her role in MTV's The City made her relatively famous, but it's the socialite's eclectic fashion sense and effortlessly chic style that has allowed her to maintain that popularity.
Nowadays, Olivia is no longer just a product of reality television but a modern-day icon in her own right. She's not just a name but a brand. If she isn't modeling for fashion labels, she is covering magazines. She has a huge fan base consisting of women (and men) who not only find her fascinating to watch but also aspire to be her.
Olivia Palermo at the Marchesa Fall 2014 presentation during Mercedes-Benz Fashion Week in New York City on February 12, 2014
And, of course, when it comes to fashion shows, Olivia has become quite the front-row regular. The currently ongoing Mercedes-Benz Fashion Week is no exception.
At the Marchesa presentation held the other day, the stylish brunette slipped into a pair of black over-the-knee, high-heeled suede boots and a red checkered shirt under light blue tweed separates. It was a one-of-a-kind pairing. Not content with the unusual mix, Olivia finished the ensemble with a black Givenchy purse and a bicolored fur-and-leather trimmed coat.
The fashionista really took it to the next level. And although we appreciate her eclectic sensibilities, we are not at all quite sure what to think of this particular outfit.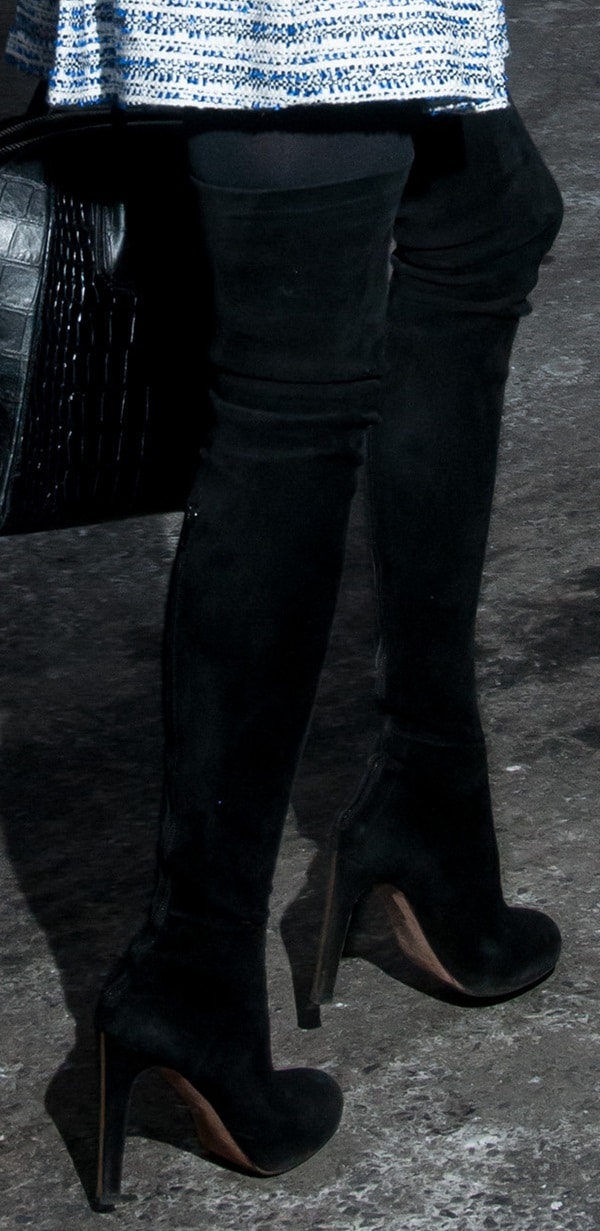 Olivia Palermo's black over-the-knee, high-heeled suede boots
Whatever it is, though, do note that anyone else would have looked like a disaster in the whole getup, but Olivia managed to pull it off just well enough without crossing the line. Agree?
Now, we're pretty sure you've noticed her black thigh-high boots. When it comes to boots, Olivia is quite fond of wearing Stuart Weitzman. But surprisingly, the black leg-hugging pair she wore this week is from a different label — Brian Atwood.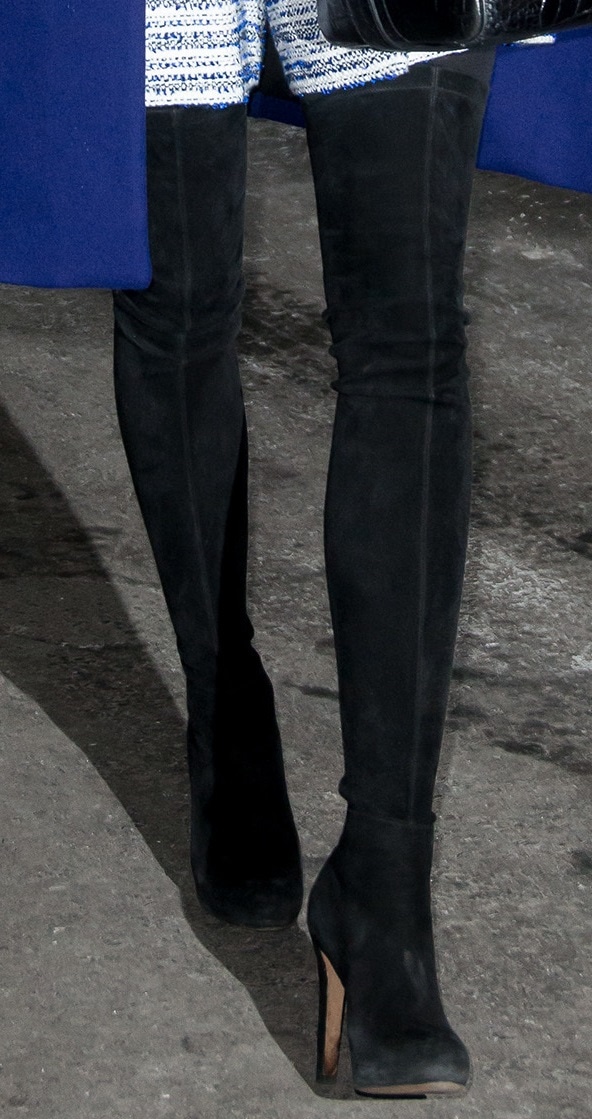 Olivia Palermo rocks Brian Atwood over-the-knee boots
Olivia's Brian Atwood 'Jamie' boots are sold out online, but here's a shorter version for your reference. They are made of real suede leather, feature almond-shaped toes, and are cut to fit and stretch to accommodate the calves and thighs. There are also zipper openings at the back for ease of wear.
While Olivia's boots look to be about 4–5 inches tall, the ones below only have 3-inch-tall tapered heels.
Jamie Suede Over-the-Knee Boots in Black, $1,475 at Amazon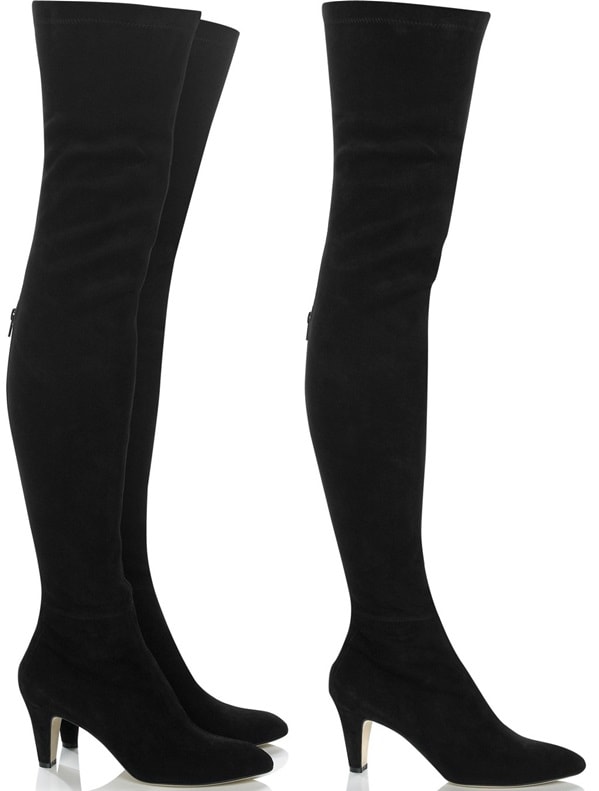 A similar pair in black leather is actually available for slightly less at Farfetch. The "David" boots are a lot like Olivia's Jamie boots and feature slightly rounded toes, 4.75-inch-tall heels, zipper closures on the back, and very tall shafts.
Unlike the suede versions, however, David boots have extra stitch lines at the knees. If you like what you see, you can easily order these shoes online.
David Over-the-Knee Leather Boots, $1,242 (before: $1,775) at Farfetch
Of course, if you don't want to spend much, you can always grab yourself some sleek $200 alternatives from Jeffrey Campbell. Check out the following JC creations that we found at Nasty Gal.
We have no doubt that these will give you the same look without causing your bank account major loss:
Kitsap Over-the-Knee Boots, $200 at Nasty Gal
Kinki Thigh-High Boots, $162 at Nasty Gal
Credit: Ivan Nikolov / WENN