Leave it to Ms. P to magically turn any garment, no matter how simple, into something chic and beautiful. The socialite attended the Dior show in Paris last week, and she looked nothing short of amazing in her little white outfit.
Olivia wore a white Dior shirtdress for the occasion and kept the frock interesting by accessorizing it with statement extras — a "Diorganic" necklace crafted with blue stones and a colorful Miss Dior purse that was just as catchy. Capping off her ensemble was a pair of simple black pointy pumps.
Olivia Palermo attending the Christian Dior Fall 2014 presentation during Paris Fashion Week in Paris, France, on February 28, 2014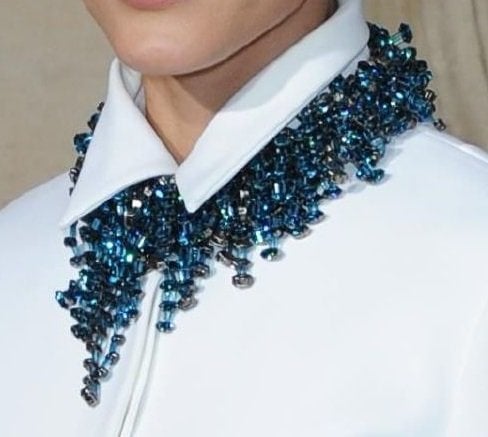 Olivia accessorizing her simple white shirt dress with the "Diorganic" necklace
A closer look at Olivia's statement purse — the Miss Dior bag in floral print
Do you like the mix she put together?
Honestly, we think she layered that shirtdress over some other piece of clothing (maybe a skirt or another dress) to get the sheer black trim effect at the hem. Or maybe that's really a feature of the dress. What do you think? Here's a closer look at the hem of Olivia's dress: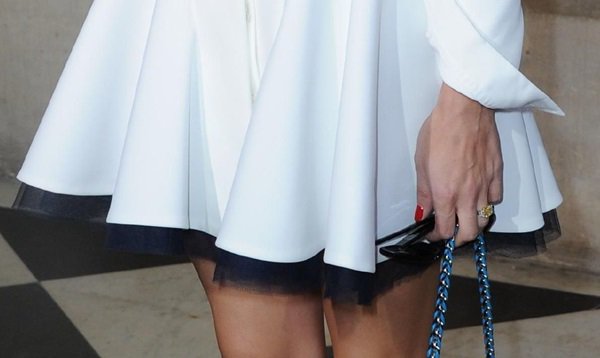 A closer look at the layered bottom of Olivia's shirtdress
Well, any thoughts?
In any case, whether or not Olivia used layering for this recent look, we love how she combined the pieces to create something that is elegant and simple, but with enough drama to keep it interesting. Notice how she carefully chose simple heels to go with the outfit? She knew that a busier set of shoes would have ruined the pairing. In a nutshell, Olivia managed to score another home run with this outfit. Would you like to take a cue and wear something similar?
To steal Olivia's style, you'll need a button-down shirt that is long enough to work as a mini dress. Or simply find a plain white mini dress that is not too tight nor too loose (so you can layer with ease). Below are some white dress options from Shopbop: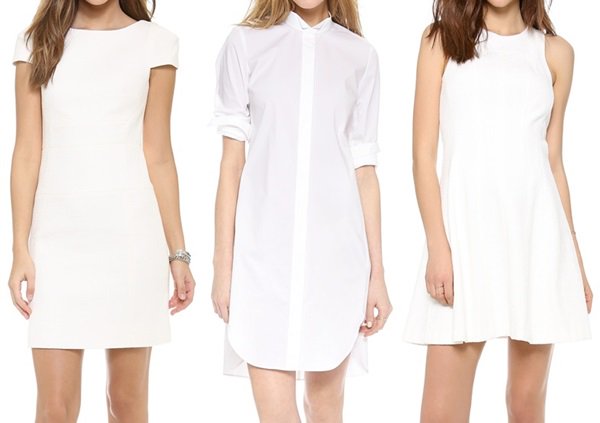 4.Collective Cap-Sleeve Sheath Dress, $285 / Rebecca Taylor Long-Sleeve Shirtdress, $295 / Theory Vizela Maydra Dress, $335
Wear the dress over a black skirt that falls slightly longer, and then accessorize with statement extras. Finally, cap them off with classic black pumps. Here's a sample combo we put together for you with items found at Shopbop:
Milly Delphine Circle Skirt, $295 / Santi Flower Clutch, $258 / Venezza Arizaga "Crazy for You" Necklace, $485 / Kate Spade Licorice Pumps, $328
We don't know where Olivia got her shoes (perhaps Dior?), but you can easily score classic black pointy stilettos from your favorite department store for a fraction of the cost of some designer shoes. If you're on a budget, simply substitute the pieces above with similar items you can afford.
If you find the Kate Spade pumps too pricey, here's a black pair from GUESS that will only cost you $50. Now, are you ready to dress up?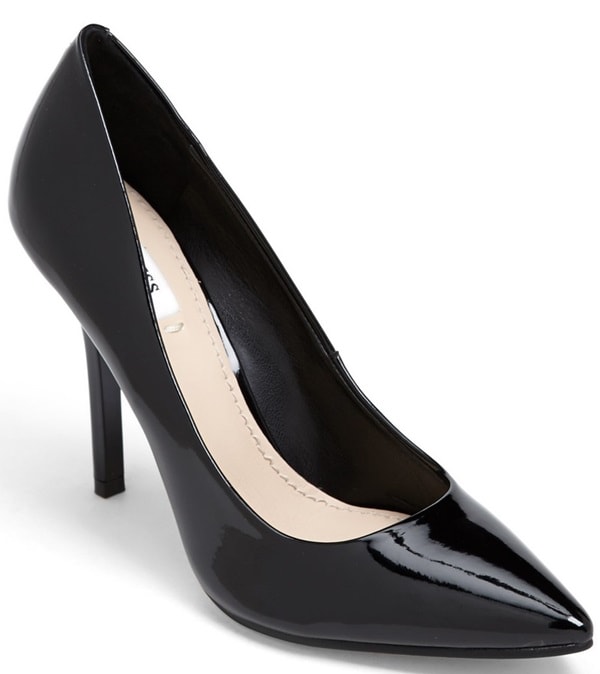 GUESS Plasma Pumps, $50 (before: $99) at Nordstrom
 Credit: WENN