Olivia Palermo came out to support one of her favorite charities, New Yorkers for Children, at the 10th Anniversary of their Annual Spring Dinner Dance last night.
The socialite brightened up the evening in a sunny yellow Katie Ermilio dress. True to her title as the "queen of accessorizing," Olivia Palermo further played up her already bright look with a statement vintage necklace, a jeweled chain belt, a silver cuff, a cheetah print clutch, and white-and-gray snakeskin sandals.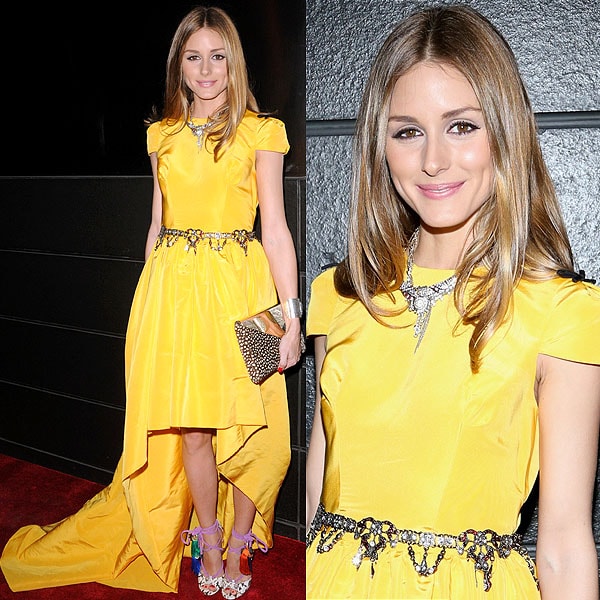 Olivia Palermo at the New Yorkers for Children 10th Anniversary Spring Dinner Dance entitled "New Year's in April: A Fool's Fete" at Mandarin Oriental Hotel in New York City on April 9, 2013
Olivia Palermo's style is usually on point, but it's a bit heavy-handed on this occasion. This is accessories overload! We never thought we'd say this, but the American socialite could've benefited from following that age-old Coco Chanel quote about taking one thing off before leaving the house.
There are a lot of things going on in Olivia Palermo's outfit, but, of course, we still could not miss the shoes on her feet. How could we, really, when they've got purple suede ankle ties, colorful tassels, and dangling coin charms?
Olivia Palermo showing off her feet in Jimmy Choo "Dream" sandals
Her stand-on-their-own shoes are the following Jimmy Choo "Dream" sandals:
Jimmy Choo "Dream" Tasseled Rope-Tie Elaphe Sandals, $1,117.55 to $1,495
The coin charms are each stamped with the date the Jimmy Choo brand was founded. You'll find these sandals at Net-a-Porter.
It's interesting to note how these Jimmy Choo sandals reflect the "mismatchiness" of Olivia Palermo's outfit. Do you find them — both the sandals and Olivia Palermo's dress — kitschy or cute?
Credit: Ivan Nikolov / WENN / Andres Otero