Oh, Olivia Palermo, why do you always look so perfect? How do you do it? Some ladies aren't fond of this ultra-fashionable socialite, but we guess it's probably out of envy.
Aside from the obvious fact that she is quite the tastemaker, Olivia is also exceptionally pretty, has a closet full of designer everything, and has a hot model boyfriend with gorgeous abs.
Above all, she exudes that born-with-it grace and poise a lot of girls would kill to have. So, yes, those are probably enough reasons to be jealous of her.
Now, whether or not she looks just as fabulous when she's sleeping, we don't know. But what we do know is that we can't stop stalking her.
Speaking of Olivia, the doe-eyed stylista was recently spotted attending several presentations at New York Fashion Week. We certainly didn't miss her because she wore a pair of striped black-and-white statement heels to the events.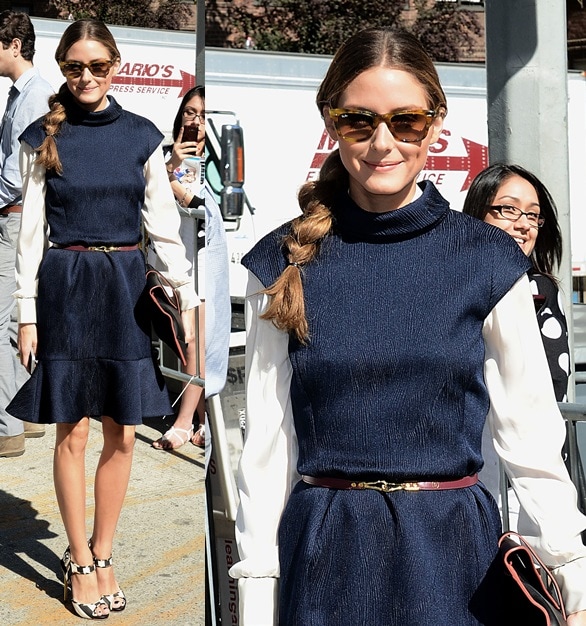 Olivia Palermo at the Carolina Herrera Spring 2014 presentation during New York Fashion Week in New York City on September 9, 2013
At the Carolina Herrera show, Olivia used that pair to cap off a layered look that included a navy dress worn over a white long-sleeve shirt.
Olivia Palermo flaunts her legs in striped black-and-white statement heels
The following day, she was once again seen with the same sandals. She mixed them with fringed separates and an oversized clutch.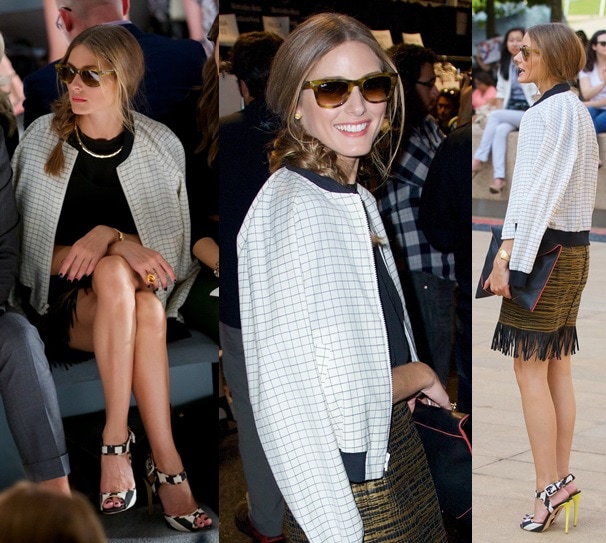 Olivia Palermo in a three-piece outfit paired with the same black-and-white sandals at the Dennis Basso Spring 2014 presentation during New York Fashion Week in New York City on September 10, 2013
Both outfits were unexpected and a little unusual, and yet, per usual, Olivia managed to look amazing.
Olivia Palermo shows off her new shoes from Giuseppe Zanotti
How do you like her outfits? When it comes to mixing and matching, you could say Olivia is, no doubt, a guru.
And then, of course, there's the fact that she can pull off literally anything. You can put her in a sack or a garbage bag, and she can still make it look like it's couture.
Olivia Palermo displays her perfect toes in black-and-white sandals
Olivia is also known to have periodical shoe favorites. Every now and then, you'd find her wear the same pair for two or three consecutive days.
Her current fancy is from Giuseppe Zanotti — a pair from an off-season collection that is already sold out at Farfetch.
Giuseppe Zanotti Striped Canvas Sandals, $642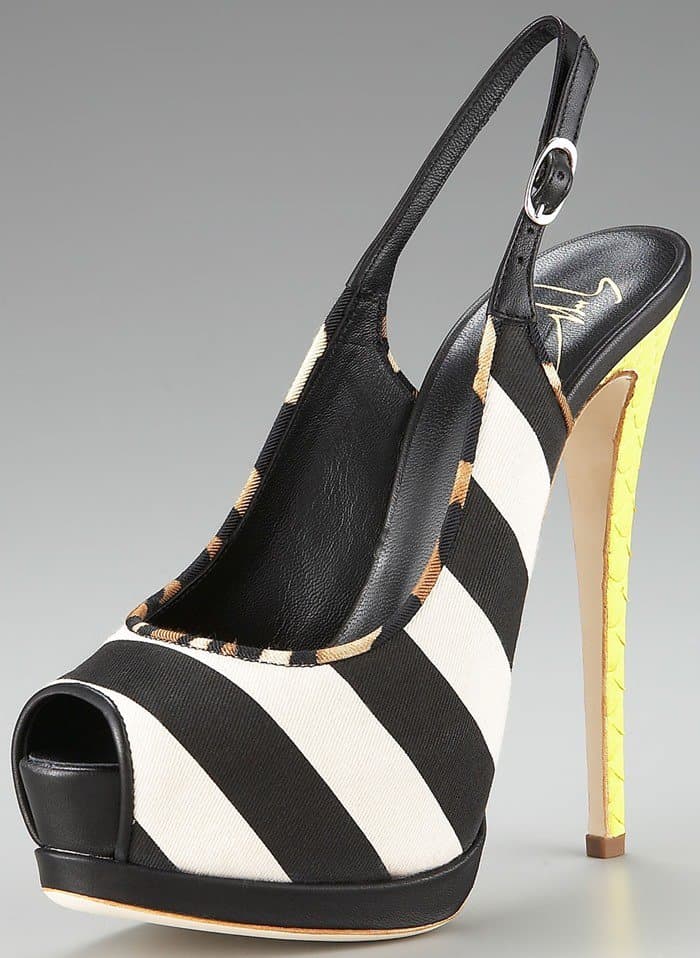 One look and you can already tell that these shoes are quite dramatic. They're made of printed canvas — bold black-and-white stripes for the straps and brown-and-black camo for the trim.
The 5-inch heels are also wrapped with poppy yet exotic canary yellow snake-embossed leather. With such a combination, you can easily spot these sandals from a mile.
Sorry, they're literally impossible to find. However, we did come across a pair from the same designer that is just as colorful, in case you don't mind grabbing an alternative at Amazon:
Giuseppe Zanotti Ankle-Strap Sandals, $895
That said, you are more than welcome to "steal" Olivia's style for less if that is what you're after.
The following printed options from Zappos and Nordstrom will do the job just as well. Plus, they won't cost you as much — that, we're pretty sure of.
Chinese Laundry 'Lucky Charm' Sandals, $41.62 – $69.99
BCBGMaxAzria 'Marcel' Sandals, $310
Promise 'Jerri' Sandals, $50
Credit: Alberto Reyes / Ryan / WENN