Leighton Meester was spotted looking mellow in yellow while shooting scenes for "Gossip Girl" in New York City last Thursday. She paraded her legs in a yellow top paired with a printed yellow skirt and toted an orange purse.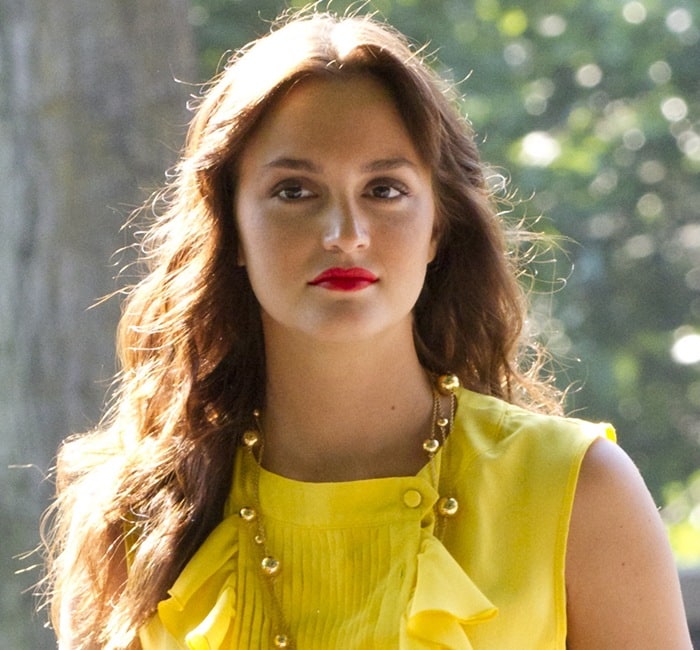 Leighton Meester wore a yellow top that was perfect for summer
This is actually sort of like déjà vu for us because the GG stylist put Leighton Meester as Blair Waldorf in a very similar outfit around this same time last year.
Leighton Meester films scenes for the new season of "Gossip Girl" in Manhattan in New York City on July 7, 2011
If all these tangy, juicy colors on Leighton don't brighten up your day (or your screen at least), I don't know what will! I feel like it's almost physically impossible to be in a bad mood or feel even remotely sad when you're wearing an outfit as bright as this.
They've been seen on many, many celebs before so I'm sure many of you recognize Leighton Meester's Brian Atwood 'Maniac' pumps in orange patent leather:
Leighton Meester's Brian Atwood 'Maniac' pumps in orange patent leather
You can find other colors of this super popular shoe at Farfetch and at Amazon but if it's the orange color that you want, you are crazy girl!
I'm just kidding of course — if there's anyone who advocates crazy shoe-wearing, it would be us here at YNS. So to get back on the original train of thought, you can get on the waitlist for these orange patent Brian Atwood Maniac pumps.
Orange Patent Brian Atwood Maniac Pumps
If you don't feel like waiting or dropping $649.00 for these, let me just remind you of our favorite low-cost alternative to the Brian Atwood Maniac pumps: Pour La Victoire's Irina platform pumps.
They don't have an orange patent color, but they do have this yellow patent version, so we're sure that a citrus-y shade isn't so far behind:
Pour La Victoire Irina platform pump in yellow patent at Amazon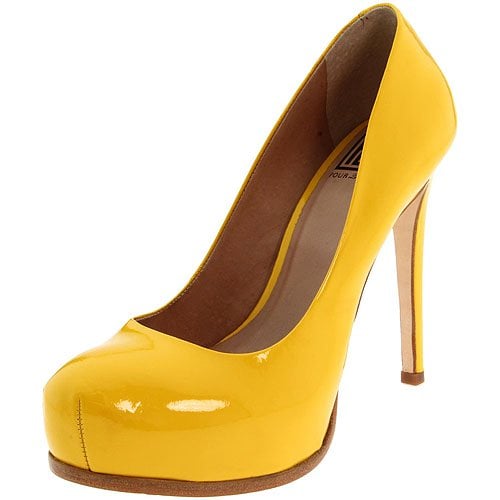 The last time we wore about them, Pour La Victoire had already made 23 colors of the Irina platform pump. We just checked on them over at Amazon and they're up to 27 colors!
And that doesn't even include the special colors like the yellow patent above and some other iridescent shades.
Credit: Mr Blue / WENN