The daughter of Valerie, who until retiring was a Professor of Education at Herbert Lehman College, and Earl Washington, a real estate broker, Kerry Washington grew up with her parents in The Bronx, New York City. Initially, her parents weren't happy with the idea of her becoming an actress.
While her father is of African American origin, in an interview with Evening Standard, Kerry said her mother is from a "mixed-race background and from Jamaica, so she is partly English and Scottish and Native American, but also descended from enslaved Africans in the Caribbean."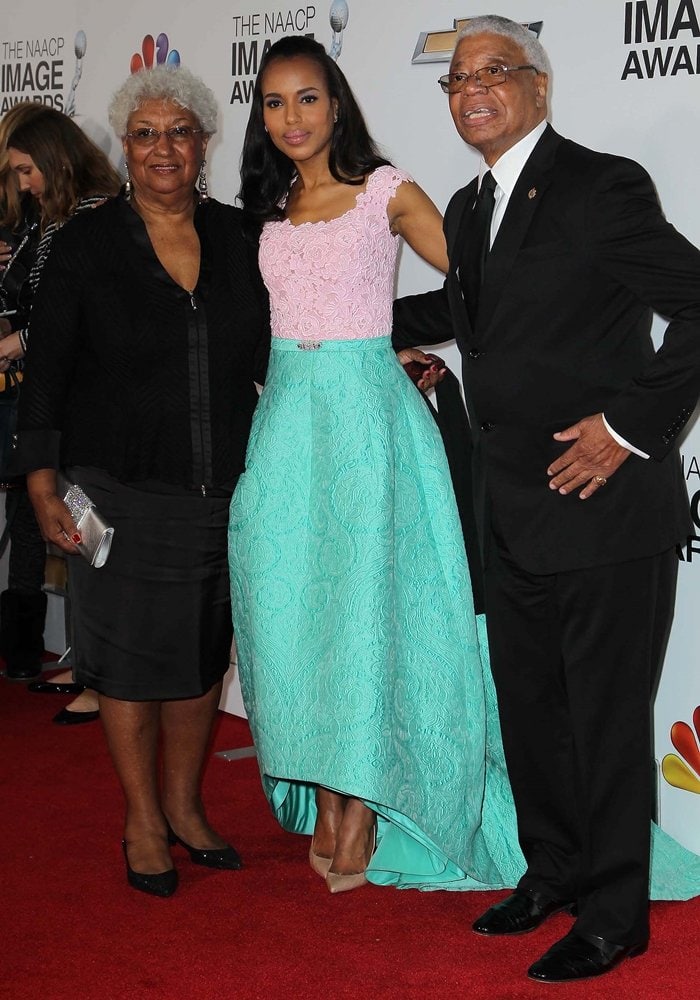 Kerry Washington with her parents Valerie Washington and Earl Washington at the 44th NAACP Image Awards at the Shrine Auditorium on February 1, 2013, in Los Angeles, California
"She really, really wanted me to go to law school," Washington told PEOPLE in July 2020, opening up about life, parenting, and her new documentary The Fight.
"Oh my God, it's what she begged me to do. She used to say to me, 'Closing arguments are just like monologues'," recalls the star about her mom wanting her to become a lawyer. "She was terrified to have a starving artist of a child."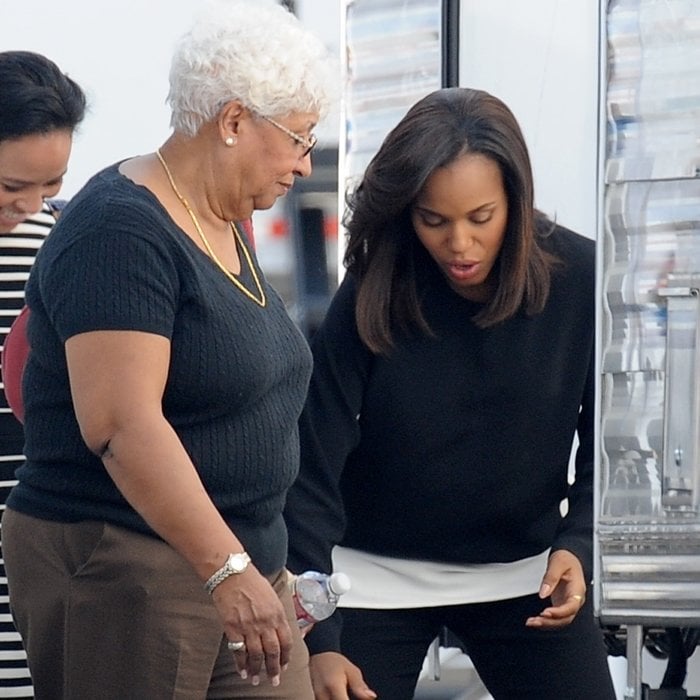 Pregnant actress Kerry Washington got a special visit from her mom Valerie on the set of "Scandal" in Pasadena, California, on February 24, 2014
"I think they're the kind of parents who are interestingly more proud of the fact that I have an appointed position in the White House than they are of the show," Washington revealed to Us Weekly in September 2014.
"Or that I've been able to be experiencing such joy in my personal life. Those things matter to them more. But they're grateful I'm not the starving artist they feared I would be."
"My parents are really happy for me [now]," Washington added of her mom Valerie and dad Earl.
In November 2015, Kerry Washington joined Freida Pinto and Kourtney Kardashian at Women's Wear Daily and Variety's inaugural StyleMakers luncheon at Smashbox Studios in Culver City.
Kerry Washington wears her hair up at the Women's Wear Daily and Variety inaugural Stylemakers luncheon held at Smashbox Studios in Culver City, California on November 19, 2015
The "Scandal" star, who's not related to Denzel Washington, took to the stage to present an award to Lyn Paolo, the costume designer of the hit political thriller TV series.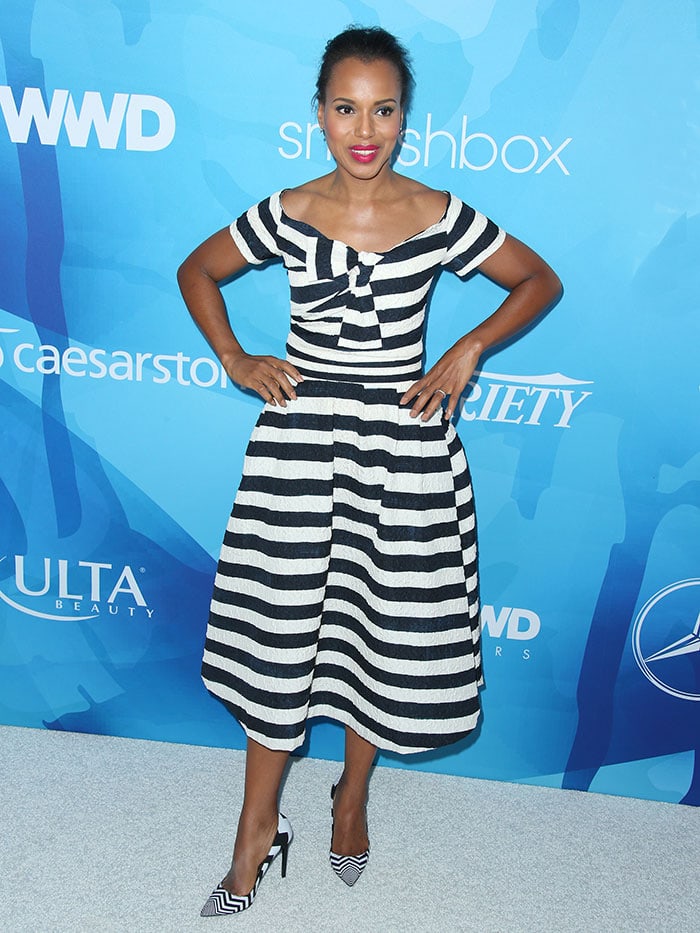 Kerry Washington wears a Solani spring 2016 ensemble on the blue carpet
The then 38-year-old actress, who married Nnamdi Asomugha in 2013, gave a sailor-esque vibe in a Solani spring 2016 ensemble comprised of an off-the-shoulder striped top with a darling necktie and a matching striped midi skirt.
Kerry Washington looks nautical in a striped dress
She finished off her nautical ensemble with rose gold Anita Ko diamond orbit earrings and a pair of chevron-printed pumps.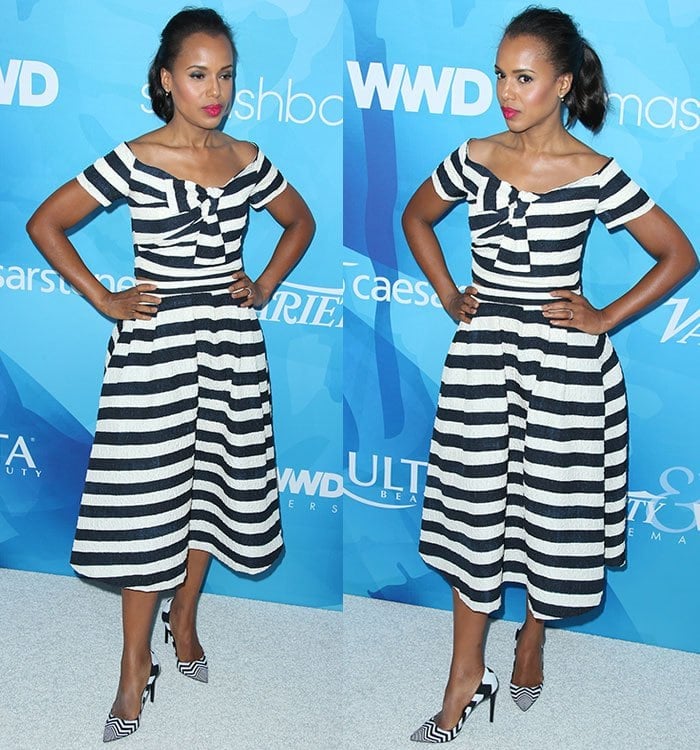 Kerry Washington wears a Solani top-and-skirt combination on the blue carpet
To complete her appearance, she pulled her hair back into a simple ponytail and added a pop of color to her black-and-white ensemble with bright pink lipstick.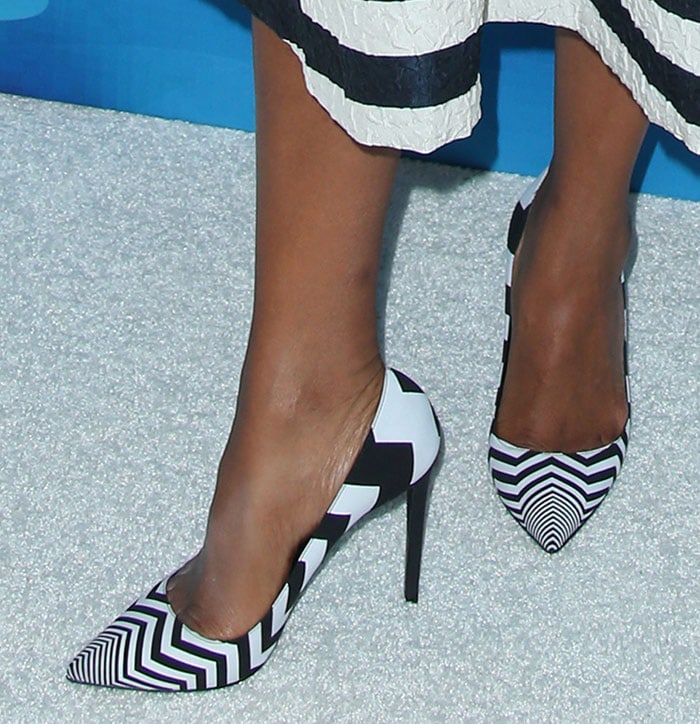 Kerry Washington's feet in chevron-print pumps
While we love the outfit on Kerry, we thought the chevron-striped pumps were a little too much. A pair of simple white pumps would have probably worked better.
Kerry Washington rocks Nicholas Kirkwood chevron striped pumps
We can no longer find her pumps online, but a similar style is available at Saks Fifth Avenue and Farfetch.
Nicholas Kirkwood "Prism" Chevron Pumps, $695
Credit: FayesVision / WENN / Cousart / JFXimages