Ever since Miley Cyrus' now infamous VMA performance, we've spent these early fall days anticipating the influx of Miley Cyrus–themed costumes that will be crowding bars and Halloween parties all over the country this week. We knew there would be at least one celebrity willing to take on the 20-year-old pop star, and, of course, it had to be Paris Hilton.
The heiress was spotted outside Hugh Hefner's Playboy Mansion Halloween party looking very much in character. She donned her own teddy bear playsuit, twisted her blonde locks into two top knots, wagged her tongue, and voila! She was nearly a carbon copy of our dear Miley. Not surprisingly, however, Paris added her own touches with some flashy jewelry, a blinged-out Chanel bag, and heart-shaped sunglasses.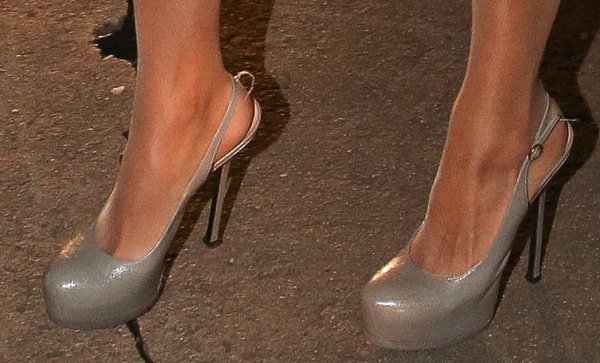 Paris Hilton wearing a Miley Cyrus costume to Hugh Hefner's Playboy Mansion Halloween Party in Los Angeles on October 26, 2013
So, what shoes did Paris wear with her costume? Whereas Miley wore custom-made shoes by Simone Harouche with her playsuit, Paris oddly went a simpler route with gray YSL "Tribtoo" slingback pumps. They're not very Miley, but they don't necessarily detract from the costume either.
We're not entirely sure how we feel about the shoe choice here, but if you're interested in Paris' heels, you can get them in various color combinations at Neiman Marcus.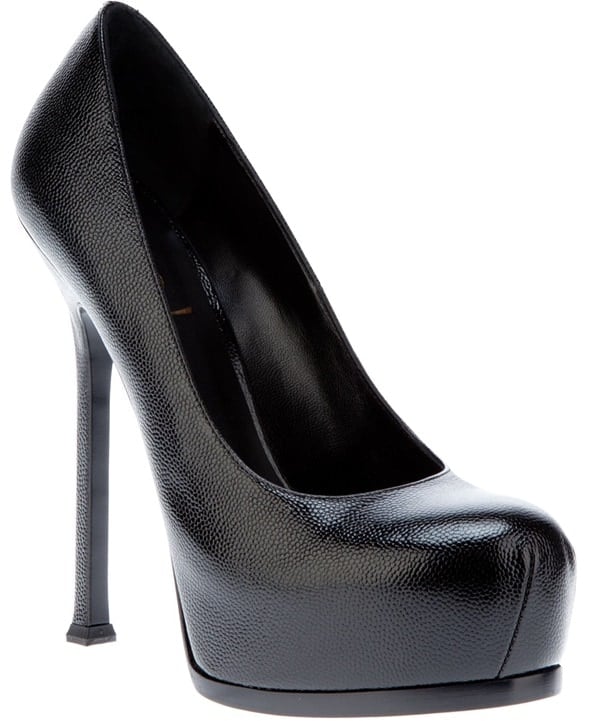 Saint Laurent "Classic Tribute Two 105" Pumps, $741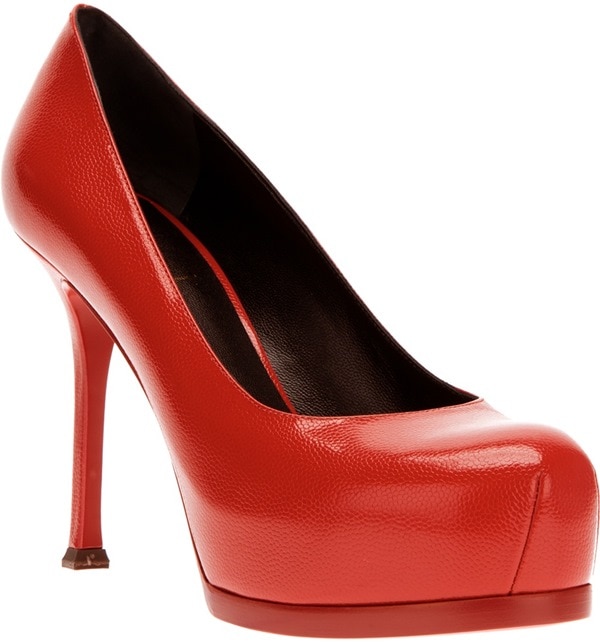 Saint Laurent Red Tribtoo Pump, $741
What do you think, shoe lovers? Did Paris do Miley justice?
While we did not see Hugh Hefner at the Halloween party, he was spotted having a good time last month at Disneyland with Crystal Hefner. The 87-year-old American magazine publisher, editor, businessman, and playboy traveled around Disneyland with his 27-year-old wife on matching mobility scooters.
Hugh Hefner and Crystal Hefner ride mobility scooters through Disneyland Park in Anaheim on September 5, 2013
Credit: WENN / VALPO NNEWs