Real or fake? We're talking about the prank that was played on Paris Hilton wherein she was led to believe that the plane she was riding was going to crash. Paris even said that she was going to sue the pranksters, an Egyptian show called Ramez in Control. Watch the video below, and tell us if Paris' acting is convincing or not.
Real or fake, we can perhaps all agree that it was a mean, tasteless, and cruel joke. Nonetheless, Paris doesn't seem to be too fazed by it. In fact, just a day after the plane crash prank video went viral, the 34-year-old heiress was seen looking pretty pleased with herself as she left a pampering session at the Anastasia salon in Beverly Hills.
Paris was decked out in the very popular athleisure trend with touches of her vainglorious glam style. If you're wondering what we mean by that, well, just check out the pictures below. For one, she's wearing a T-shirt with her own image on it, and two, her clothes have "boss," "queen of f—ing everything," and "dance bitch" written all over them.
Paris Hilton with her dog, Peter Pan, leaving the Anastasia Beverly Hills Salon in Los Angeles, California, on July 2, 2015
Paris Hilton driving away in her white Lexus LFA luxury car
Paris Hilton looking pretty pleased days after her plane crash prank video hit the Internet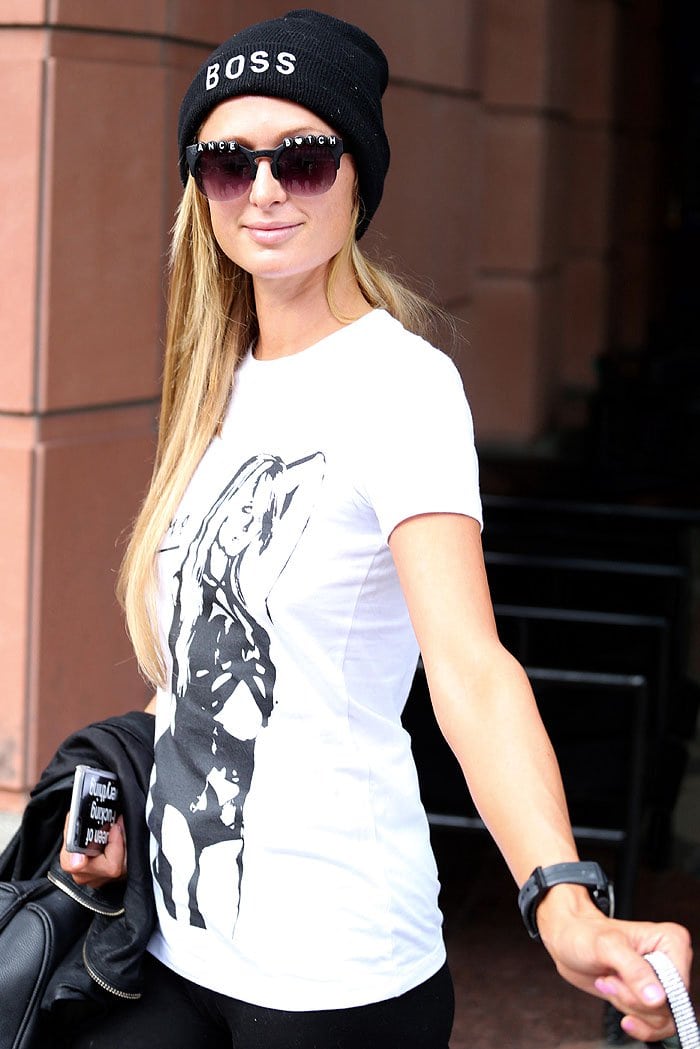 Paris Hilton wearing clothing showing who's "boss," "dance bitch," and "queen of f—ing everything"
Paris Hilton greeting the paparazzi with her Chihuahua, Peter Pan
Paris Hilton's glammed-up take on the athleisure trend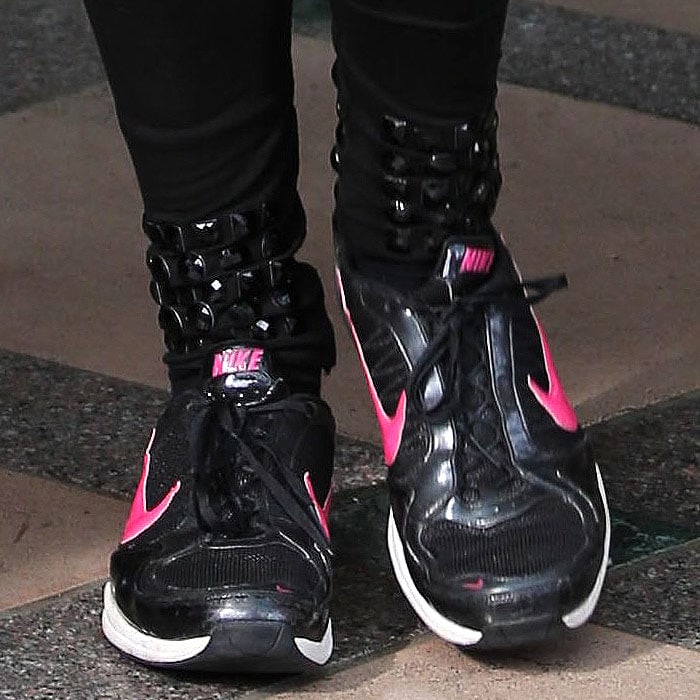 Black-and-pink Nike sneakers on Paris Hilton
The following are three Nike sneakers in the same black-and-pink color scheme as Paris Hilton's pair:
Nike "Core Motion TR 2" Mesh Sneakers, $60
Nike "Flex Experience Run 3" Sneakers, $65
Nike "In-Season TR 4" Sneakers, $75
Credit: WENN