This isn't really the first time Paris Hilton channeled Barbie. As a self-confessed fangirl, the hotel heiress shamelessly wears head-to-toe pink on the streets and sometimes even on the red carpet, too.
She was spotted making quite a dramatic entrance for the paparazzi outside a Barneys outlet in LA. The 32-year-old reality star stepped out of her pink Bentley wearing a short dress in bright pink, which she had to hold down to avoid possible mishaps. She was also carrying a pink monogrammed tote from her fashion line and a matching pink iPhone.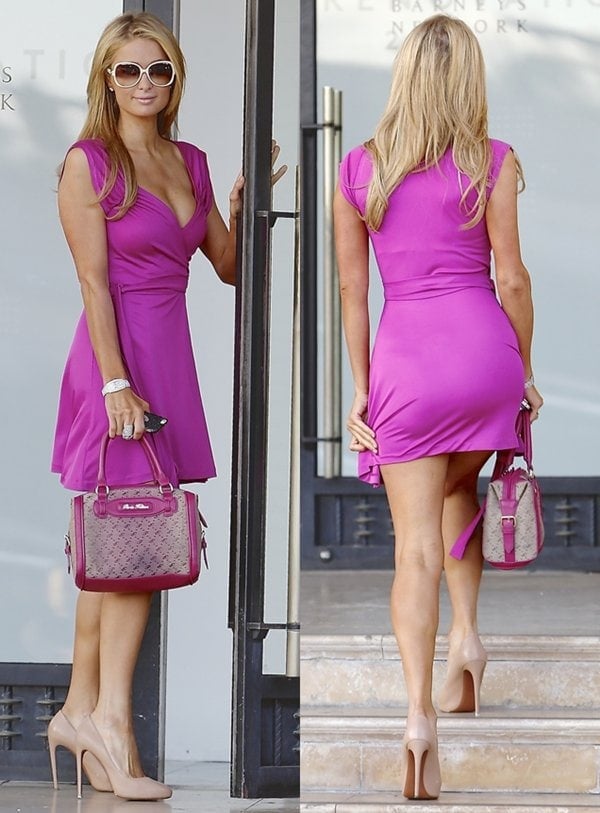 Paris Hilton outside Barneys in Los Angeles on February 5, 2013
Paris bought this Bentley Continental GT way back in 2008 and had it customized to look like an updated version of Barbie's convertible pink ride. The Bentley costs around $200,000 and is said to have custom seats with Paris' initials all over them (of course!), pink hubcaps, and a diamond-embellished dashboard.
Some reports came out a couple of years ago that the British car manufacturer Bentley was disappointed about what Paris did to their popularly luxurious car. Most people would want a ride like this to look polished, clean, and classic, but leave it to Paris to turn it into an over-the-top Barbie car.
In all fairness, Hilton tried to tone down her look with a pair of nude platform pumps, and we have to give her credit for that. If she had worn pink pumps, it would really have been too much to handle.
Here are some budget-friendly alternatives that have the same soft nude tone:
Michael Antonio "Lamiss-SNK" in Nude/Tan, $49.95 at ShoeDazzle
"Love" in Pink, $49.95 at ShoeDazzle
Steven 'Paigge' Low Pumps in Blush, 89 at Shopbop
Credit: WENN