Paris Hilton lent her face and fame to Totalee Hair Care for the brand's store opening in Beverly Hills on Thursday. In return, the businesswoman-slash-DJ used the PR event to promote pieces from her own eponymous clothing label.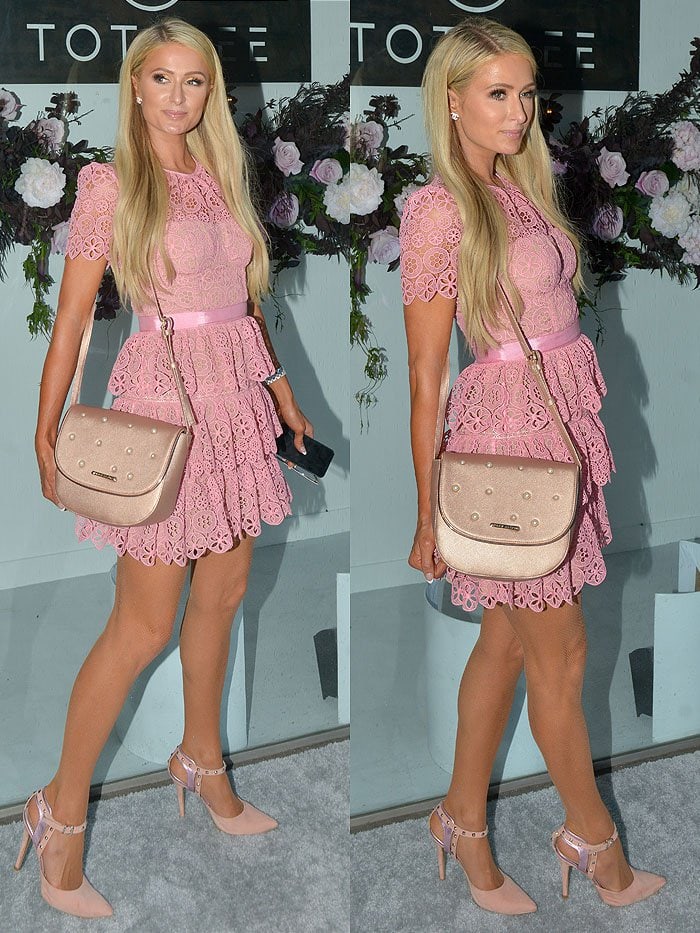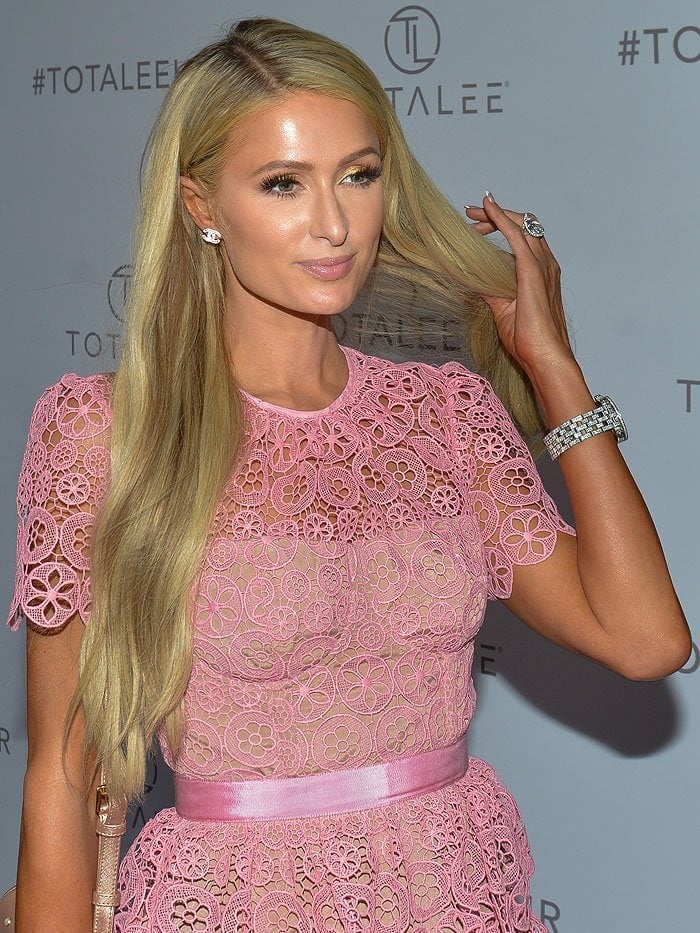 Paris Hilton attending the Totalee Hair Care store opening in Beverly Hills, California, on June 28, 2018.
Unfortunately, Paris chose some of the most questionable accessories to pair with her Self-Portrait tiered lace dress ($440 at Shopbop). The hotel heiress wore pieces from her own fashion line, including an ugly pearl-studded handbag that looked like it came straight out of 2003. On her feet were a pair of pink-suede pumps with tacky pink-and-metallic-purple studded ankle-straps that horribly clashed with the rest of her girly outfit.
We've got to hand it to Paris for being so dedicated to her Barbie persona in promoting her brand, but her styling made her look like she's stuck in the past instead.
Paris Hilton wearing a Self-Portrait pink-lace tiered mini dress with her own collection's shoulder bag and her label's studded-ankle-strap pumps at the Totalee Hair Care Beverly Hills store opening.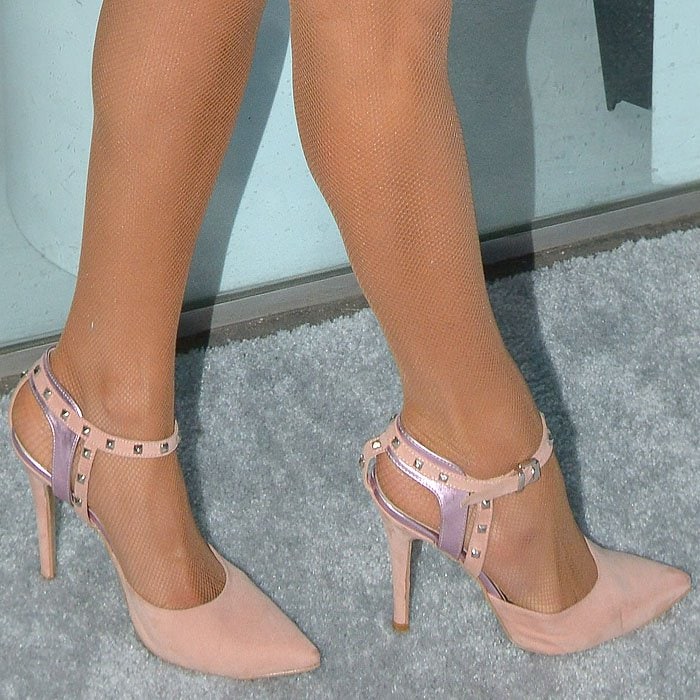 Closeup of Paris Hilton's pink-metallic-and-suede studded ankle-strap pumps from the Spring 2018 collection of her own footwear line.
Paris' outdated pumps are actually from the latest Spring 2018 collection of her self-named shoe label.
There is a much better selection of past-season shoes at Amazon.
Paris Hilton Spring 2018 Studded-Ankle-Strap Pointy-Toe Pumps
To show just how dedicated she is to promoting her clothing line, Paris wore the same ugly pumps-and-handbag combo in a couple pics posted on her Instagram account earlier this month. And this was when she was supposedly on vacation at St. Barts during her brother Brandon's wedding. Clearly, being Paris Hilton is a full-time job!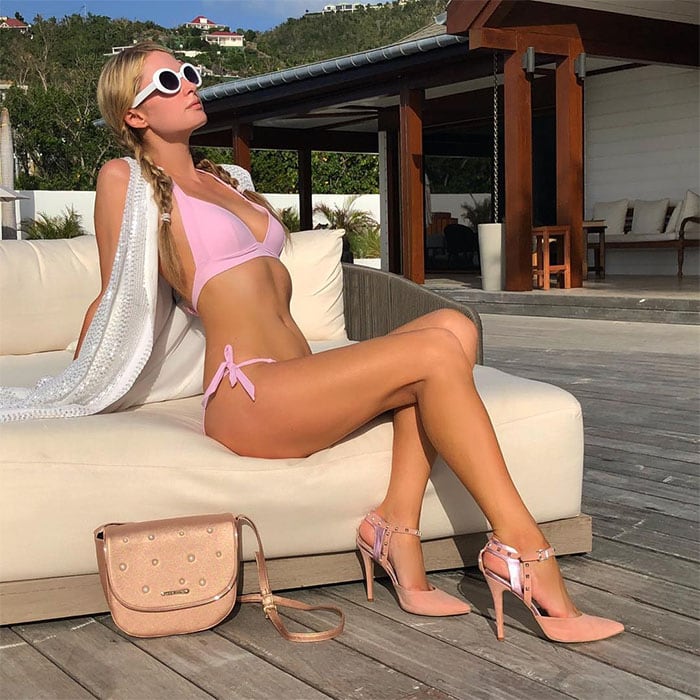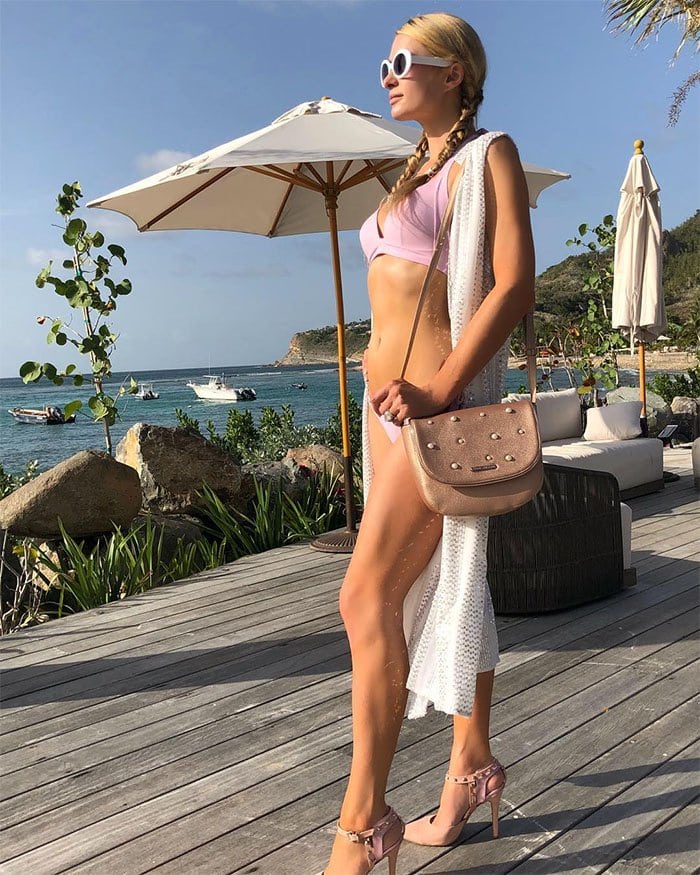 Paris Hilton's Instagram pics of her wearing a pink bikini, pink studded ankle-strap pumps and a pink pearl-studded shoulder bag from her own Paris Hilton handbag and shoe lines during her vacation at the Villa La Plage on Lorient Beach in St. Barts — posted on June 5 and 6, 2018.
Credit: WENN, Paris Hilton's Instagram