Lady Gaga made another sensational appearance in London, and this time Philip Treacy was with her.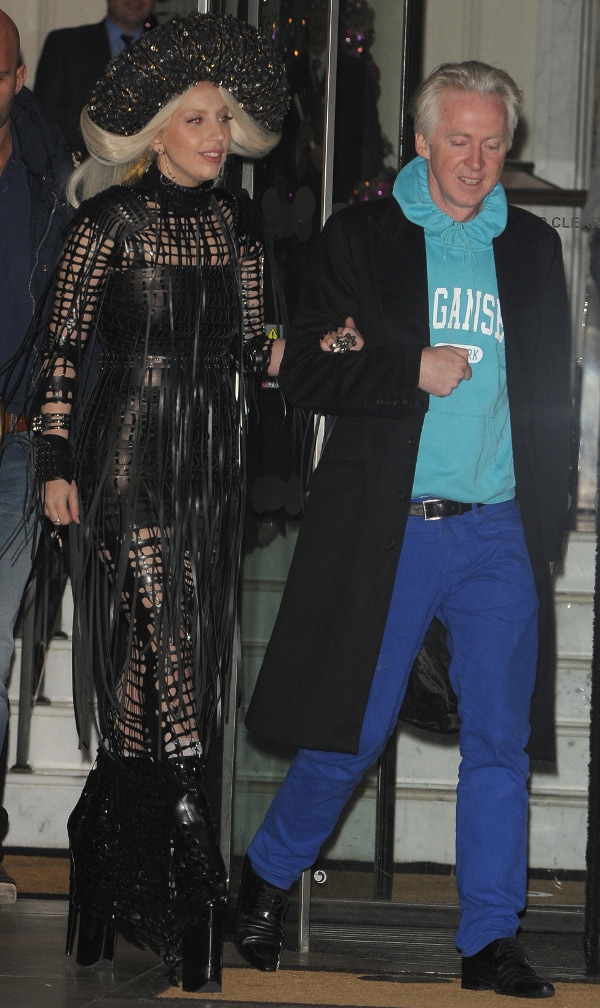 Lady Gaga and Philip Treacy stepping out of a hotel in London on December 7, 2013
No, the hat designer wasn't in any outrageous outfit, but Gaga was dressed in a cutout leather dress and a gigantic black headdress that seemed reminiscent of Renaissance fashion — enough spectacle for two people.
We're not sure what the two had a meeting about, but we wouldn't be surprised if there were a Philip Treacy and Lady Gaga collaboration in the works.
Lady Gaga's black leather outfit featuring a striking black headdress reminiscent of Renaissance fashion
The 27-year-old artist did appear hatless the next day, in a relatively tamer outfit. It's not a fashion interpretation of a famous painting like Da Vinci's Mona Lisa or Picasso's Girl Before a Mirror unless there was a time when we were sleeping during art history and one of the masters painted a lady in an orange brassiere.
Lady Gaga in a neon orange outfit leaving her hotel in London on December 8, 2013
At any rate, Gaga once more captured the attention of the press and captivated her eager fans. She stepped out of her London hotel and into the chilly environs in nothing but an orange brassiere, neon orange fringed pants, an open-front flowy cardigan, and signature platform boots with a more psychedelic color scheme.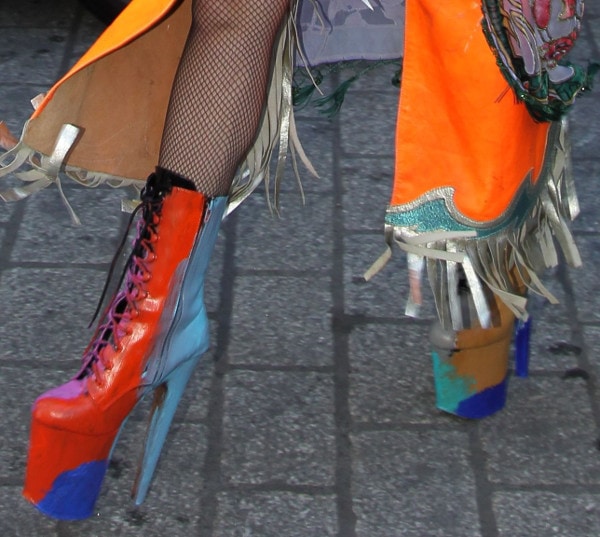 Lady Gaga rocks psychedelic platform boots
So, how do you like Lady Gaga's latest outfits?
Credit: WENN