Superhero-style boots have been on our shoe sonar ever since Balenciaga released its stretchy spandex "Knife" boots. The Balenciaga thigh-highs were introduced in a rainbow of colors, but over the course of the recently concluded fashion weeks, one specific shade has emerged as the boot style's color of choice. Fashionistas and celebrities alike have been photographed wearing bright, primary red skin-tight thigh-high boots… reminding us a little bit of superheroes.
Want to rock this shoe trend without looking and feeling like a caped crusader in costume? Read on for tips and styling tricks on how to pull off red superhero-style boots.
1. Go with the trend and pair them with a pink dress.
Shoes this trendy come with their own look, and, as of now, the outfit du jour with red thigh-high boots is a pink dress. Once considered a fashion faux pas, pairing pink and red together is now viewed as making a bold fashion statement. Just take it from stylist-to-the-stars Monica Rose who outfitted Chrissy Teigen in a pink wrap dress and red Balenciaga boots. Pop sensation Pia Mia also rocked the look for her 21st birthday party, opting for a sweeter shade of pink on her belted dress to combine with her fiery red lace bra and thigh-high boots.
Chrissy Teigen in an Instagram pic styled and posted by celebrity stylist Monica Rose on November 4, 2017; Pia Mia celebrating her 21st birthday at Hyde Bellagio at the Bellagio Hotel & Casino in Las Vegas, Nevada, on September 23, 2017.
2. Style them with a long dress shirt and a black blazer.
Another favorite look with red thigh-boots is a long, white dress shirt streamlined with a black blazer. Mila Kunis showed us how it's done with the Fendi "Rockoko" boots at her "Jimmy Kimmel Live!" guest appearance last week, while Rita Ora blazed the red boots trail in an embroidered H&M pair at Paris Fashion Week Fall/Winter 2017.
Mila Kunis arriving for her guest appearance on "Jimmy Kimmel Live!" at the El Capitan Entertainment Centre in Los Angeles, California, on October 30, 2017; Rita Ora out and about in Paris, France, on March 7, 2017.
3. Soften them up with a frilly, pretty dress.
Tone down the boldness of red thigh-high boots with a frilly dress. The key is to wear a dress that is at knee-length or longer and in light fabrics such as satin or chiffon so you get the full flowy, feminine effect.
Emily Ratajkowski charmed us in a white Miu Miu ruffled dress and Esquivel x Brock Collection alligator boots, while La Rouge Belle lingerie founder Lala Rudge kept it soft and pretty in a delicate pink lace dress with her red boots.
Emily Ratajkowski arriving for the Miu Miu spring 2018 fashion presentation held during Paris Fashion Week  Spring/Summer 2018 in Paris, France, on October 3, 2017; Lala Rudge arriving at the Giambattista Valli spring 2018 fashion presentation held during Paris Fashion Week  Spring/Summer 2018 in Paris, France, on October 2, 2017.
4. Wear your favorite oversized shirts and sweaters with them.
You can always treat red superhero boots like any other pair of thigh-high boots and wear them with your favorite oversized t-shirts and sweaters. In the pic below, model Ashley James styled down her red boots with a country-style handkerchief and denim shirt. Blogger Lisa Banholzer hit two trends with one stone by wearing a ripped oversized sweater in a rosy shade of pink.
Ashley James at the Gigi Hadid X Maybelline Party in London, England, on November 7, 2017; Lisa Banholzer at the Amorelie Adventskalender Launch at Von Greifswald in Berlin, Germany, on October 12, 2017.
5. Wear them with a warm and cozy fall coat.
Something about a warm fall/winter coat just makes perfect sense to pair with red thigh-high boots. The heavy fabrication and the classic plaid or herringbone patterns complement the boots' statement-making contemporary looks. Olivia Palermo and Kerry Washington offer great examples of this in their cozy, winter-ready ensembles below.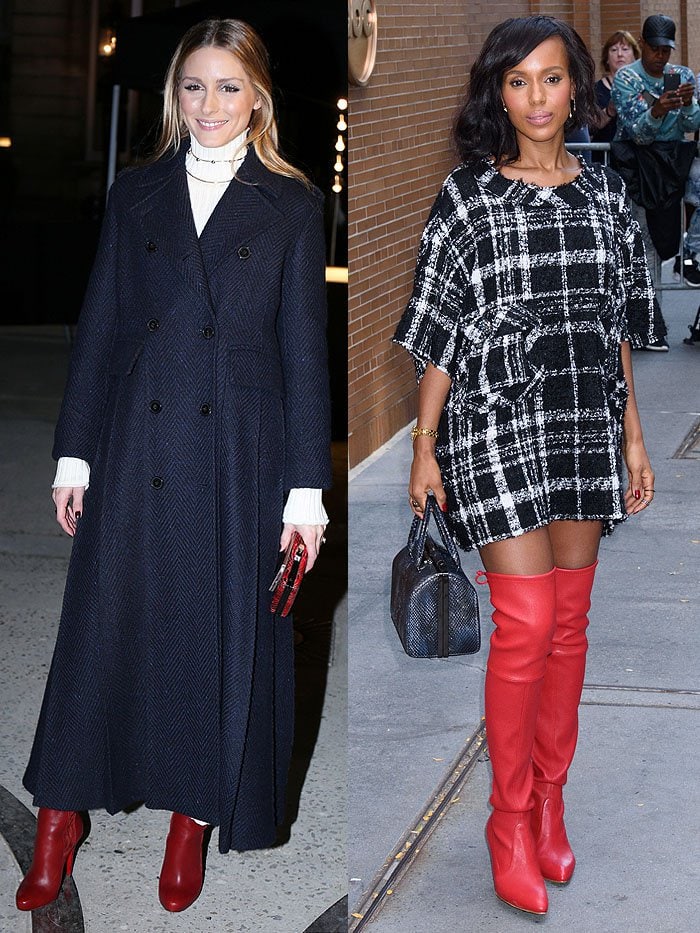 Olivia Palermo at the Valentino spring 2017 fashion show held during Paris Fashion Week Haute Couture Spring/Summer 2017 in Paris, France, on January 25, 2017; Kerry Washington at "The View" studios in New York City on October 5, 2017.
6. Go all out and wear head-to-toe red with them!
If you're bold enough to buy red superhero boots, then you're bold enough to wear head-to-toe red with them. No need to worry about mixing-and-matching, but you do need to get ready for all the attention you will be getting in your head-turning outfit.
Blogger-turned-model Doina Ciobanu didn't let the problem of blending into the red carpet faze her and went all out with her red ensemble down to her lipstick color. 15-year-old Jenna Ortega decided to just go with the superhero theme and wore red, white, and blue with her red Tommy Hilfiger thigh-high boots.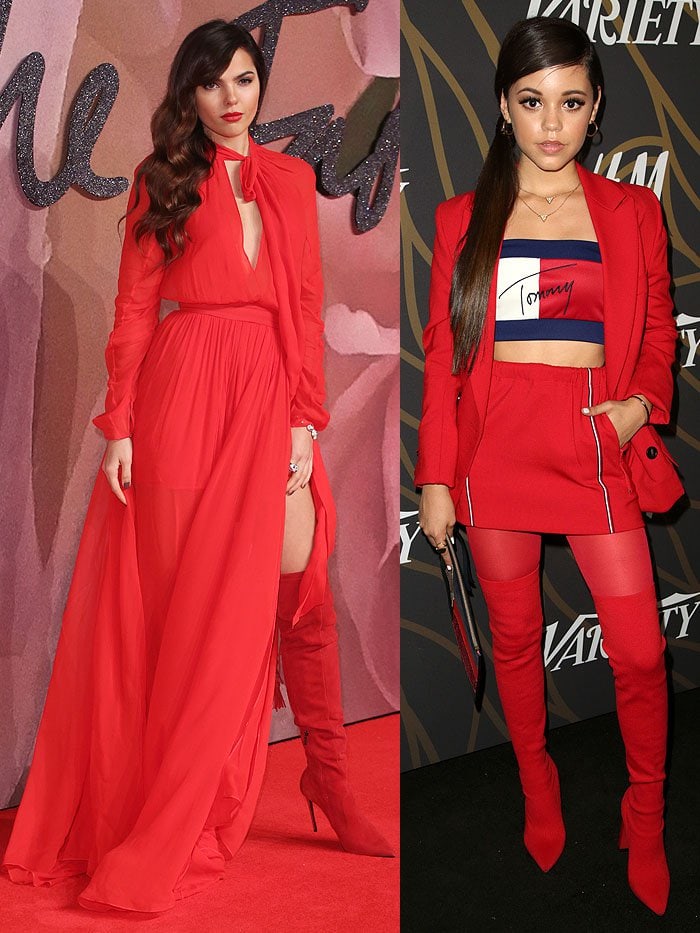 Doina Ciobanu at The Fashion Awards 2016 held at the Royal Albert Hall in London, England, on December 5, 2016; Jenna Ortega at Variety's Power of Young Hollywood event at TAO Hollywood in Los Angeles, California, on August 8, 2017.
Ready to save the day? Shop our three picks for red superhero boots below — all under $100!
BP. "Fab Nara" thigh-high boots in red stretch faux suede, $89.95 at Nordstrom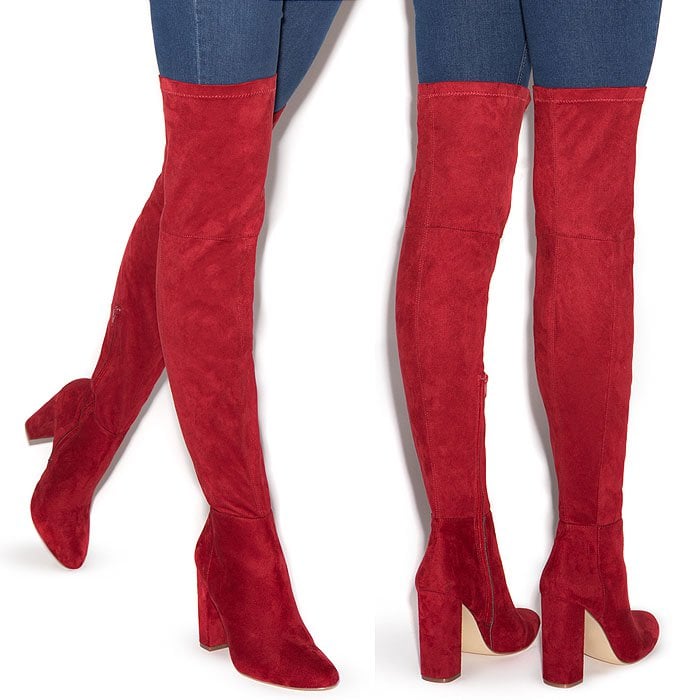 "Rhona" heeled stretch thigh-high boots, $11.24 (VIP price) at ShoeDazzle
"Nadine" ruched stiletto boots, $11.74 (VIP price) at ShoeDazzle
Credit: AEDT/Brian To/DJDM/Lia Toby/WENN.com, Monica Rose's Instagram