After the overwhelming barrage of sneaker wedges, we thought we'd give up on couture kicks for a while.
But thanks to the long-anticipated PUMA and Solange Knowles collaboration, it looks like we're far from abstaining from the concept of fashion sneakers.
The PUMA and Solange Knowles collaboration is a partnership between the German sportswear brand PUMA and American singer, songwriter, and actress Solange Knowles.
Solange is working with PUMA to design a range of sneakers and apparel, focusing on promoting diversity and inclusivity in the fashion industry.
The collaboration features bold colors, unique patterns, and empowering messages to celebrate women of all backgrounds and promote individuality.
PUMA x Solange "Girls of Blaze" Disc Rainforest Sneakers, $150
In 1992, PUMA revolutionized the sneaker industry with the launch of the Disc – a shoe that boldly rejected the conventional shoelace concept.
Instead, the Disc featured a unique disc closure system that allowed for a customized and secure fit with just a twist of the wrist.
This innovative design quickly gained popularity among athletes and sneaker enthusiasts alike and became a defining symbol of PUMA's commitment to pushing boundaries and challenging the status quo in footwear.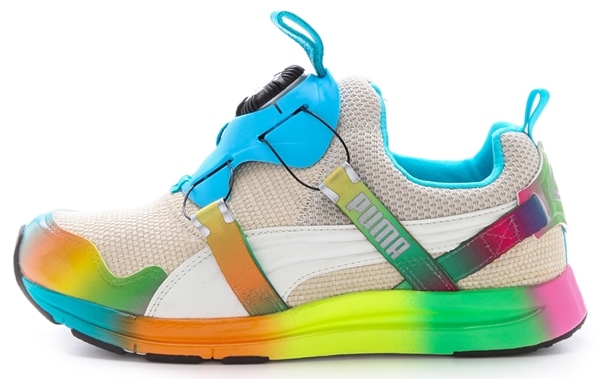 Puma x Solange "Girls of Blaze" Disc Rainbow Sneakers, $150
Knowles' contribution was to revive it with her penchant for bold colors and unique patterns.
And, really, who doesn't love psychedelic running shoes? The collaboration is named "Girls of Blaze" and comes in three variants: Rainforest, Rainbow, and Tire.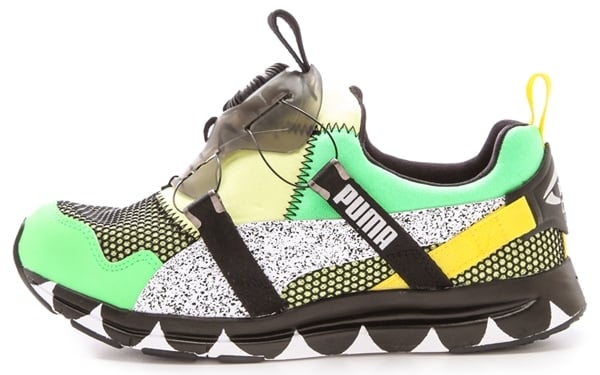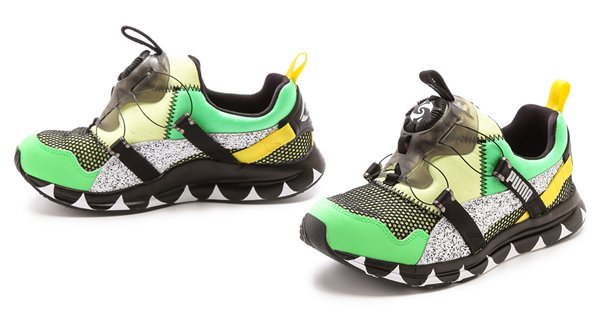 Puma x Solange "Girls of Blaze" Disc Tire Sneakers, $150
So, what do you think? Are these 2014's fashion sneakers?