Jamie Chung made a name for herself as a cast member on The Real World: San Diego, the fourteenth season of MTV's reality television series The Real World. The season premiered on January 6, 2004, and consisted of 26 episodes.
It was filmed from August 16 to December 14, 2003, when Jamie was 20-years-old. She turned 21 on April 10, 2004. Jamie later made appearances on the spin-off show, Real World/Road Rules Challenge: The Inferno II.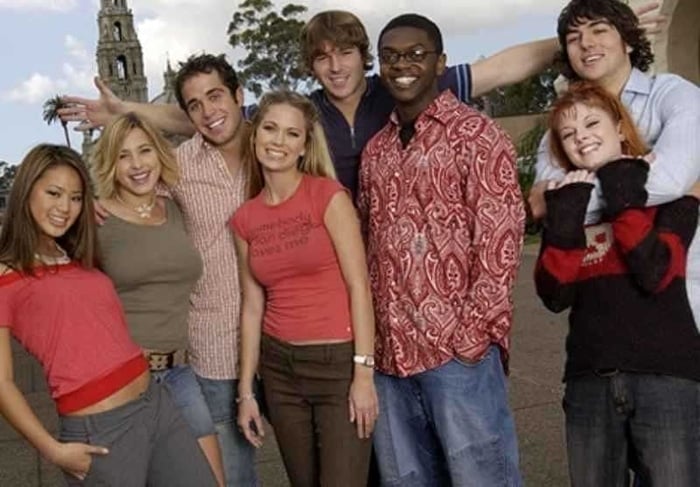 Jamie Chung was 20 when filming the MTV reality series The Real World: San Diego
"No. I can't find it. She won't let me see it (laughs)," Bryan Greenberg told ET Online about his wife's MTV reality series in May 2015.
"I've never seen it. All I asked her was, 'Did you embarrass yourself?' And she said, 'No.' So I was like, 'Alright, fine.' She was like, 'I was the boring one.'"
Some shoes are made for dancing, but unfortunately, some are not. It's tough to be a woman because most stilettos cause aching feet — even just from standing for a few hours.
However, on nights when the music is good and the company even better, we can't help but dance in them anyway.
Jamie Chung at the InStyle & Warner Bros. Pictures 2017 Golden Globes after-party held at the Beverly Hilton Hotel in Los Angeles on January 8, 2017
In January 2017, Jamie Chung sacrificed comfort for an awesome evening at the post-Golden Globes party held by InStyle and Warner Bros.
Not related to Alexa Chung, she was in full celebratory mode as she partied in a gray Amanda Wakeley dress.
The dress was reminiscent of Greek costumes with its high neckline and billowing sleeves but modernized with a thigh-high slit and arm cutouts. The actress cinched her dress at the waist with a Gucci belt.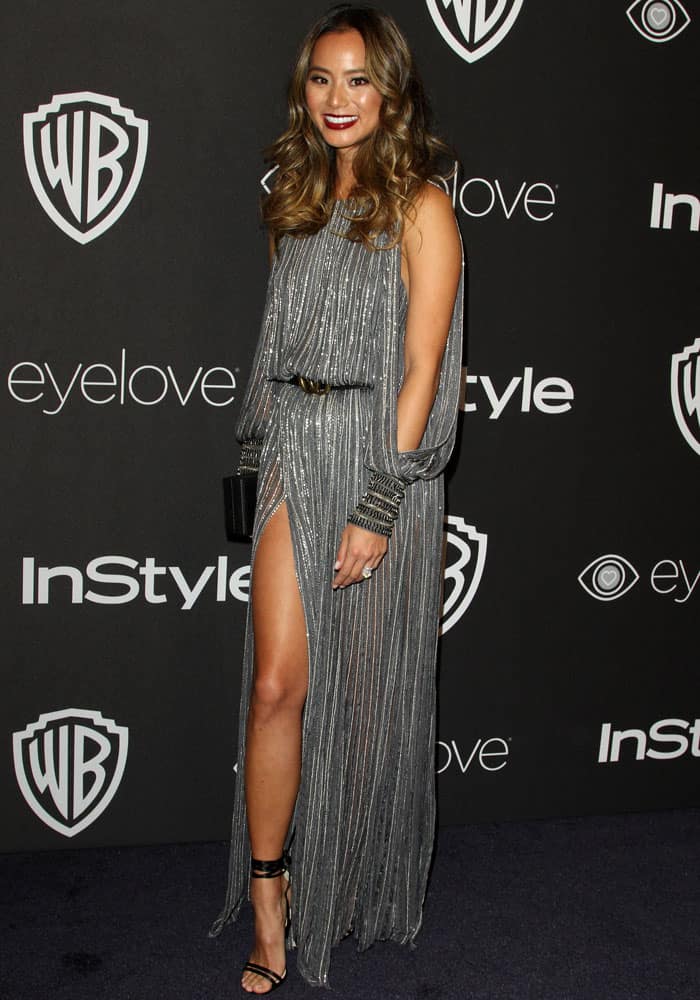 Jamie Chung flashes some leg in a gray Amanda Wakeley dress
The "Mulan" actress finished her look with a S'Uvimol clutch and showed off her feet in Jimmy Choo's "Tizzy" sandals. Jamie's pair seems to have been customized as it makes use of ankle ties instead of the standard buckle.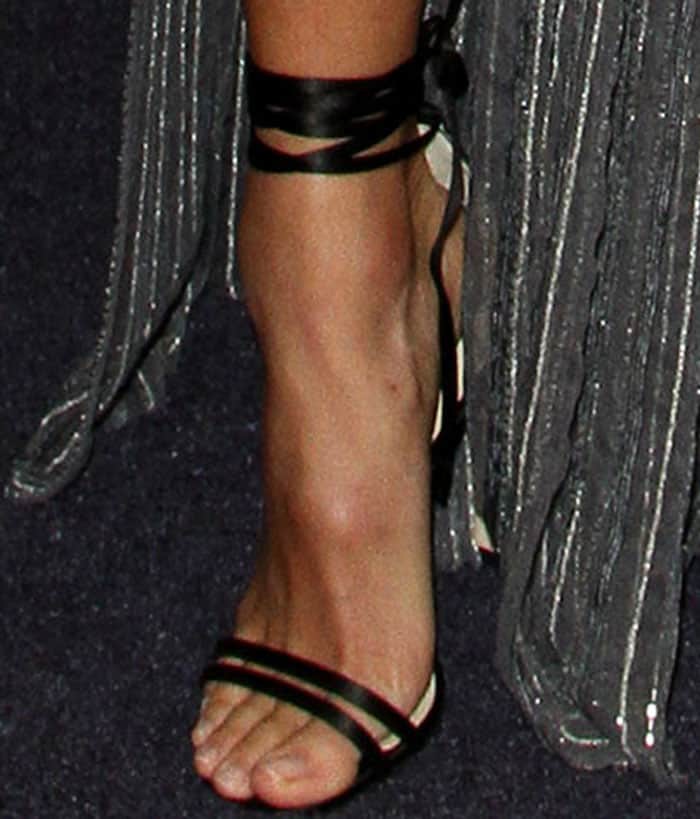 Jamie Chung shows off her feet in Jimmy Choo Tizzy sandals
Despite her sinister-looking pair of stilettos, Jamie couldn't help but abuse her feet as she, her husband, and her friends enjoyed the Golden Globes after-party.
Jamie partied the night away with her husband and partner-in-crime Bryan Greenberg
The actress uploaded a photo on her Instagram, sharing how she danced the night away and indicated that she had throbbing feet as evidence.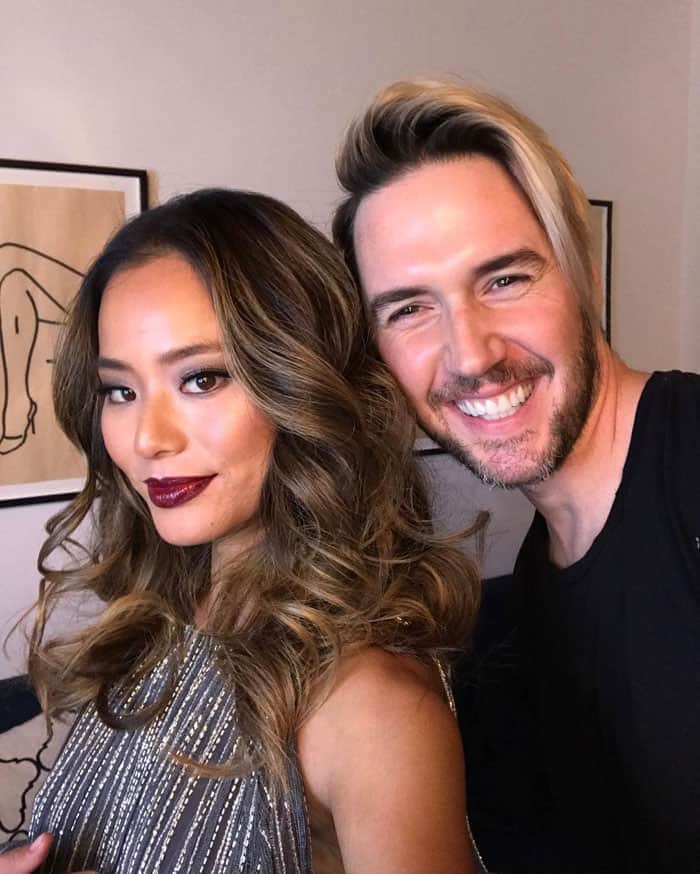 Jamie poses with her hairstylist Paul Norton
Shop the Jimmy Choo "Tizzy" sandals at Net-A-Porter, Nordstrom, and Mytheresa.
Jimmy Choo Tizzy Ankle-Wrap Sandals, $695 – $750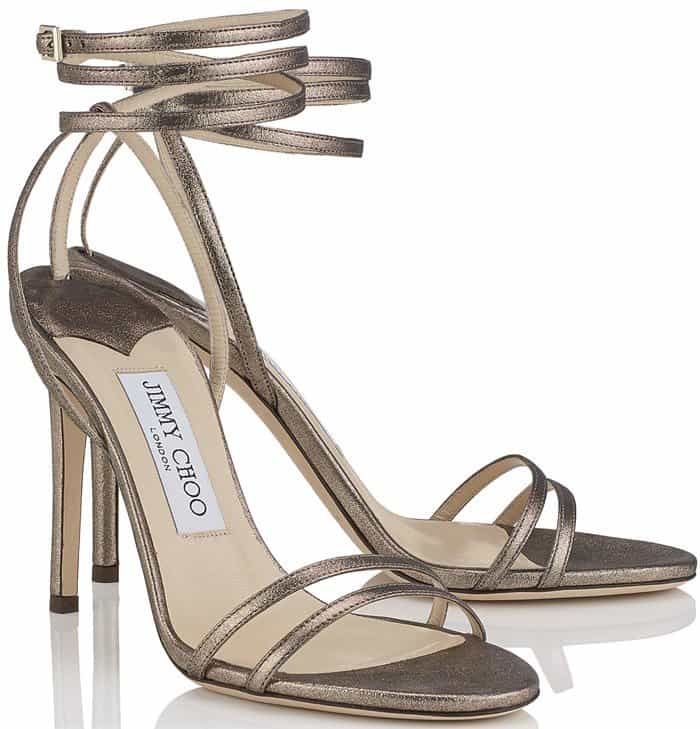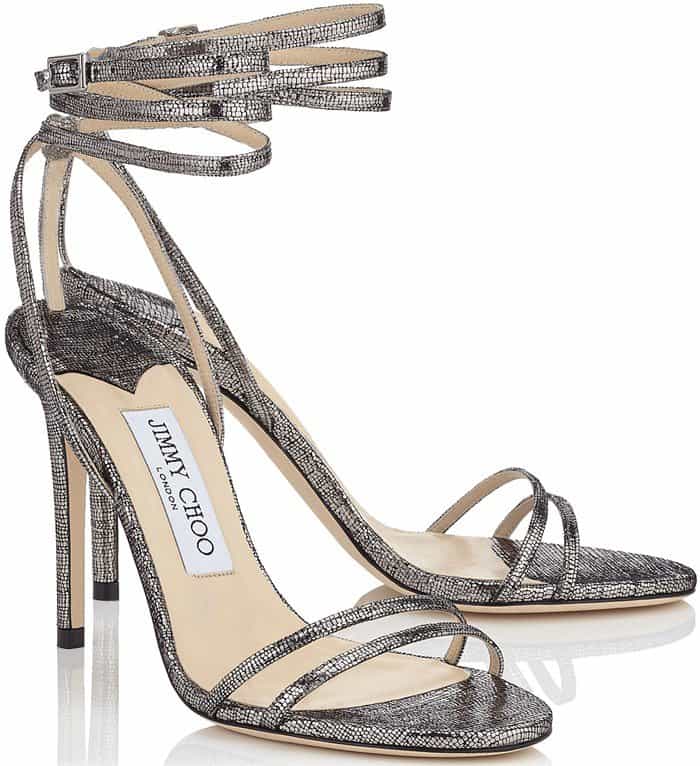 Jimmy Choo's 'Memento Tizzy' sandals are true to the iconic label's glamorous aesthetic
Expertly made in Italy from metallic pixelated leather, this pair is set on a thin stiletto heel and has an elegant wrap-around ankle-strap
Credit: Jamie Chung's Instagram / Adriana M. Barraza / WENN