Having spent most of her life in New York City, Sarah Jessica Parker is committed to helping the city's economy recover from the COVID-19 pandemic.
Recently, the ultimate New Yorker encouraged people to return to the Big Apple and "reinvest" in the community.
In an op-ed she penned for Variety, SJP said: "I'm encouraging people to come back to New York and reinvest in our community. Whether it's a theater or a small business, you can't reopen a business until you have the patrons there—it's a psychological thing. And I believe it's incumbent upon people who've had success in this city to reinvest, to come home."
Sarah Jessica Parker makes an appeal to save Broadway and for people to return and reinvest in New York City
Aside from using her fame and social media, Sarah Jessica is also taking action by keeping her shoe stores open.
"We open our doors and we look up and down the street so we can encourage other business owners. We're here, we're doing it safely, people are stopping by," SJP told Footwear News.
"The more we keep saying we're here, maybe we will encourage others to come home to New York and to believe in the spirit and the resilience of this city," she added.
Staying true to her words, SJP has been making weekly appearances at her shoe stores in NYC amid the pandemic.
Just last Wednesday, SJP visited her Midtown Manhattan store to personally assist her customers.
Sarah Jessica Parker visits her Midtown, Manhattan shoe store on October 7, 2020
She turned up wearing a chic fall ensemble, which included a pair of sweatpants and a multicolored printed top with a cleavage-baring low-cut neckline and a ruffled hem.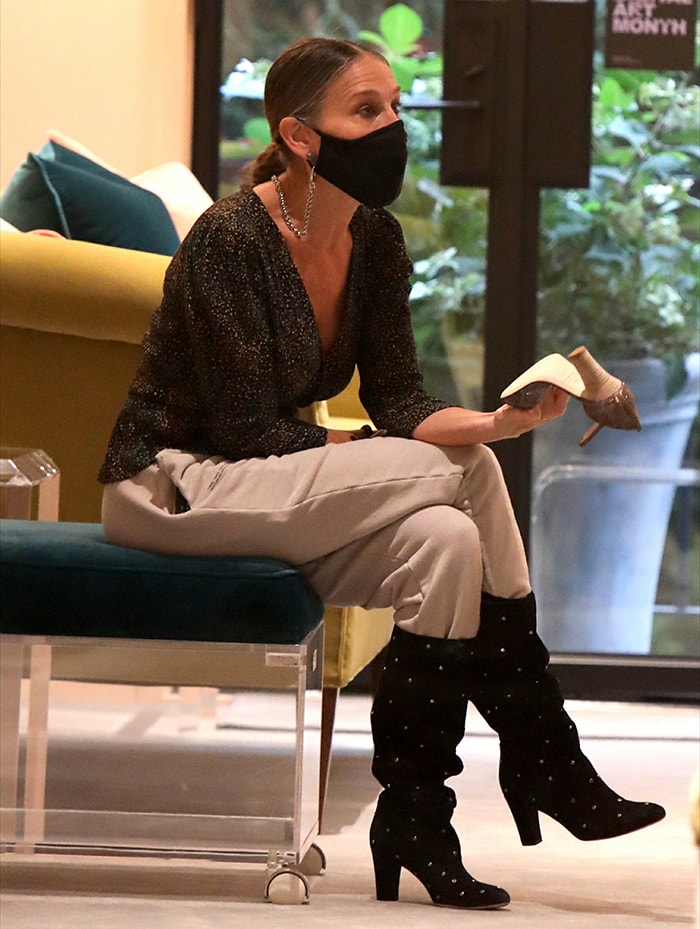 Sarah Jessica Parker teams a low-cut blouse with baggy sweatpants
For her jewelry, SJP kept it simple with just a pair of stud earrings. She further accessorized with a set of headphones and her favorite pair of sunglasses from her collaboration with Sunglass Hut.
The 55-year-old Footloose actress carried her stuff in a Samsonite convertible backpack and a crossbody bag with a hot pink strap. To keep herself safe from coronavirus, she wore a chain-detailed black face mask.
Sarah Jessica Parker shows off her cleavage and stays safe with a chain-detailed face mask
Pulling her hair back into a slick braided ponytail, Sarah Jessica tucked her baggy pants into a pair of SJP "Busker" knee-high boots from her collection.
Crafted from black suede, these boots feature stud details and about 3-inch heels. Wear them tall or scrunched down for added style.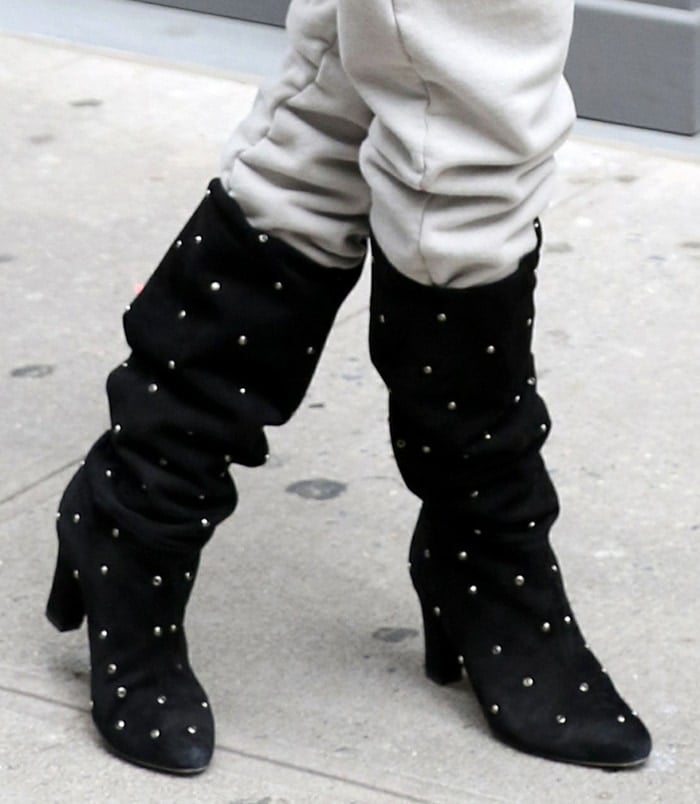 Sarah Jessica Parker tucks her sweatpants into a pair of SJP Busker knee-high boots
SJP by Sarah Jessica Parker 'Busker' Boots, $795
SJP's studded knee-boots can be dressed up or down
Just a day before, Kim Cattrall's nemesis was at her shop again, wearing a similar ensemble.
This time, she opted for dark gray sweatpants tucked into the same pair of "Busker" boots. Her top features the same low-cut style but comes in plain dark gray color.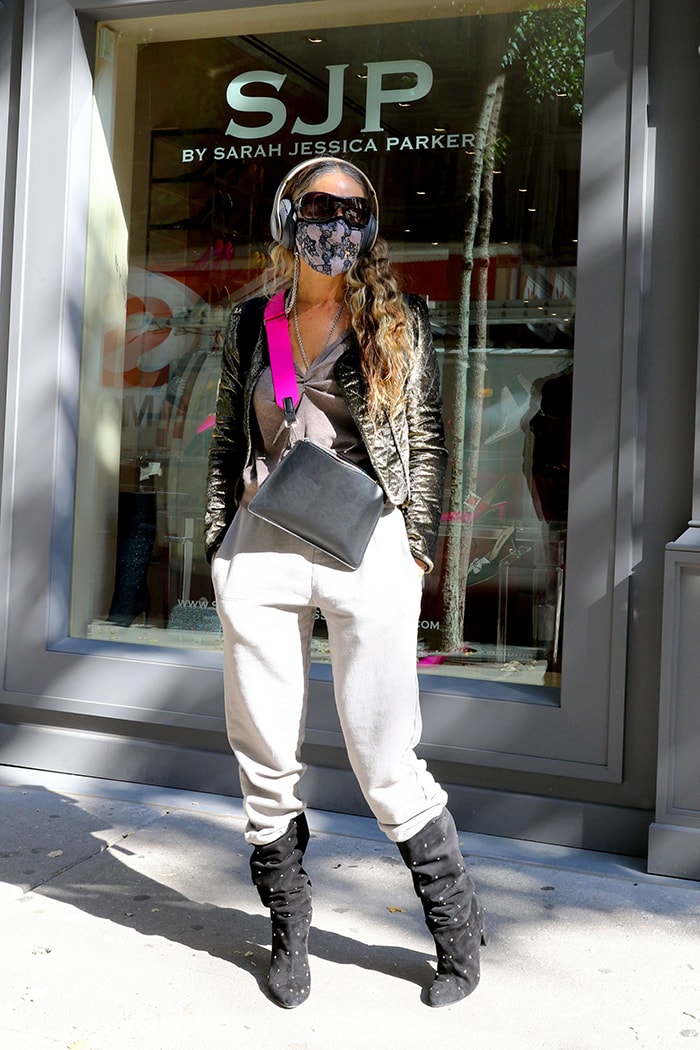 Sarah Jessica Parker wears a similar outfit with a glittery jacket for her store visit on October 6, 2020
She added a glittery jacket and traded her chain-detailed face mask for a Masqd lace face mask with her initials.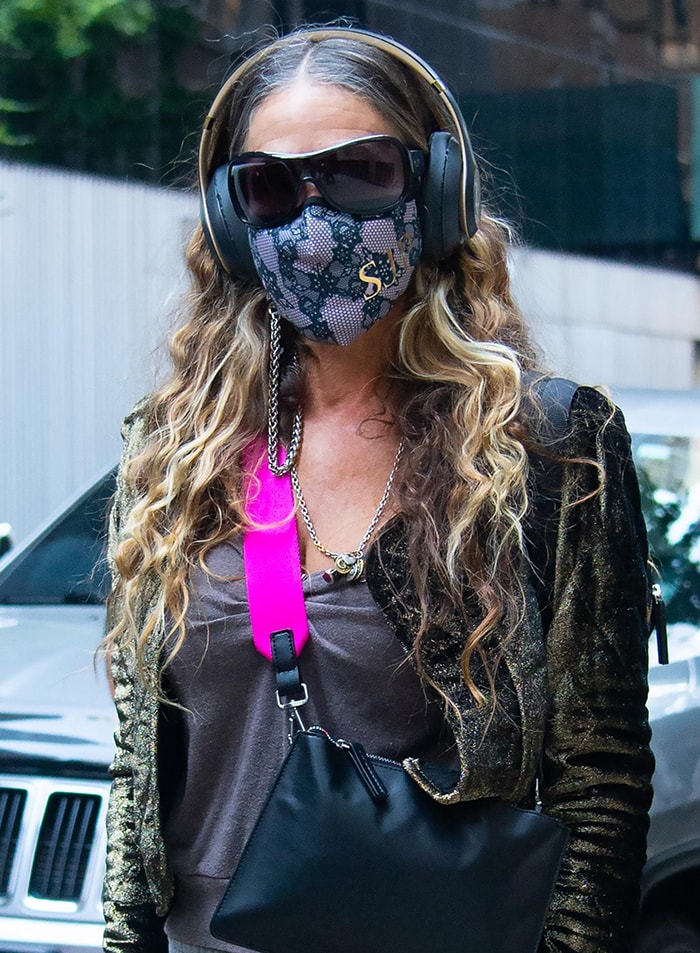 Sarah Jessica Parker wears headphones and a lace face mask with her initials in gold lettering
On October 2, SJP again attended to her customers at her shoe boutique.
For the visit, she wore a gray apron-style dress with a checkered long-sleeved peasant blouse underneath.
Sarah Jessica Parker in an apron-style dress at her shoe store on October 2, 2020
She then wore a pink embellished face mask, which perfectly matched her "Fawn" pumps.
Named after a group of women, who resided in New York City in the 1960s, The Fawns, these pumps feature a classic silhouette with 4-inch heels.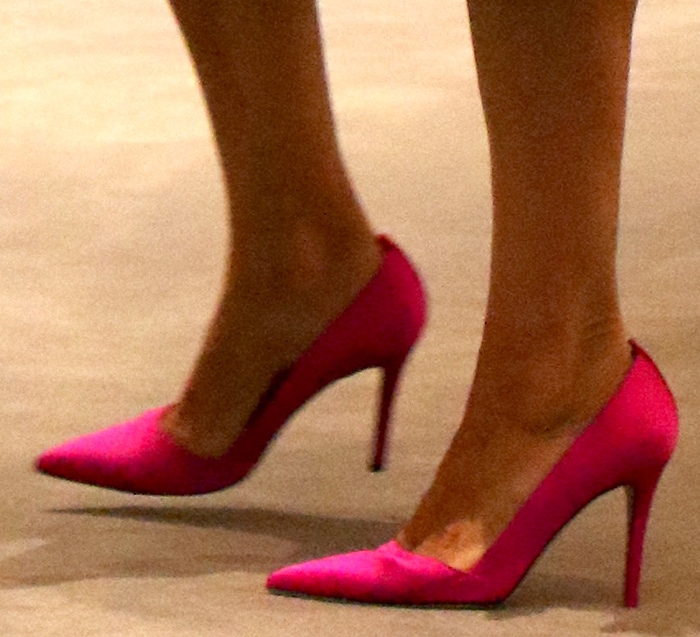 Sarah Jessica Parker slips into a pair of SJP Fawn pink pumps
SJP by Sarah Jessica Parker 'Fawn' Pumps in Candy, $350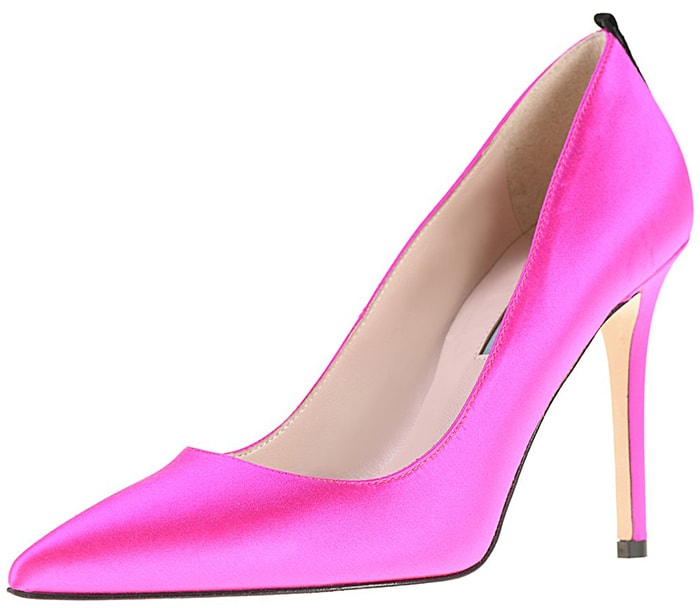 SJP's Plea to Save Broadway
In the same Variety essay, SJP asked the community to save the theater as "we need it more than ever."
"When I'm not working, the theater and the ballet is where I go, to connect, and to be inspired. That possibility is missing now, and we need it more than ever. We need the escapism that live theater has always given us so beautifully, to be with our fellow man in the audience, laughing and weeping and finding something entirely new to connect with."
She also mentioned about the people directly and indirectly employed by the industry. "Theater is the way we induce visitors to come to our city and plan those special afternoons and evenings, which keep such a vast web of my fellow citizens employed and afloat."
"All the people I know and all the people I don't know who are out of work need theater for rent, and the mortgage, and children's educations—all the countless 'ands' that are creating so much anxiety across the city and the nation."
Sarah Jessica and her husband Matthew Broderick were set to return to the stage for the Broadway revival of Neil Simon's Plaza Suite. Due to the COVID-19 pandemic, however, the production has been pushed back to spring 2021.
Credit: Instar / WENN