Christian Louboutin and Yves Saint Laurent's bloody battle ended last Wednesday when US District Judge Victor Marrero denied Louboutin the exclusive right to use red soles.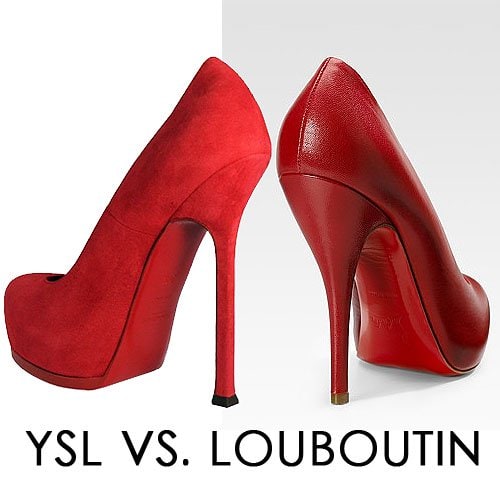 Despite having acknowledged the fame and appeal of Louboutin's shoes, Judge Merrero concluded that Louboutin had no trademark protection which was "overly broad" in the first place.
In a filed written statement published by The Fashion Law, Judge Merrero said:
Because in the fashion industry color serves ornamental and aesthetic functions vital to robust competition, the court finds that Louboutin is unlikely to be able to prove that its red outsole brand is entitled to trademark protection, even if it has gained enough public recognition in the market to have acquired secondary meaning.
He also implied that if this case continued, he would move to find for the defendant (YSL) without a full trial, which could mean that Louboutin just might lose their trademark on the Pantone-18 Chinese Red sole awarded to them by the US Patent and Trademark Office in 2008.
Shoe designer Christian Louboutin reveals the inspiration for his famed red soles on ABC's "Oprah" USA, aired on January 15, 2008
This is one piece of news that was heard beyond the confines of the fashion industry. Christian Louboutin has made the red sole so famous that everyone associates that flash of red on shoes with "Louboutin" (or that designer).
That's why it's also sparked a big debate on whether the verdict was right or not and have split people into the two designers' camps.
Here are some of the popular arguments for either designer:
Pro-Louboutin
Other brands using red soles would devalue and lessen the exclusivity of Louboutin shoes
As a lawyer for Louboutin stated, "[Even in] consumer foods, packaging and color serve to distinguish one product from another" — this specific shade of red on a specific part of a shoe is associated with Louboutin
Tiffany has trademarked the color "Tiffany Blue" so why can't Louboutin trademark "Louboutin Red"?
Pro-Yves Saint Laurent
YSL has been making red-soled shoes since 1962
As Judge Marrero said, "awarding one participant in the designer shoe market monopoly on the color red would impermissibly hinder competition among other participants" — no one in a creative industry such as fashion should be allowed to have a single color as a trademark
The idea for red soles was "copied from King Louis XIV's red-heeled dancing shoes or Dorothy's famous ruby slippers in 'The Wizard of Oz" as YSL has stated
In addition to these, we don't think the women buying the thousand-dollar shoes from either Louboutin or YSL would actually ever mistake one for the other. But if we're talking about the general populace, YSL might actually be on the losing end here. Because when people see a red sole on a designer shoe, don't they automatically assume that it's a Louboutin? In effect, YSL would be giving Louboutin free advertising when they use red soles on their shoes.
People could always just check the label of course. But even if Louboutin was able to stop YSL from selling red-soled shoes, what are they going to do with the hundreds of other shoe brands that blatantly copy Louboutin?
In this red sole battle, whose side are you on — Christian Louboutin or Yves Saint Laurent?
Credit: WENN