After spearheading Time's Up, an advocacy that encourages dialogue on sexual harassment in the workplace, Reese Witherspoon requested that all Golden Globes attendees wear black to raise attention to the movement. The message became so big that Reese involved many powerful women, including Oprah and her now-viral speech at the Globes.
The movement became so big that it even had celebrities like Gigi Hadid posting their own #TimesUp messages online despite their absence at the Globes.
Reese and a couple of other celebrities decided to continue the advocacy well into the Critics' Choice Awards. The actress was spotted back in black as she arrived at the event held at the Barker Hangar in Los Angeles.
Reese Witherspoon at the 23th annual Critics' Choice Awards held at the Barker Hangar in Los Angeles.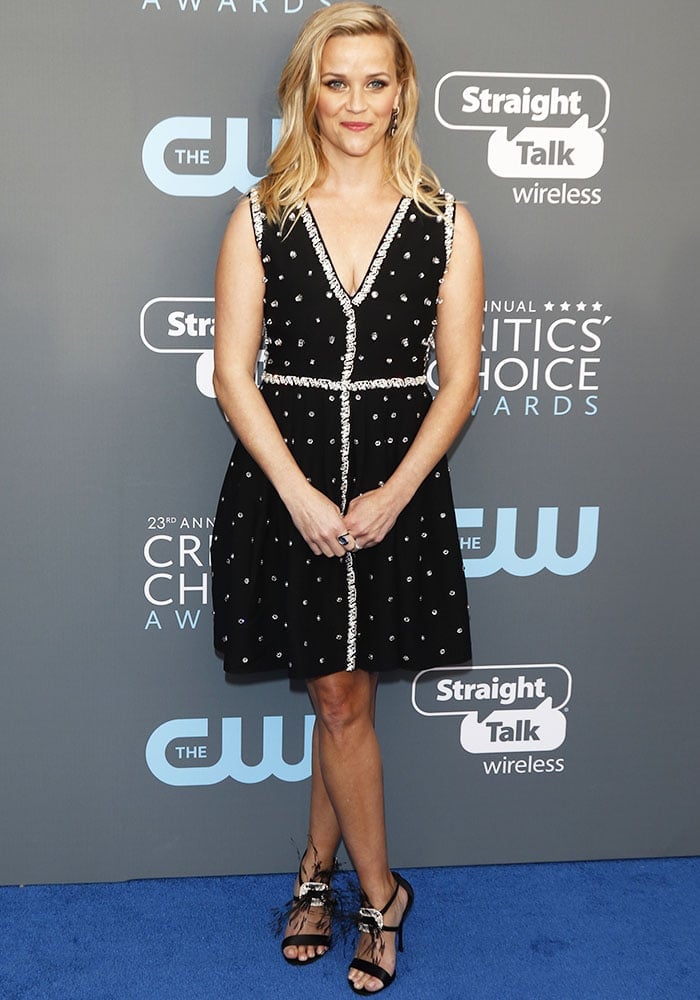 Reese slipped into a black dress with crystal embellishments by Prada.
Reese wore the head-turning Roger Vivier "Sin" sandals.
Reese remained faithful to her advocacy by wearing another all-black ensemble. This time, the actress opted for a jeweled short dress by Prada. The dress was detailed with big and small crystal studs at the hems, neckline and center, and had individual crystal strewn about.
The real stowshopper in this look, however, was Reese's shoes. The actress wore the feather-embellished Roger Vivier "Sin" sandals which basically trumped every other shoe on the carpet that evening. You can buy your own magical pair of ostrich feather Roger Vivier "Sin" sandals at Net-A-Porter.
The "Sin" sandal starts off with smooth satin straps that meet in the center of a crystal embellishment. Pieces of South African ostrich feathers fan out to make this pair one of the most magical shoes in existence.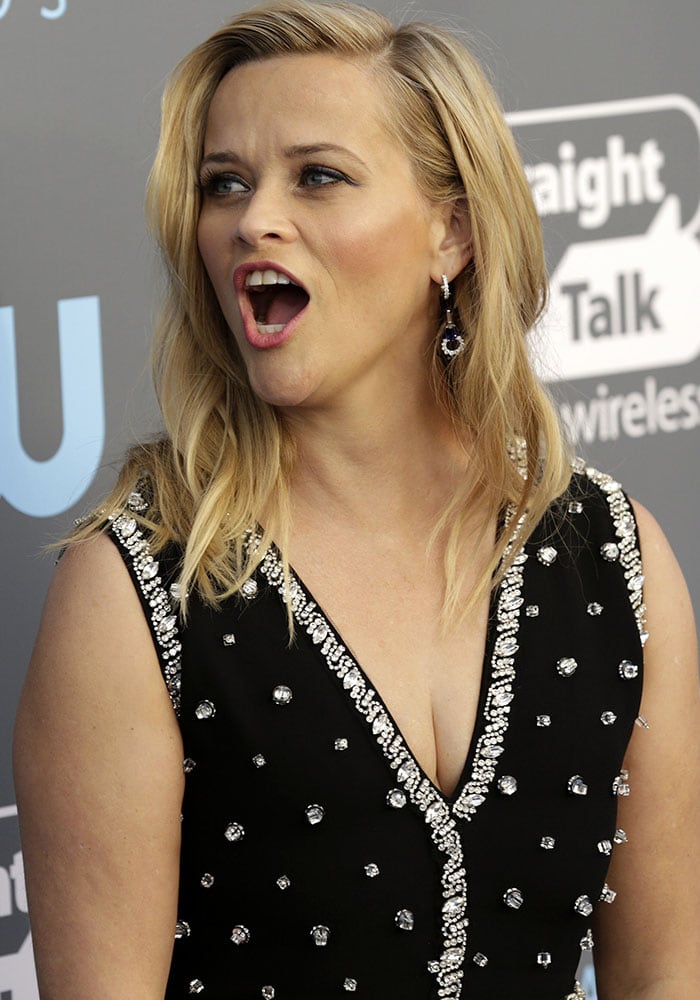 Reese turns playful on the carpet.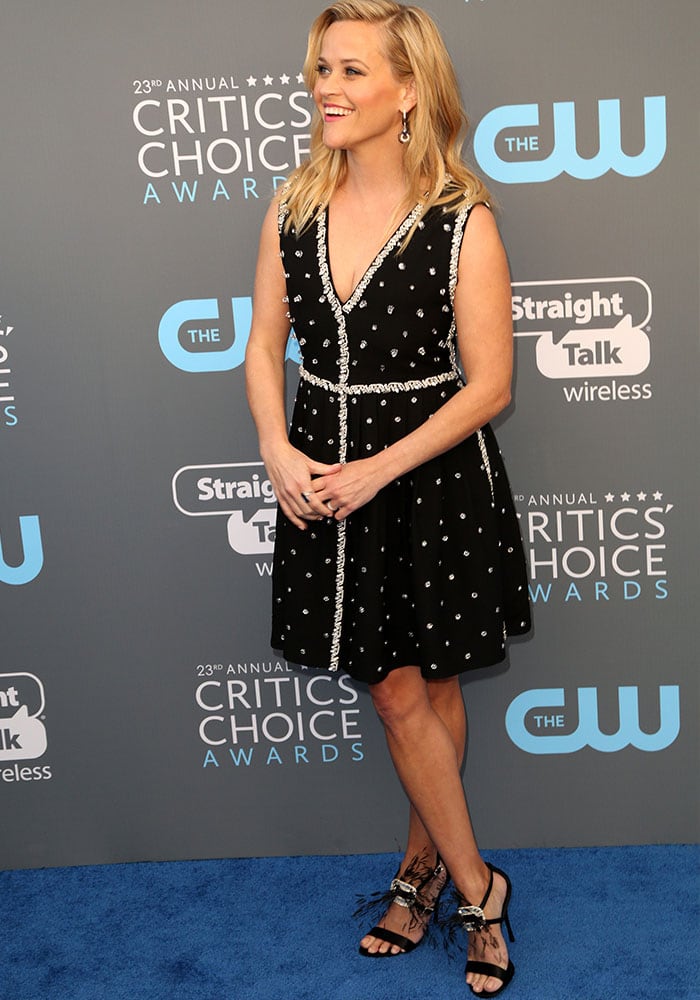 The actress continues her advocacy against sexual harassment in the workplace with an all-black ensemble.
The actress took a moment to talk to the media about the cause, stating that the Harvey Weinstein incident was tough on her. Reese said she has experienced multiple advances from directors and producers since age 16.
Reese, together with actresses such as Laura Dern and Eva Longoria, decided to get together in a room and plan the movement. The actress asked stylist Arianne Phillips to create advocacy pins for everyone to wear at the Golden Globes.
The actress was joined by A-listers on the Critics' Choice carpet such as Emilia Clarke and Nicole Kidman.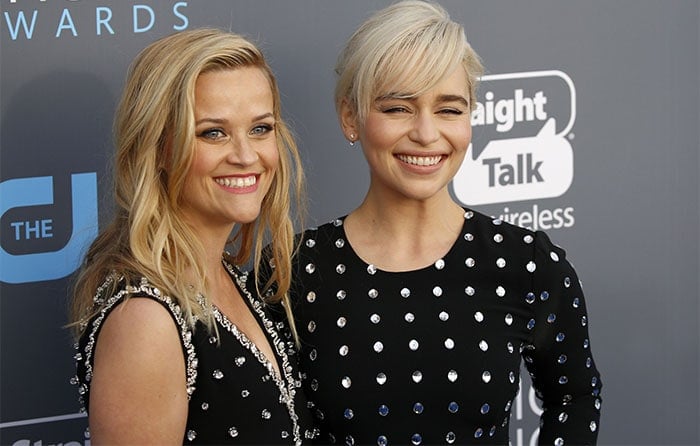 Reese poses with "Game of Thrones" star Emilia Clarke.
Roger Vivier "Sin" Feather and Crystal-Embellished Sandals, $2,395 at Net-A-Porter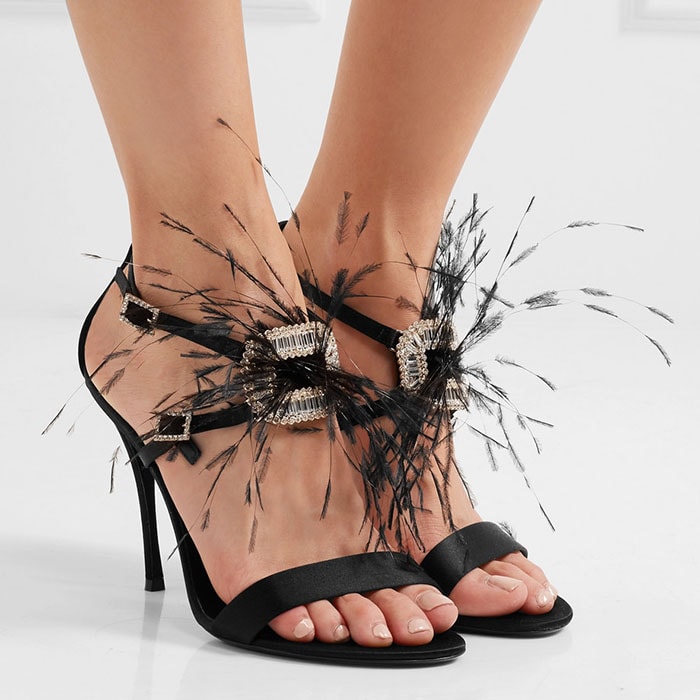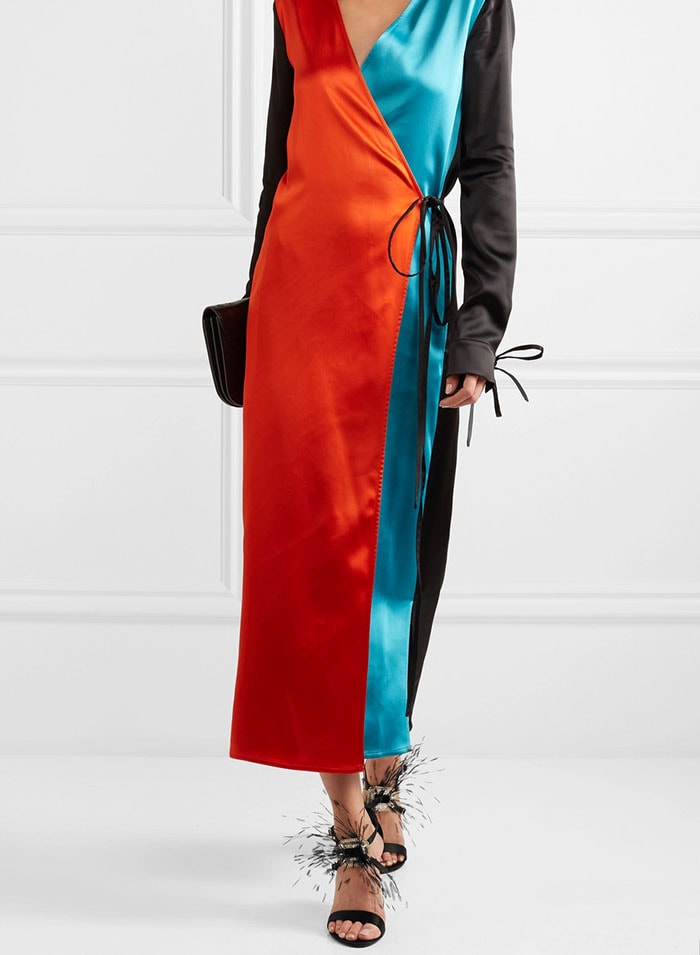 Credit: Brian To / Regina Wagner / Future Image / Apega / WENN