Hailey Bieber rocked Air Jordan Retro 1 High "Union Los Angeles Blue Toe" sneakers (similar styles at Farfetch) while stepping out for an appointment with her dermatologist on Friday in Beverly Hills, California.
Hailey Bieber wearing Steele latex skinny pants on May 29, 2020, in Los Angeles, California
The 23-year-old model styled her sneakers with black high-waisted skinny pants from the Australian Designer label Steele and toted a black BY FAR Amber leather shoulder bag that you can buy for $585 at Farfetch.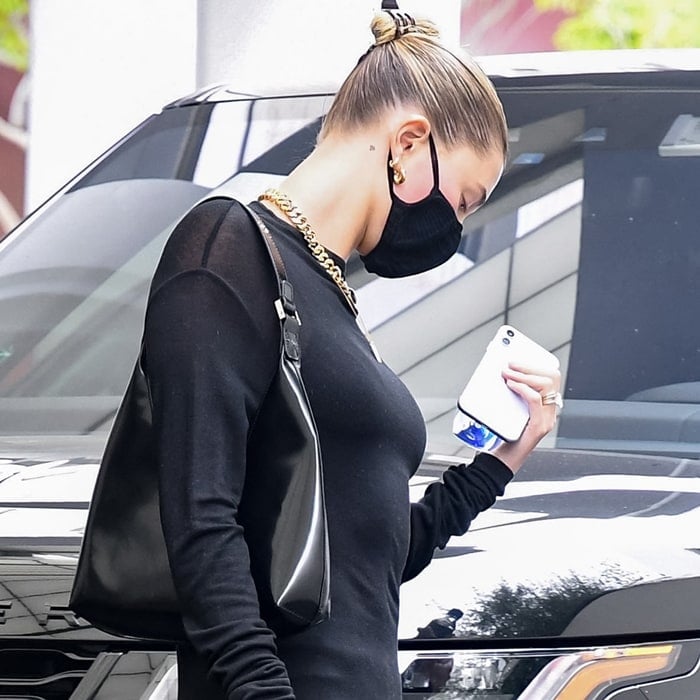 Hailey Bieber's black leather BY FAR Amber shoulder bag can cram in all your essentials
Accessorizing with 10K gold-plated brass Jennifer Fisher Mini Samira hoop earrings and a protective face mask, she also took to Instagram to demand justice for George Floyd.
Hailey Bieber took to Instagram to demand justice for George Floyd
"It's heartbreaking that we're honoring yet another life that was lost due to the violence and racism our country displays far too often. To say that racism is alive today would be a gross understatement, and to say that white privilege doesn't exist is ignorance at its finest," Hailey captioned an illustration of the African-American man who died in Minneapolis, Minnesota on May 25, 2020.
"We live in a country that denies the same freedom and rights to someone based on the color of their skin… black men, women, and children are being MURDERED because of the color of their skin while white men, women, and children the majority of the time receive a slap on the wrist at best. I am tired, I'm angry, I'm sad, and I will not stay quiet. Changes need to be made, and people need to be behind bars for their actions. Rest In Peace George Floyd," she added.
The "Union Los Angeles Blue Toe" colorway quickly sold out after debuting in November 2018 with a price point of $190. They currently sell for over $1,000 on StockX.
Hailey Bieber wears Air Jordan Retro 1 High "Union Los Angeles Blue Toe" sneakers
Credit: Instar / WENN