Has Rita Ora, who just a few days ago showed off a tattoo on her left rib cage of William Shakespeare's famous quote "Love all, trust a few, do wrong to none," finally crossed a line?
The pop star recently did what some consider to be unthinkable: debuted a steamy video to accompany her collaboration with Chris Brown.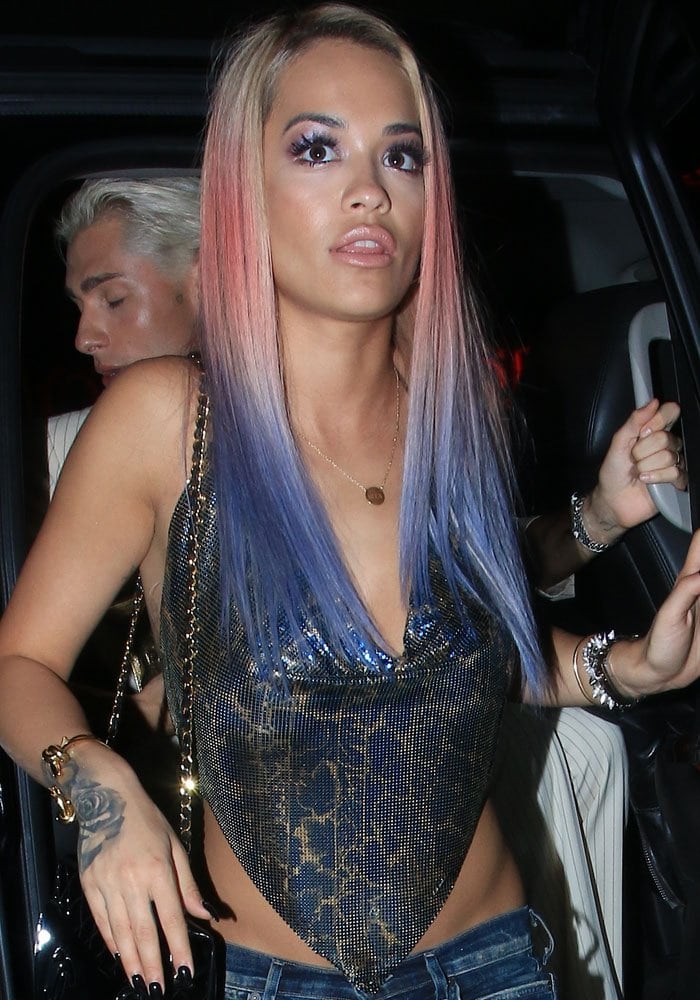 Rita Ora arrives at Warwick Nightclub in Hollywood on August 20, 2015
We're not sure what Rihanna thinks about the videos — though rumors have it that the pop sensation is less than thrilled — we do know what the majority of the internet thinks.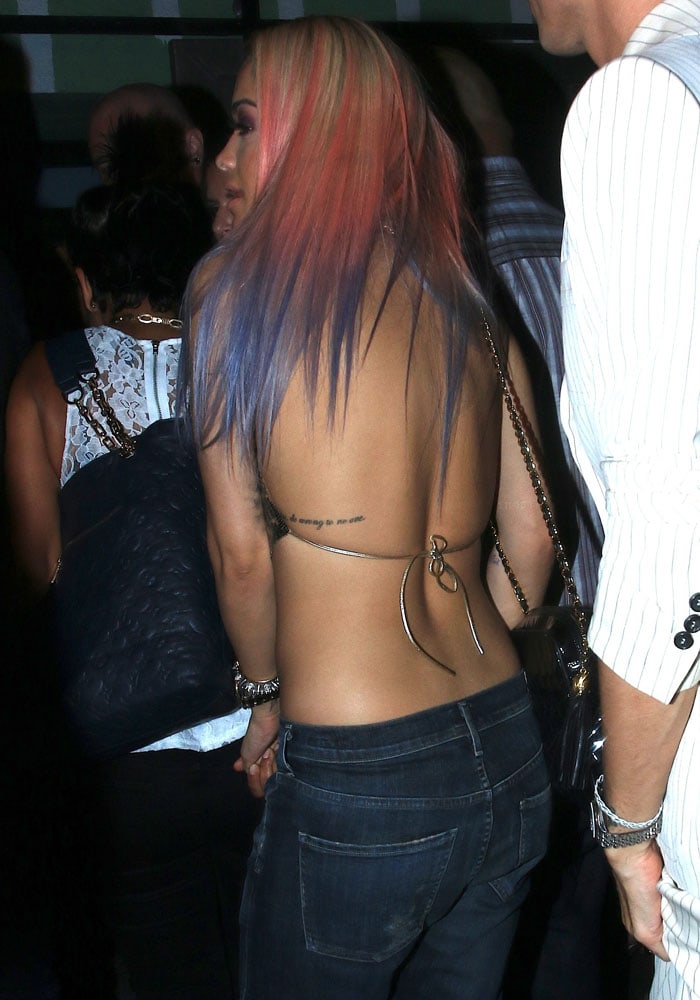 Rita Ora shows off a ribcage tattoo and multicolored hair as she arrives at a Hollywood nightclub in a handkerchief top
Many have expressed distaste over Rita's decision to collaborate with Chris.
It's been years since Chris Brown physically abused Rihanna, but many are still appalled that Rita would choose to collaborate with the disgraced singer.
The backlash prompted the up-and-coming star to defend her Body On Me partner, saying that "he's a good person."
Rita Ora wears a pair of Tommy Hilfiger boots for her evening of dancing at the club
Rita was recently photographed arriving at Warwick Nightclub in a rainbow-themed look that was less than desirable.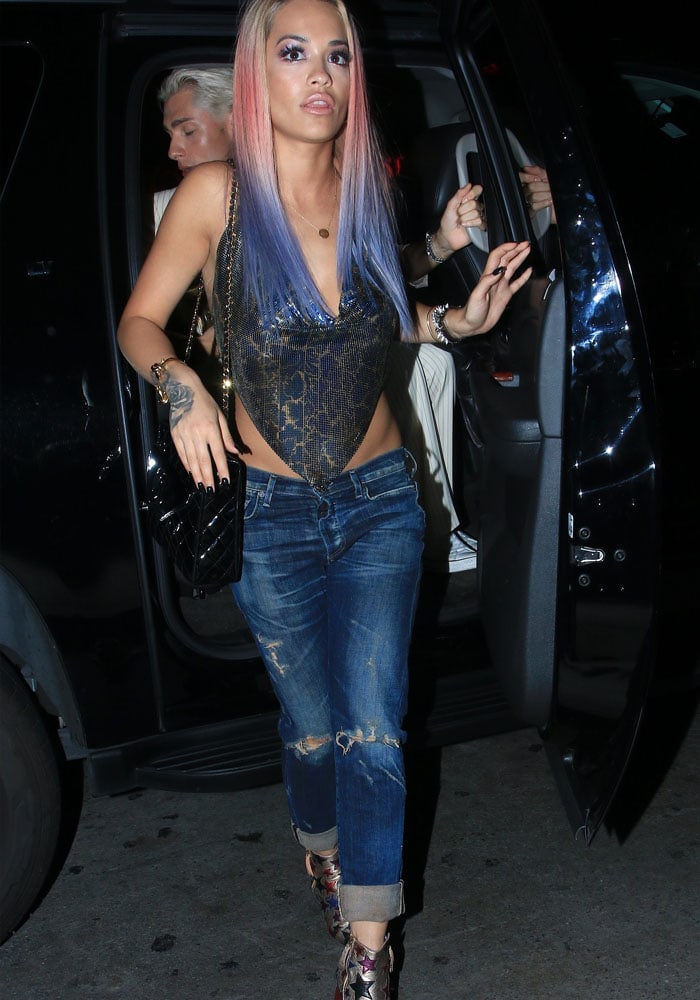 Rita Ora shows off black nails and a hand/ wrist tattoo as she steps out of a vehicle on her way to the club
For her outing, Rita wore a backless handkerchief top with ripped boyfriend jeans and her Tommy Hilfiger "Stars" Boots — despite her split from Tommy Hilfiger's son Rich a few weeks back.
Rita had William Shakespeare's quote "Love all, trust a few, do wrong to none" inked in 2012 at the Shamrock Social Club in Los Angeles. The rig cage tattoo is written horizontally in a simple black italic font from her abdomen to her back.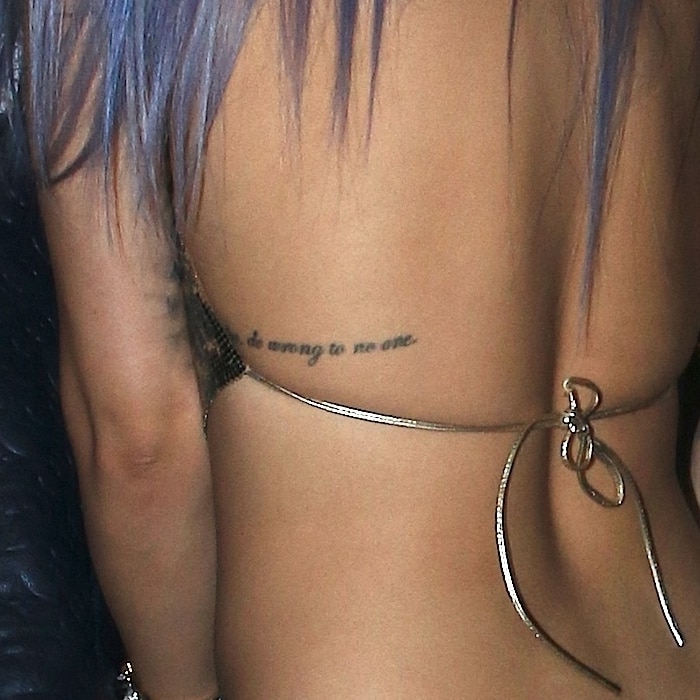 Rita Ora's rib cage tattoo of William Shakespeare's quote "Love all, trust a few, do wrong to none"
The singer rocked a black version of the boots earlier this year. Her Tommy Hilfiger "Stars" boots are no longer available online, but you can check out our other star-studded picks at Amazon.
Tommy Hilfiger "Stars" Boots
Saint Laurent "Babies" Mid-Calf Boots, $1,995
Saint Laurent "Army" Star-Studded Leather Boot in Black, $1,195
Stella McCartney "Lily" Boots, £124
Credit: Winston Burris / WENN