A month ago, we saw Rihanna in a pair of Tom Ford Spring 2013 gladiator boots. Many fans were disappointed because of the nude color that made it look like she was wearing bandages.
Yesterday, the ever fashion-risk-taker was seen in another pair of Tom Ford boots. They debuted on the runway in February and are part of the Fall 2013 collection.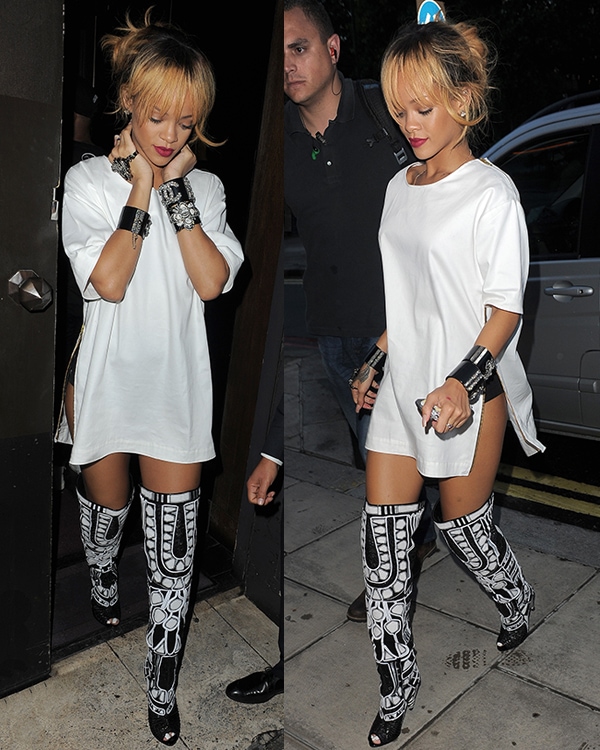 Rihanna at The Cuckoo Club in Mayfair in London on June 15, 2013
Whenever she's out or performing on stage, RiRi never fails to turn heads. Her fashion choices are bold and she never settles for anything ordinary. If she wears a plain top, you can expect her footwear to be out-of-this-world.
This time she sported statement-making over-the-knee boots in a black-and-white geometric design. Apparently she received them as a from Mr. Ford himself. Rihanna shared a photo on Instagram showing a gift box from Tom Ford with a caption saying "My baby daddy loves me!!!! #TomFord I love you! Thank you!".
From the peep toes down to the cone-shaped heels, these boots are intricately detailed. I love that RiRi paired them with a plain white shirt dress, which features zipped slits at the sides. Rihanna accessorized with Chanel cuffs.
Would you love to own these scene-stealing boots? We will let you know once they become available online. Meanwhile, let's have a look at the video of Tom Ford's womenswear runway show for Autumn/Winter 2013!
Tom Ford Autumn/Winter 2013 show
Credit: Craig Harris/Will Alexander/WENN