Finally! After a long wait, an official announcement has been made: Rihanna has a new album. Anti, her eighth studio album, will have artwork designed by Israeli artist Roy Nachum.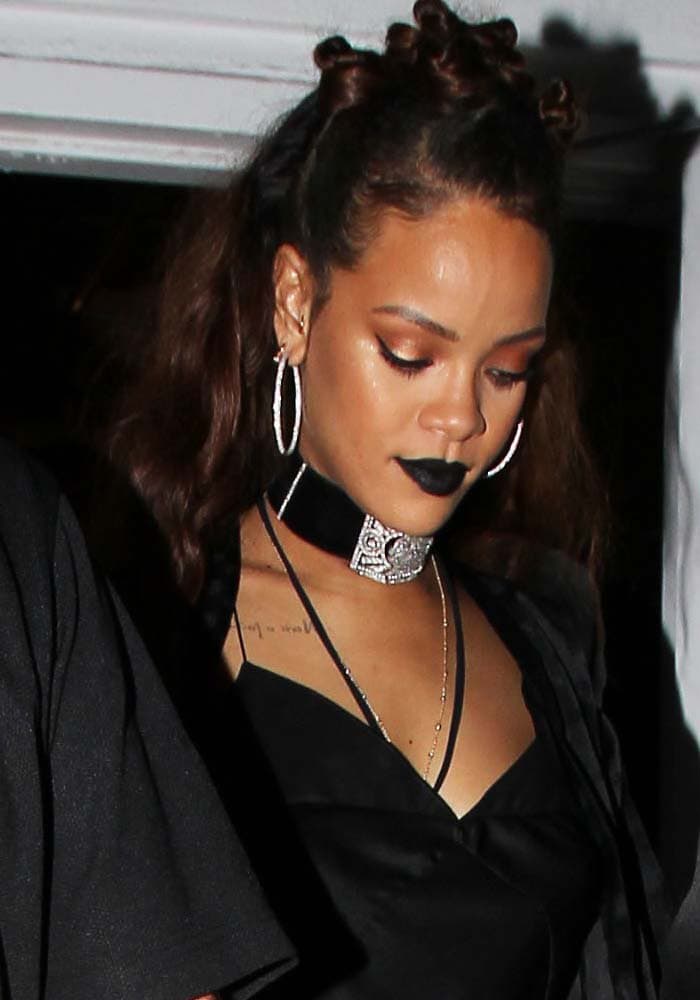 Rihanna leaves contemporary art gallery MAMA Gallery in Los Angeles on October 7, 2015
To make things more official, Rihanna decided to hold a formal unveiling of the cover art at the contemporary art gallery MAMA Gallery in Los Angeles.
Rihanna strolls behind her bodyguards as she attends an album unveiling at MaMa Gallery
Rihanna collaborated with Israeli New York-based contemporary artist Roy Nachum to communicate the cover art for her upcoming "Anti" album and explained briefly how the two came to the final work.
Rihanna shows off her foot and ankle tattoos in a pair of Manolo Blahnik shoes
For the unveiling, the singer wore a plunging black dress paired with a floor-length jacket. She wore a pair of Manolo Blahnik "Chaos" shoes in black suede as well as an embellished choker and other pieces of silver jewelry.
Rihanna wears a plunging black dress and a floor-length jacket during her album cover art release
We're excited to hear her new music! Here's a video a fan took as she unveiled her album cover art.
"This is my favorite album cover I've ever done," Rihanna said to her delirious fans before a black sheet covering her album art was taken down.
The cover shows the Barbadian singer as a child holding a black balloon. She has a gold crown covering her eyes. The cover is also inscribed with sculpted Braille poetry by Chloe Mitchel.
The Anti album artwork was designed by Israeli artist Roy Nachum and is Rihanna's favorite
To get Riri's classic ankle strap "Chaos" heels by Manolo Blahnik, just visit Nordstrom or Saks Fifth Avenue.
Manolo Blahnik "Chaos" Sandals in Suede, $765
Manolo Blahnik Chaos Sandals in Calfskin, $725
Credit: 3rd Eye / WENN