Finally! Fans of Rihanna are crying buckets of happy tears right now – after the singer's album drought, an official announcement has finally been made regarding her new album.
To make things more official, Rihanna decided to hold a formal unveiling of the cover art at MaMa Gallery in Los Angeles.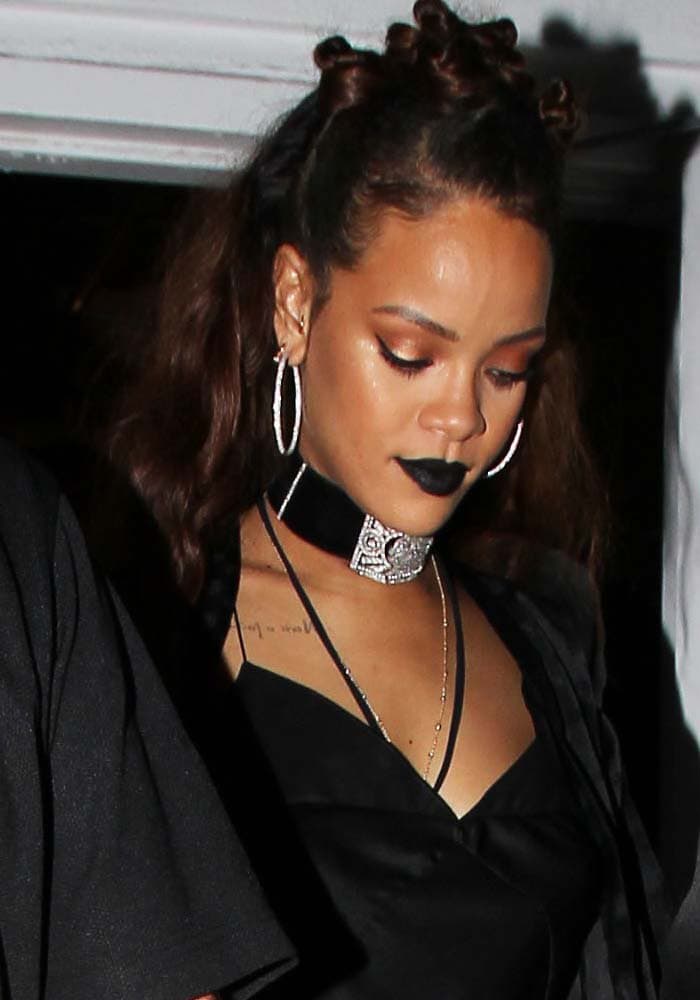 Rihanna collaborated with artist Roy Nachum to communicate the cover art for her upcoming album, entitled "Anti", and explained briefly how the two came to the final work.
The singer wore a plunging black dress with a floor-length jacket, and paired her ensemble with the Manolo Blahnik "Chaos" in black suede. Rihanna wore an embellished choker apart from other silver jewelry.
Rihanna leaving the MaMa Gallery in Los Angeles on October 7, 2015
We're excited to hear her new music! Check out a fan-taken video of her during the unveiling of her cover art below:
To get Riri's classic ankle strap "Chaos" heels by Manolo Blahnik, just click on the links below:
Manolo Blahnik "Chaos" in Suede, $765
Manolo Blahnik "Chaos" in Calfskin, $725 at Neiman Marcus and Bergdorf Goodman
Credit: 3rd Eye / WENN