Finally, the weather is starting to improve after a polar vortex caused record-breaking low temperatures in the southern and eastern parts of the United States. We're hoping everyone's safe!
Outfit layering is a vital style choice for this time of the year, and that includes footwear. Providing a trendy layering effect, over-the-knee boots or thigh-highs add an extra layer of warmth to your winter wardrobe, and an extra dimension of style. Now OTK boots might not be the most popular choice, but by pairing them with the right clothes, these bold boots can make any outfit memorable.
Boots are definitely here to stay for the season, especially with this kind of weather, but if you're still unsure just take a look at the celebrity fashion world.  A few days ago the "Hot Right Now" singer, Rita Ora, arrived in New York City wearing a pair of OTK boots. She was also wearing a beige pair of Salvatore Ferragamo over-the-knee boots when we spotted her in London on Sunday.
The British singer is in the Big Apple for a few days to do some recording. On January 8, she shared some Instagram photos while she was in a recording studio.
Noticed Rita Ora's boots? They were the same OTK boots that she wore when she arrived in the city. Here's a closeup photo of her "yummy thigh-high."
Do you love these shoes as much as Rita Ora does? Aside from wearing them to the studio, she also took them to a girls' night out with Adrienne Bailon. Yup, Rob Kardashian's exes are very close, and we've been seeing them together since last year.
If you're wondering where Rita Ora got those boots, they're actually from Balenciaga. They are simple in black suede, but the knotted silver-tone hardware at the ankles makes them one of a kind. The over-the-knee style of the boots also creates a leg-lengthening look. Small block heels, horizontal knee seams, and partial side zipper fastening complete this pair.
Want them? They're currently on sale at Barneys New York!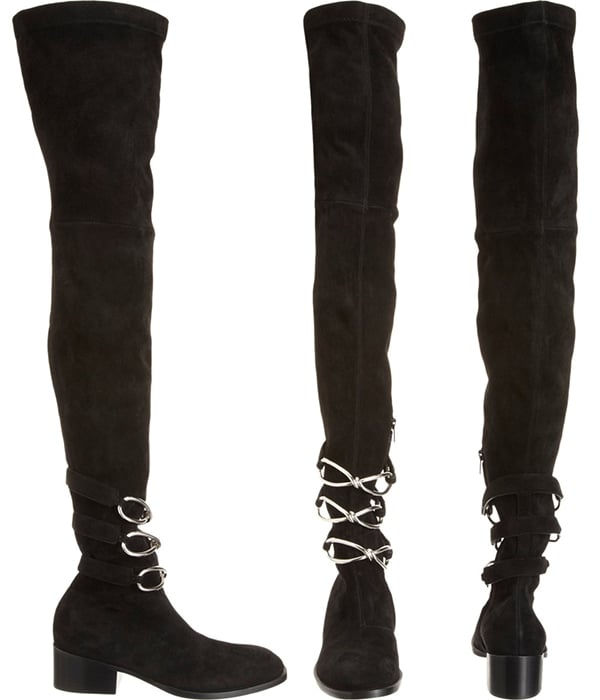 Balenciaga "Daim" Slim Over-the-Knee Boots, $1,429 (before: $2,850) at Barneys New York
Credit: Rita Ora's Instagram