With Better Call Saul having recently wrapped up after airing its final episode on August 15th, 2022, we thought it would be a nice idea to take a look back at its parent series, Breaking Bad.
Premiering in January of 2008, Breaking Bad made waves in the television world for its hard-hitting portrayal of a dying middle-class man's efforts to make money for his family while becoming increasingly involved with the lucrative meth trade in Albuquerque, New Mexico.
Krysten Ritter in a Georges Chakra Fall 2018 Couture black beaded tulle dress with lace detail at the premiere of Netflix's "El Camino: A Breaking Bad Movie" at Regency Village Theatre on October 7, 2019, in Westwood, California (Credit: DFree / Shutterstock)
The series lasted for five seasons, finally concluding in the fall of 2013. During its run and upon its conclusion, its status as one of, if not the most critically acclaimed television series of all time was certainly cemented, and the performances from Bryan Cranston, Aaron Paul, Dean Norris, and Bob Odenkirk have been hailed as some of the best to ever grace the television set.
But aside from the main cast, the show also featured a plethora of great performances from guest actors as well. Over the course of the show's five seasons, a multitude of incredible characters entered and exited the lives of Walter White and Jesse Pinkman.
Ted Sarandos, Cindy Holland, Vince Gilligan, Charles Baker, Krysten Ritter, Matt Jones, Betsy Brandt, Aaron Paul, Dean Norris, Jonathan Banks, Giancarlo Esposito, Bryan Cranston, and Jesse Plemons attend the Premiere of Netflix's "El Camino: A Breaking Bad Movie" at Regency Village Theatre on October 7, 2019, in Westwood, California (Credit: Hahn Lionel / ABACA / INSTARimages)
One of these fan-favorite characters is the character of Jane Margolis, played by Krysten Ritter. She enters the show in the second season, introduced as the landlord for Jesse Pinkman when he finally moves into a new apartment.
Her character is introduced in "Breakage," the fifth episode of the second season of the American television drama series. The episode aired on April 5, 2009, when Krysten Ritter was 27 years old.
An attractive woman, Jane is initially cold to Jesse and refuses to talk to him about anything unrelated to their tenant-landlord relationship. The reason for this is later revealed to be due to the fact that Jane is a recovering heroin addict, and Jesse is a stoner who regularly abuses marijuana.
Eventually, Jane warms up to Jesse's advances, and they begin a troubled romance. Jesse re-introduces Jane to smoking marijuana, and Jane quickly begins to use heroin again, with Jesse following suit.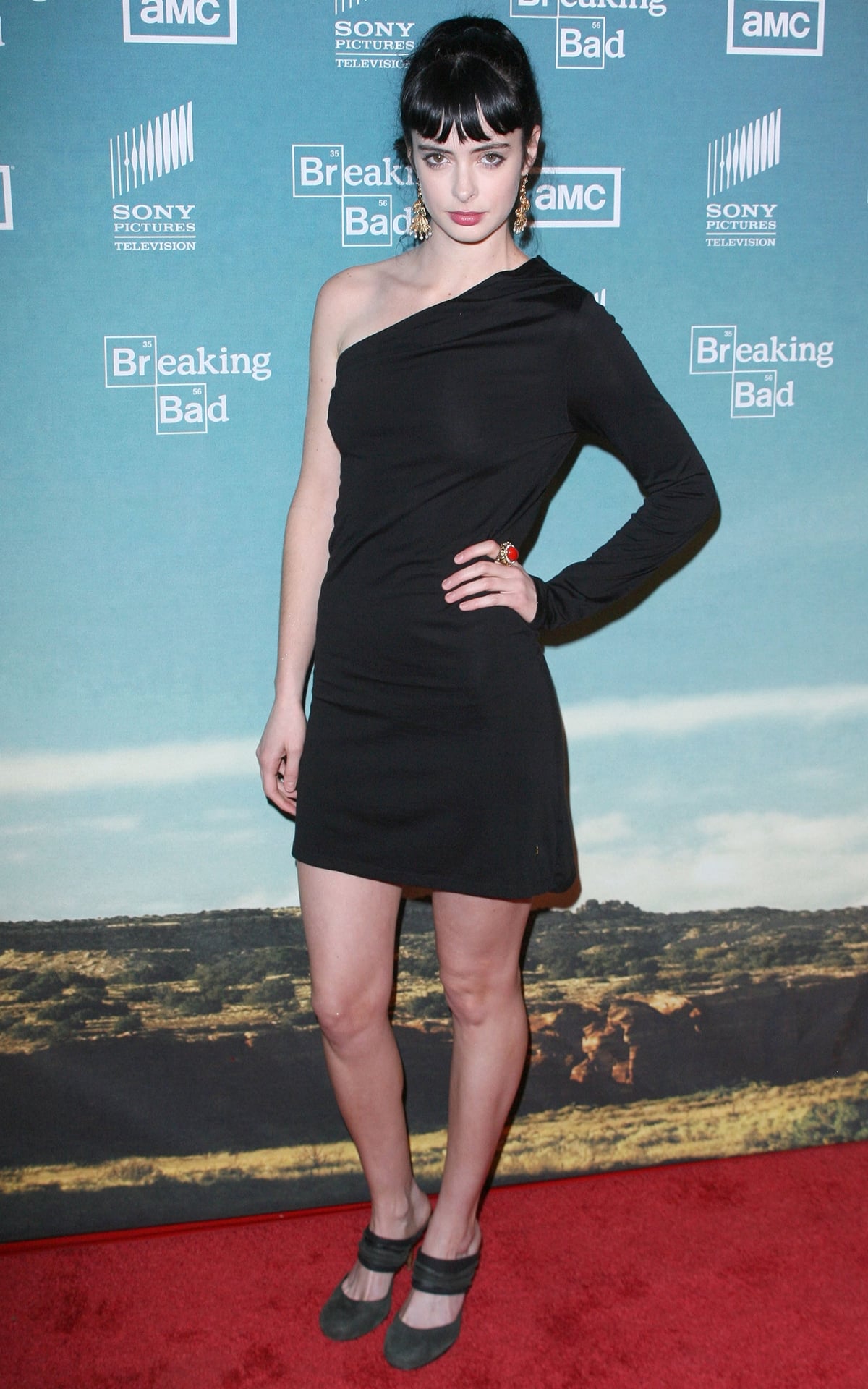 Actress Krysten Ritter flaunts her legs in a sexy black dress at the premiere of AMC and Sony Pictures Television's "Breaking Bad" Season 2 at the Arclight Theater on February 26, 2009, in Los Angeles, California (Credit: Andy Fossum / Startraksphoto)
During this time within the show, Jesse is at odds with Walter over the splitting of funds after a large drug deal with drug lord Gustavo Fring.
Jane calls Walter and berates him for not giving Jesse his share of the spoils, threatening to expose his status as a drug manufacturer if he doesn't give Jesse his share.
This causes Walter to drop off $500,000 USD to Jane and Jesse, who are plotting to use the money to go on a tropical getaway before getting high on heroin.
Krysten Ritter played recovering addict Jane Margolis, the girlfriend of Aaron Paul as Jesse Pinkman, on Breaking Bad and El Camino: A Breaking Bad Movie (Credit: Netflix)
Walter later visits Jesse's home, only to see Jane and Jesse passed out after their heroin high. In trying to wake Jesse up, he rolls Jane out on her back, and Jane begins to choke on her own vomit.
Resisting his urge to help her, Walter coldly watches her die by asphyxiation. The reasons for this are obvious, as Jane's influence on Jesse caused him to begin to use heroin, to disastrous effects.
"It wasn't really until we were shooting it that the whole death around the character hit me," Ritter said in an interview on PeopleTV.
"So, I knew I was gonna die. I'm reading the script, I'm like, 'Cool, rock and roll, she dies. So fun!'"
Krysten Ritter was 27 years old when she made her debut as Jane Margolis in "Breakage," the fifth episode of the second season of the American television drama series Breaking Bad that aired on April 5, 2009 (Credit: Netflix)
"I was in an upper-body cast to protect me from Aaron pounding on my chest," she told Vulture in September 2013.
"The thing was pinching me, I couldn't get a full breath of air, and I had this incredible actor on top of me losing his s—. I think at one point I said, 'Aaron, I love you, but you can't hit me this hard!'"
"I could feel his hot tears falling on me. I wanted to cry, too. It was overwhelming. I thought if I were dead this is what it would be like. Someone would be trying to revive me, people might be sad, shocked, scared (okay, maybe a happy ex-boyfriend or two). Imagining my real-life loved ones reacting to my own real-life death is intense," Ritter added.
"Even now, years later, I get a lump in my throat when I think about it — but it's hard to know whether that comes from my experiences as Jane, my time as an actress on set, or my emotional reactions as a huge fan of the show," she concluded.
How Long Was Krysten Ritter in Breaking Bad?
By the time Jane dies in the show, Krysten Ritter had appeared in 9 episodes of the AMC series. However, she did manage to reprise her role in the Breaking Bad spinoff El Camino, which follows Jesse in the events that immediately follow the events shown in Breaking Bad.
Bryan Cranston as Walter White lets Jane Margolis (Krysten Ritter) choke to death from an overdose but saves the life of Jesse Pinkman (Aaron Paul) in Breaking Bad (Credit: Netflix)
Although Krysten Ritter only appeared in a handful of Breaking Bad episodes, her tragic character arc and how she impacted Jesse Pinkman have since been remembered as high points in the collection of some of the show's most gut-wrenching moments.
Krysten Ritter pulls her hair back into a ponytail for the 2016 Peabody Awards held on May 21, 2016, at Cipriani Wall Street in New York City (Credit: WENN)
In May 2016, Krysten Ritter hit the red carpet of the 2016 Peabody Awards looking like, well, her award.
Krysten matched her sparkling top to her sparkling Peabody trophy.
The George Foster Peabody Awards (or simply Peabody Awards) program, named for American businessman and philanthropist George Peabody, recognizes distinguished and meritorious public service by American radio and television stations, networks, online media, producing organizations, and individuals.
Krysten Ritter sparkles in a glittering Zuhair Murad top and black pants (Credit: WENN)
The then-34-year-old American actress, musician, and former model sported a gold top with sheer panels that showed off her toned belly.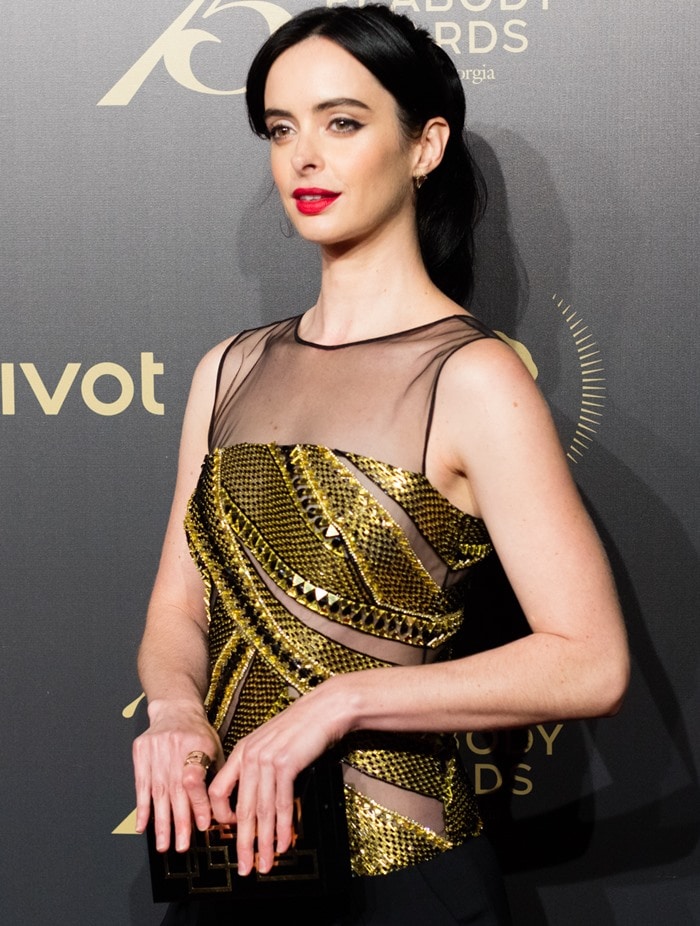 Krysten Ritter wears heavy eye makeup and red lipstick with her Zuhair Murad top (Credit: WENN)
She styled her glittering sequined top from Zuhair Murad with a pair of black pants from the same Lebanese fashion designer.
The Breaking Bad actress completed the ensemble with bright red lipstick and a pair of glossy Pedro García "Aneley" high heel pumps in black patent.
Krysten Ritter's feet in Pedro Garcia's "Aneley" pumps (Credit: WENN)

You can purchase Krysten's pointed-toe pumps in buff and silver at Shopbop. We really love the clean lines of these goatskin heels!
Pedro Garcia Aneley Pointed-Toe Pumps, $336