Rochelle and Marvin Humes, a beloved couple in the UK, have won our hearts through their musical talents, appearances on the British TV show This Morning, and endearing personalities.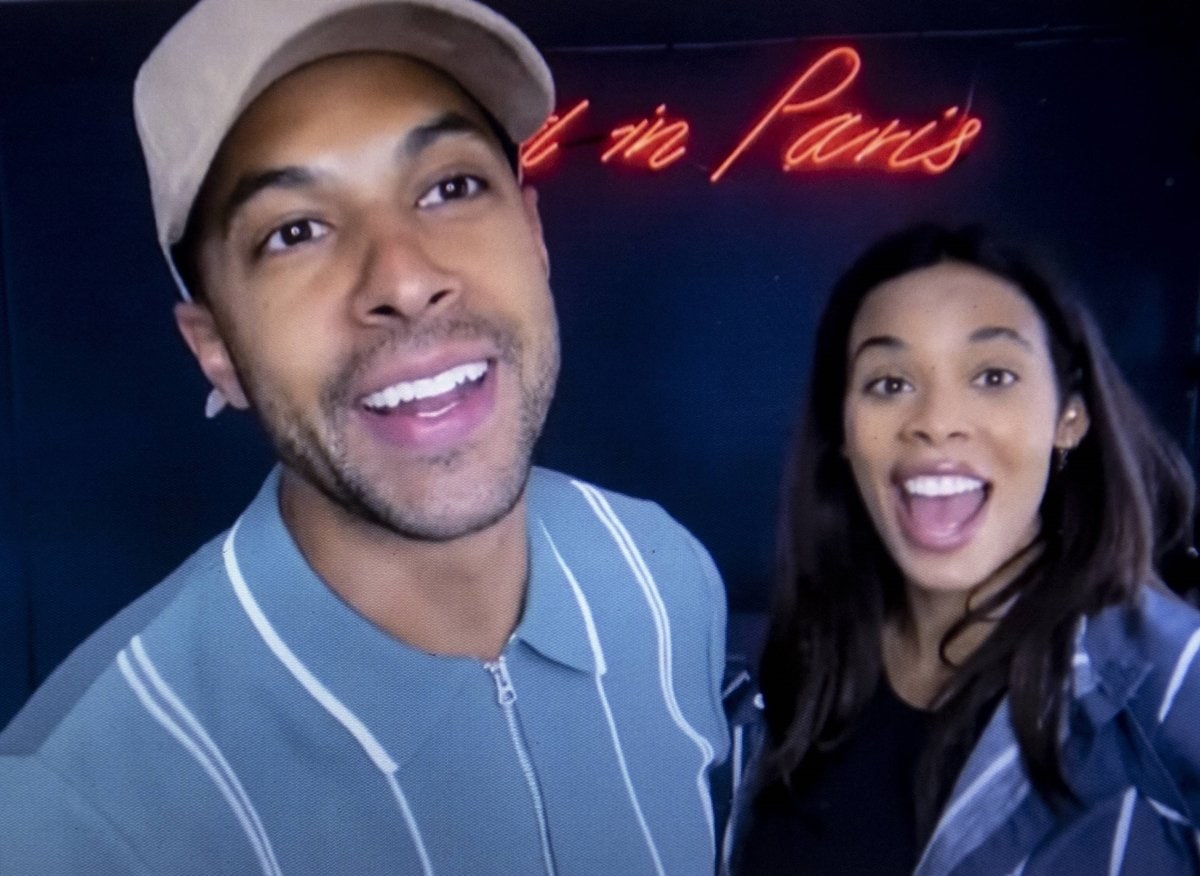 Marvin Humes and Rochelle Humes met for the first time in 2005 when she was 16 and he was 20 (Credit: Avalon / WENN)
Rochelle and Marvin are now happily married with three super cute offspring. But how did it all begin? Let's dive a little deeper into their story.
Rochelle's Early Life and Rising Career
Born in 1989 in London, Rochelle was brought up by her mother and uncle after her parents split when she was three years old. She studied at an all-girls school and pursued her love of performing at Colin's Performing Arts School.
Rochelle began her TV and singing career around the same time. She was in the famous S Club Juniors and cohosted on a children's TV show, Smile.
The Saturdays (L-R) Frankie Sandford, Una Healy, Vanessa White, Mollie King, and Rochelle Wiseman flaunt their legs in black stockings at Nickelodeon Kids' Choice Awards UK at ExCeL on September 13, 2008, in London, England (Credit: Vince Maher / WENN)
After this, Rochelle progressed onto The Saturdays, achieving a UK Top Hit in 2008.
Once her time in the band had ended, Rochelle presented and still does present on many British TV shows like This Morning, Ninja Warrior, and The Xtra Factor.
Marvin's Early Life and Multifaceted Career
Born in 1985 in London, Marvin was the middle child of two brothers, brought up by their mother and father.
Marvin has seen himself in many roles, including his early music career in a band called VS, acting in Holby City, and starring in a children's program about computers.
Most commonly known for being part of the boy band JLS. He has also hosted The Voice UK and now hosts a radio show on Capital Network. Marvin also creates house music with his own label Marvin's Room.
JLS boyband members Aston Merrygold and Marvin Humes performing live during Girlguiding UK Big Gig 2009 at Wembley Arena in London on October 17, 2009 (Credit: WENN)
The power couple has since co-hosted together. Rochelle and Marvin presented on This Morning from 2013 to 2015 which the UK loved!
The pair also presented Children in Need from 2016 to 2019 and started their tv game show called The Hit List, a game show about music knowledge that aired in 2019.
The Beginning of Rochelle and Marvin's Partnership
The pair initially met when Rochelle was 16 and interviewed Marvin, who was 20, on a TV show; however, their romance didn't start there.
In 2010, the couple met again at an after-party where both JLS and The Saturdays performed.
Rochelle had gone to the toilet and left her phone and bag on the table. Marvin went on to cheekily call himself from her mobile so his number would be readily there for her!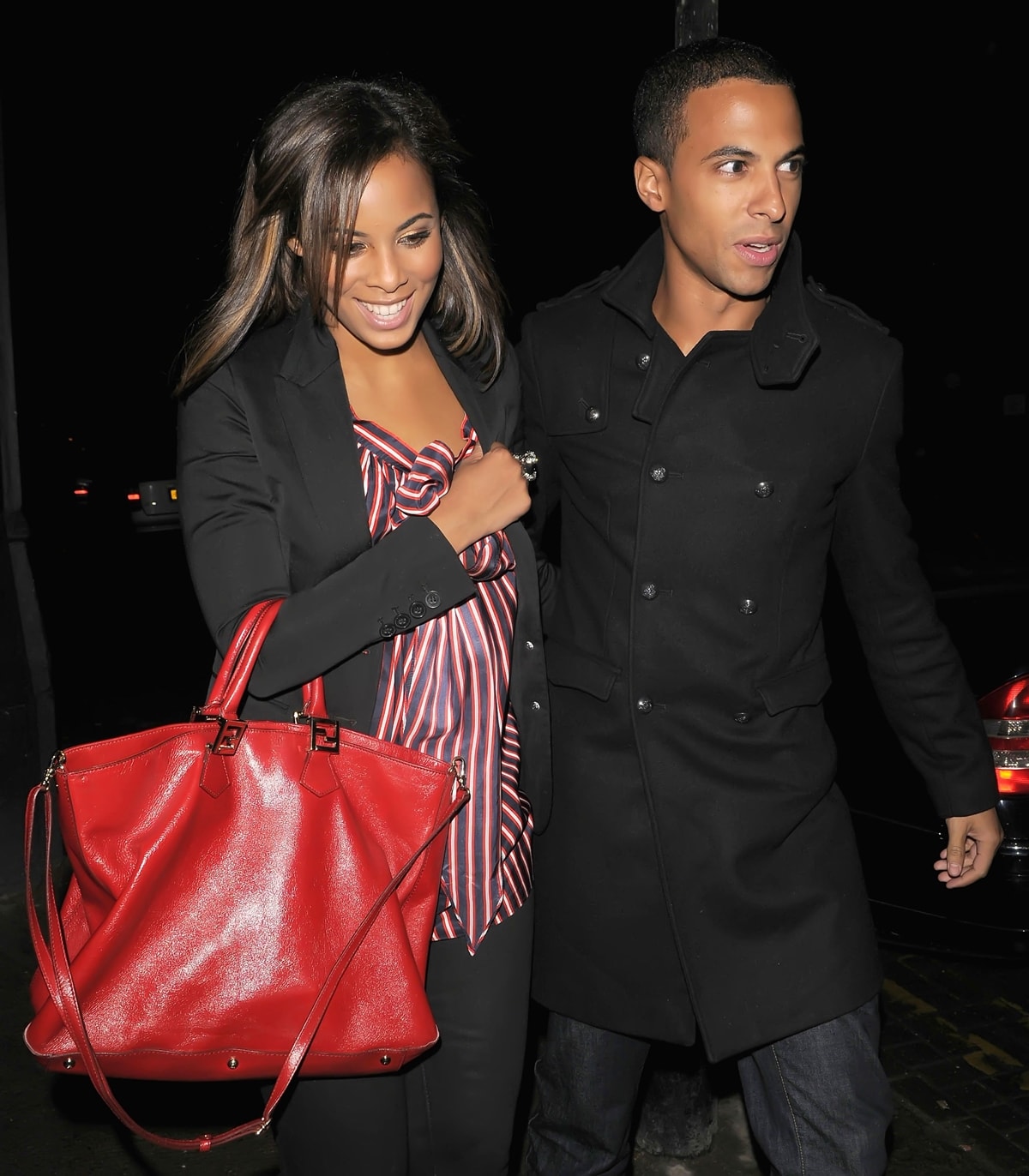 JLS band member Marvin Humes and The Saturdays singer Rochelle Wiseman started dating in 2010 (Credit: Will Alexander / WENN)
When interviewed on a TV show, Rochelle said, "It was weird. In a creepy, restraining order way."
Despite Rochelle's immediate concerns, she wasn't too bothered. The pair then got talking since then. Cute, ish?
Their Unique Relationship Story
Although sparks began to fly when they first met, Rochelle's manager didn't welcome their initial relationship.
During an interview with Metro, Rochelle said, "We got a talking to from our A&R at our record label. [They] said, 'You're really lucky because girls like you, they can relate to you – just don't date anyone from a boyband."
Despite Rochelle being warned by her manager not to date anyone from a boy band, as it may harm their reputation, the pair began dating in secret!
It is also said Rochelle wanted to keep the relationship under wraps so as not to upset her former boyfriend…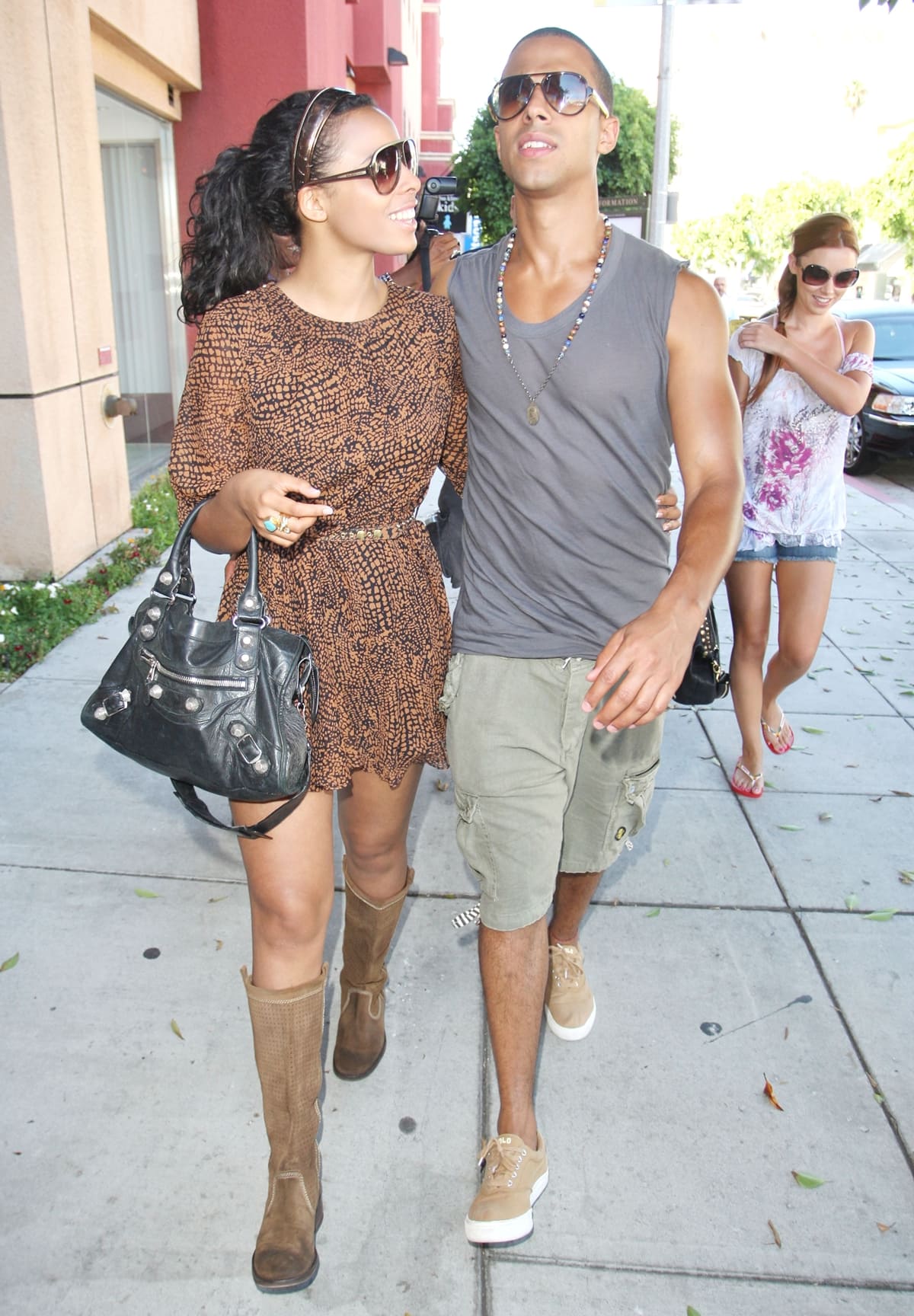 Rochelle Wiseman, also known as Rochelle Humes, and Marvin Humes were spotted indulging in some retail therapy at Lisa Kline on Robertson Boulevard in Los Angeles, California, on August 24, 2010 (Credit: Michael Wright / WENN)
Eventually, Rochelle and Marvin did go public with their relationship; however, after dating officially for just eight months, they called it quits.
Marvin told Reveal magazine, "We definitely argued. Every couple does. We wouldn't be normal if we said we didn't."
"But we never had blazing rows, just silly things like what to watch on the telly. Shed want to watch Keeping Up With The Kardashians while I'd want to watch the football."
"Our work schedules meant that we hardly saw each other."
It was undoubtedly challenging to have a relationship while their schedules were hectic. Luckily, the split didn't last too long. Just two months later, they had reunited and got back together! Hooray! They even moved in together after just four months.
The Fairytale Wedding and Growing Family
More loved up than ever, Marvin popped the question to Rochelle in 2011 on a Caribbean Island. So, of course, she said yes…
They went on to have a beautiful, intimate wedding in Blenheim Palace in Oxfordshire. They invited 250 guests, just their friends and family, to share this moment with them.
Marvin and Rochelle Humes married in 2012 in a lavish ceremony at Blenheim Palace (Credit: WENN)
Rochelle's bridesmaids were the other members of The Saturdays, and their former band members also performed at the wedding.
No images of this day were posted online until a year later when Marvin congratulated his wife on their anniversary. Cute!
You can now find pictures of their big day online and see Rochelle's amazing dress from American fashion designer Vera Wang and other gorgeous photos at Blenheim Palace.
View this post on Instagram
They have since announced they will renew their wedding vows for their tenth wedding anniversary. Adorable.
Marvin and Rochelle Humes attend the Virgin Media British Academy Television Awards 2019 at The Royal Festival Hall on May 12, 2019, in London, England (Credit: Mario Mitsis / WENN)
Rochelle and Marvin have now welcomed three children into their lives. Daughters Alaia-Mai was born in 2013, Valentina was born in 2017, and they welcomed son Blake in 2020.
5 Fascinating Facts About Marvin
1. Marvin started his music career in a band called VS, created by former Blue member Simon Webbe. However, they ended after releasing their first album.
2. Marvin then appeared on our TV screens in Holby City, playing the character Robbie Waring.
3. When Marvin was 14, he started a computer program for children called K-club, aiming to help fellow computer lovers with how computers work.
4. Marvin is 1.83 meters tall, approximately 6ft!
5. He also had his very own toy doll modeled after him and a green box of Durex…
Rochelle and Marvin Humes have been blessed with three adorable children – daughters Alaia-Mai (2013) and Valentina Raine (2017), and son Blake Hampton (2020) (Credit: Rocky / WENN)
4 Intriguing Facts About Rochelle
1. Rochelle has her own clothing range with Very and has also worked with well-known fashion retailer New Look.
2. Dabbling in some publishing, Rochelle has her very own children's book, The Mega Magic Hair Swap, that you can buy on Amazon.
3. She has since launched her skin and hair products brand with Boots, My Little Coco.
4. Rochelle is 1.73 meters tall, which is approximately 5ft 6 inches.
The Iconic Striped Pumps: Rochelle vs. Lydia
You know how it is when we crush on a pair of unidentified shoes. We don't stop until we find out who makes them, and — until we do — we see them everywhere we look.
Rochelle Humes, far right, promotes her new American reality-documentary television series, "Chasing The Saturdays" on March 11, 2013, at the Empire State Building in New York City (Credit: Alberto Reyes / WENN)

For example, we spotted those cute striped stilettos on Rochelle Humes (née Wiseman) in March 2013.
After searching for a long time, we finally ID'ed them as the Dune "Benefit" pumps. We weren't kidding when we said that we saw these shoes everywhere!
Rochelle Humes's feet in striped Dune pumps (Credit: Alberto Reyes / WENN)
We thought we were just seeing a lookalike when we spotted these striped pumps on Lydia Bright the very next day, but it turns out they're the exact same pumps!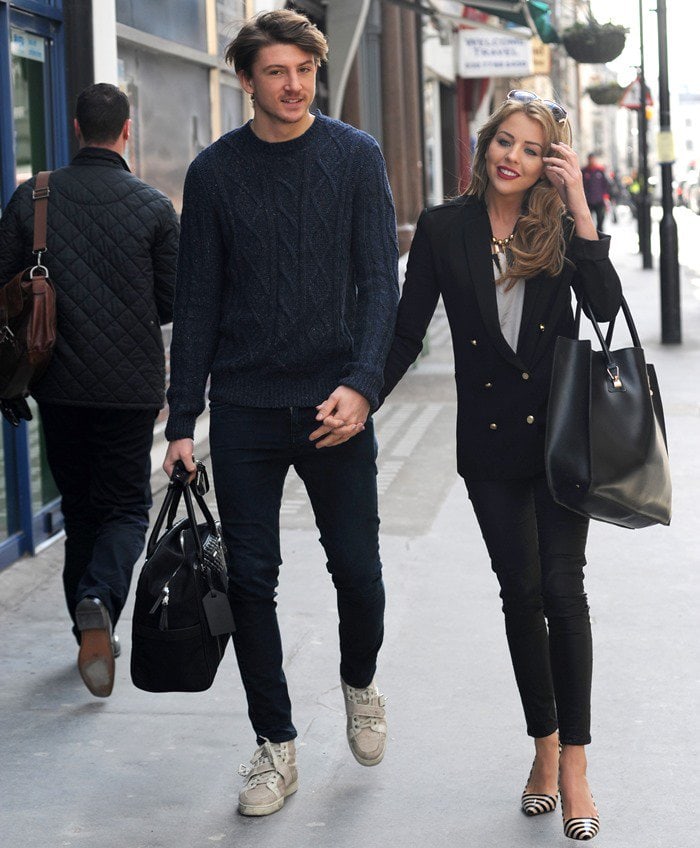 Lydia Bright shows off her new darker, longer hair while out and about in central London with boyfriend Tom Kilbey on March 12, 2013 (Credit: WENN)
So, of course, we're making a "Who Wore It Better" post out of this by pitting Rochelle Humes against Lydia Bright.
Do you prefer Rochelle Humes' trench coat and baggy drawstring pants maternity outfit with the striped pumps, or do you like Lydia Bright's double-breasted blazer and skinny jeans look more?
Lydia Bright's feet in striped Dune pumps (Credit: WENN)
These two have this nude and black version of the Dune "Benefit" pumps that also come in an apricot and black color combo: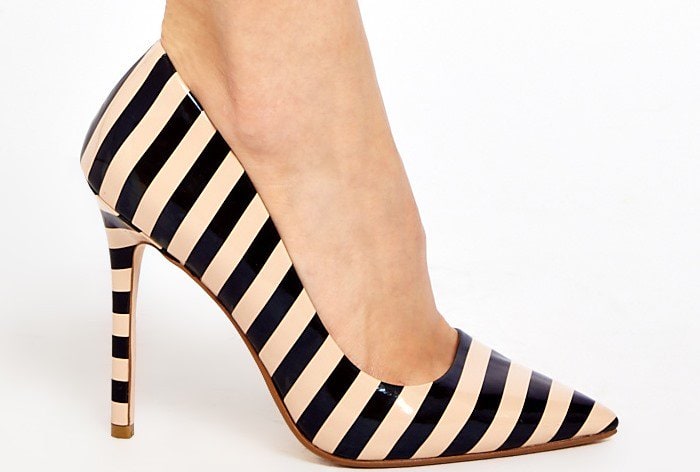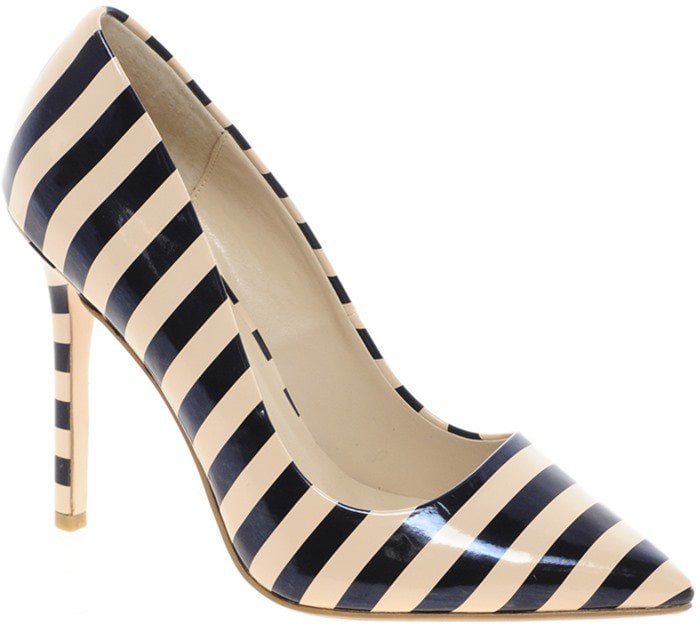 Dune Benefit Striped Patent Pumps, $136