While she's refusing to smile, we're pretty sure Victoria Beckham is on track to conquer the world.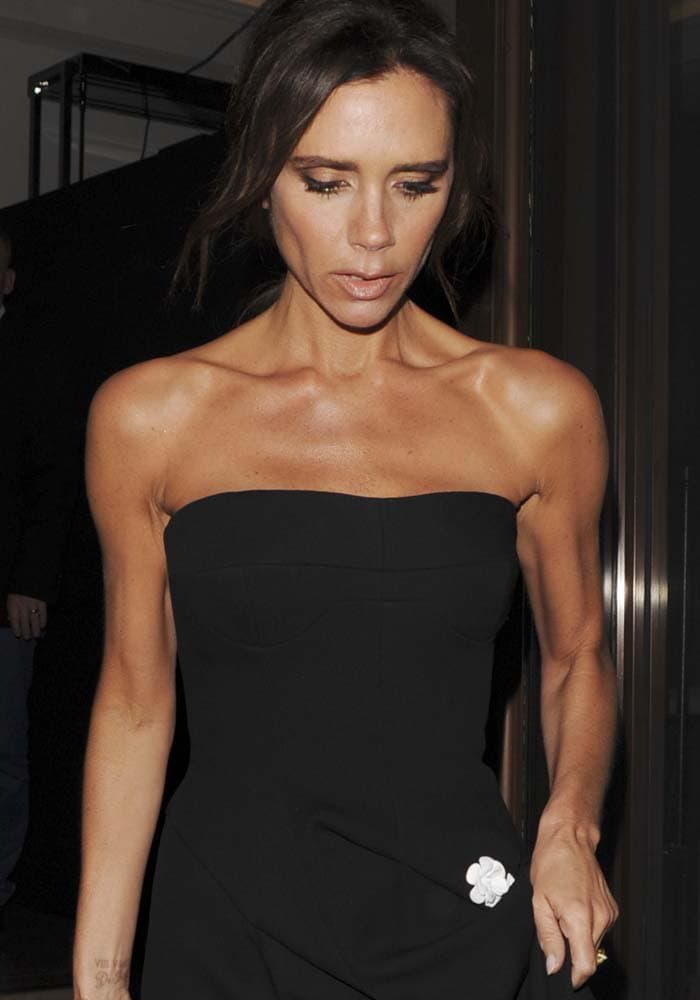 Victoria Beckham wears her hair up at the Burberry flagship store in London on November 3, 2015
Not only is the former Spice Girl working as the creative director of her CFDA-approved fashion empire, but she's also an attentive parent.
The 41-year-old recently graced the Burberry Film Festival in support of her son Romeo's acting.
Victoria Beckham wears a dress from Victoria Beckham Collection
Mrs. Beckham wore a dress by Victoria Beckham Collection and showed off her feet in black Casadei "Blade" pumps.
Victoria Beckham's feet in Casadei pumps
Since she opted to start wearing colors, the former Spice Girl didn't quite impress with her usual all-black attire – but she still looked pretty good.
Cruz Beckham and Romeo Beckham attend the Burberry Film Festival
See the beautiful Billy Elliot-inspired Burberry ad featuring an all-British cast including Romeo Beckham, Rosie Huntington-Whiteley, Naomi Campbell, and others below:
The Burberry festive film is inspired by the magic of a British cinematic classic Billy Elliot, a 2000 British dance drama film directed by Stephen Daldry and written by Lee Hall.
Victoria Beckham supports her son Romeo's acting at the Burberry Film Festival and gives a shoutout on her Instagram
To get Posh's closet staple pick, head on over to Casadei or Farfetch.
Black Casadei Blade Pumps, $614.48
Silver Casadei Blade Pumps, $614.48
Credit: Will Alexander / Tim McLees / WENN