Here's something to add to your fashion bucket list: if you once matched your shoes to your bag, try matching them to your bra instead.
We saw the unexpected matchy-matchy look on Rosamund Pike at the world premiere of 'The World's End' in London yesterday evening. Her deceptively demure ensemble was spiced up with a shock of pink from her bra, which was peeking through the eyelet details on the front of her Victoria Beckham Spring 2013 collared dress. Clearly, that wasn't enough "shock" for Rosamund as she further highlighted her peekaboo bra by matching its hot pink color to her t-strap sandals.
Rosamund Pike at the world premiere of 'The World's End' held at the Odeon Leicester Square in London on July 10, 2013
The effect wasn't lost even when she turned her back to the cameras because her dress' see-through eyelet panel extended all the way down the back.
Rosamund Pike's hot pink bra still matching her hot pink sandals even from the back
Underwear showing through clothing is almost never a good look, but on Rosamund, we're convinced it's a cute one to try! Will you be trying this mix and match idea yourself?
If you're ambivalent about it, and you're just here for Rosamund's hot pink shoes, check them out up close:
Rosamund Pike's toes in Elie Saab t-strap sandals
Rosamund Pike's feet in Elie Saab t-strap sandals
Rosamund's sandals are from the Elie Saab Spring 2013 collection. They're not available online yet, but the pink-and-gold sandals from the same collection are going at 15% off at Farfetch. You'll also find gray-and-purple sandals in a similar style going for $353 (down from $705).
Elie Saab Spring 2013 T-Strap Sandals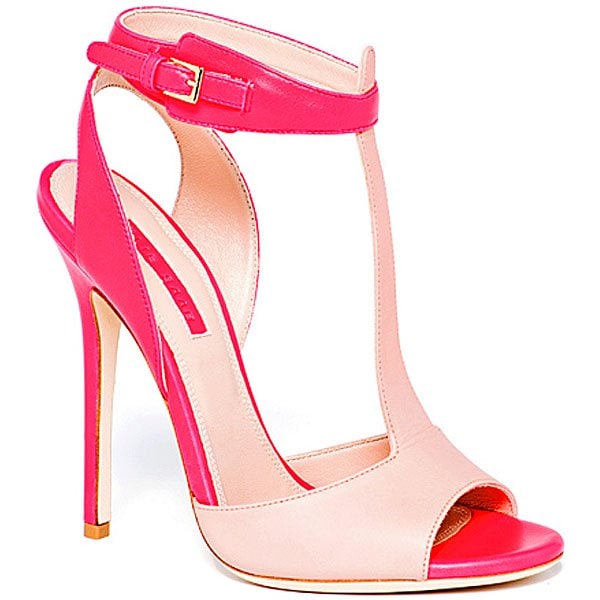 Credit: Lia Toby / WENN