In a post on Facebook, Rose McGowan attacks Natalie Portman's choice to embroider the names of all the female directors who weren't nominated for Academy Awards onto her cape at the 2020 Oscars.
Natalie Portman, Taika Waititi, winner of the Adapted Screenplay award for "Jojo Rabbit," and Timothée Chalamet pose in the press room during the 92nd Annual Academy Awards at Hollywood and Highland on February 9, 2020
One of the presenters at the 2020 Academy Awards, Natalie donned a black and gold Christian Dior Spring 2020 Haute Couture dress with a cape featuring the names of directors Lorene Scafaria ("Hustlers"), Lulu Wang ("The Farewell"), Greta Gerwig ("Little Women"), Marielle Heller ("A Beautiful Day in the Neighborhood"), Melina Matsoukas ("Queen & Slim"), Alma Har'el ("Honey Boy"), Céline Sciamma ("Portrait of a Lady on Fire") and Mati Diop ("Atlantics"). She was joined by her husband Benjamin Millepied.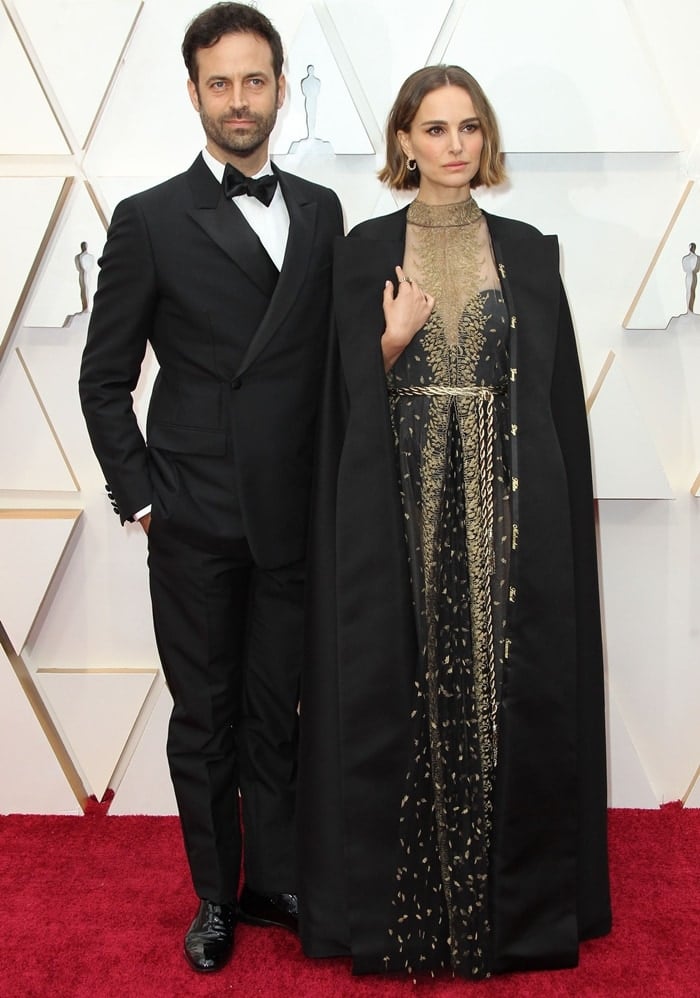 Choreographer Benjamin Millepied and Natalie Portman attend the 92nd Annual Academy Awards at Hollywood and Highland on February 9, 2020, in Hollywood, California
The 38-year-old Black Swan actress completed her look with a Cartier High Jewelry ring set with a yellow diamond, diamonds, black lacquer and yellow gold from the Coloratura High Jewelry Collection collection and Clash de Cartier earrings in pink gold and diamonds.
"I find Portman's type of activism deeply offensive to those of us who actually do the work. I'm not writing this out of bitterness, I am writing out of disgust. I just want her and other actresses to walk the walk," Rose McGowan wrote in a post on Facebook.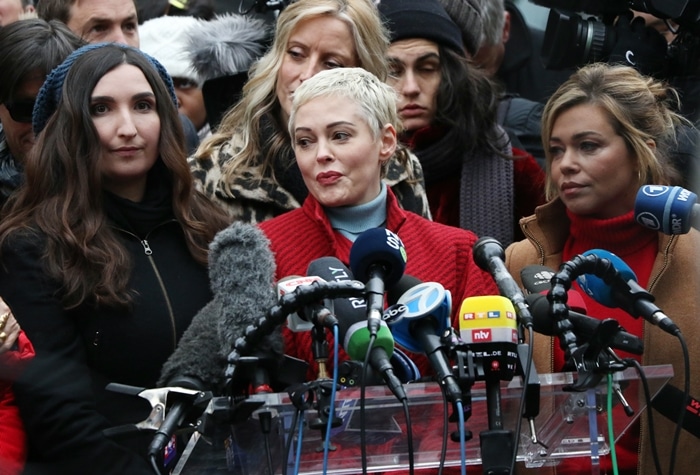 Actress Rose McGowan, who accused American film producer Harvey Weinstein of raping her and destroying her career, joins other accusers and protesters and speaks speech to the press as Harvey Weinstein arrived at the Manhattan courthouse on January 6, 2020, in New York City
"Natalie, you have worked with two female directors in your very long career- one of them was you. You have a production company that has hired exactly one female director- you," Rose continued.
"What is it with actresses of your ilk? You 'A-listers' (🤮) could change the world if you'd take a stand instead of being the problem. Yes, you, Natalie. You are the problem. Lip service is the problem. Fake support of other women is the problem."
The 46-year-old American actress/activist added, "I am singling you out because you are the latest in a long line of actresses who are acting the part of a woman who cares about other women. Actresses who supposedly stand for women, but in reality do not do much at all. Of course, women in the world will keep buying the perfumes you promote, the movies you make, and think they're buying into who you are. But who are you?"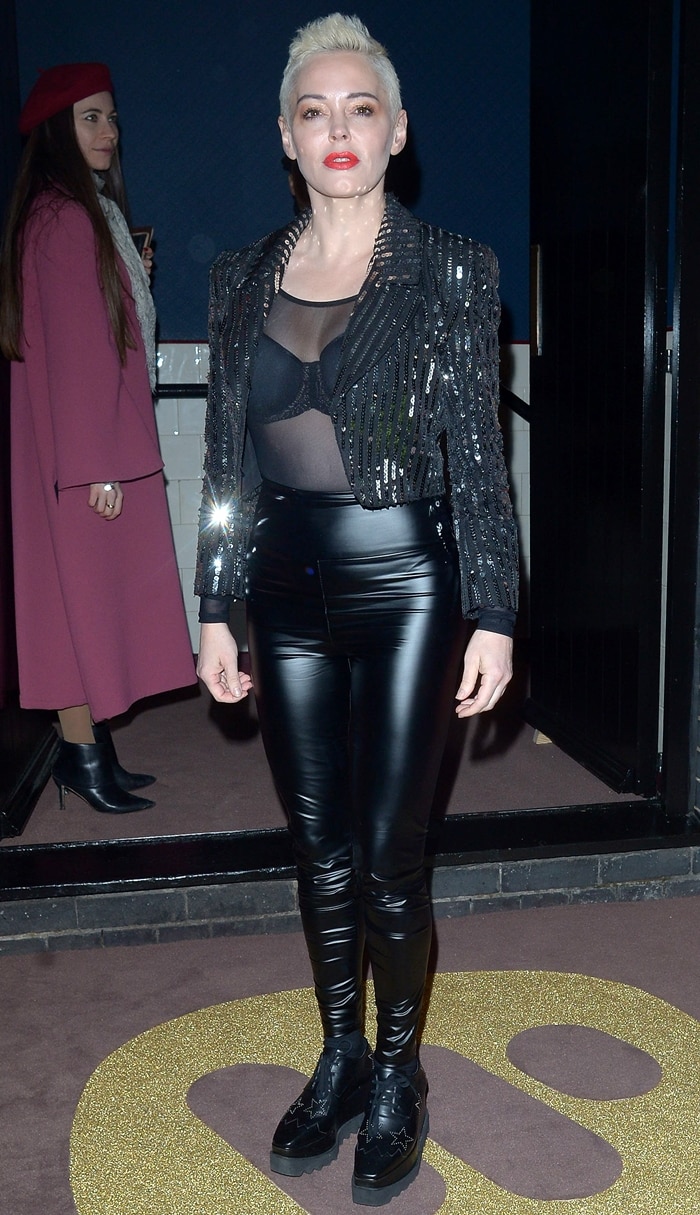 Rose McGowan attends the Warner Music & CIROC Vodka House Party, in association with GQ, at Chiltern Firehouse on February 20, 2019, in London, England
"There is no law that says you need to hire women, work with women, or support women. By all means, you do you. But I am saying stop pretending you're some kind of champion for anything other than yourself. As for me, I'll be over here raising my voice and fighting for change without any compensation. That is activism," Rose continued. "Until you and your fellow actresses get real, do us all a favor and hang up your embroidered activist cloak, it doesn't hang right."
Natalie Portman later reacted to Rose McGowan's criticism in a public statement.
"I agree with Ms. McGowan that it is inaccurate to call me 'brave' for wearing a garment with women's names on it. Brave is a term I more strongly associate with actions like those of the women who have been testifying against Harvey Weinstein the last few weeks, under incredible pressure," Portman said.
"The past few years have seen a blossoming of directing opportunities for women due to the collective efforts of many people who have been calling out the system. The gift has been these incredible films. I hope that what was intended as a simple nod to them does not distract from their great achievements. It is true I've only made a few films with women. In my long career, I've only gotten the chance to work with female directors a few times – I've made shorts, commercials, music videos and features with Marya Cohen, Mira Nair, Rebecca Zlotowski, Anna Rose Holmer, Sofia Coppola, Shirin Neshat and myself. Unfortunately, the unmade films I have tried to make are a ghost history," she continued.
"If these films do get made, women face enormous challenges during the making of them. I have had the experience a few times of helping get female directors hired on projects which they were then forced out of because of the conditions they faced at work. After they are made, female-directed films face difficulty getting into festivals, getting distribution and getting accolades because of the gatekeepers at every level. So I want to say, I have tried, and I will keep trying. While I have not yet been successful, I am hopeful that we are stepping into a new day."
Credit: Instar / WENN