The Parisian label Sandro brought its sophisticated aesthetic to the United States through a nationwide expansion. Its designer and creative director, Evelyne Chétrite, hosted a private dinner at Château Marmont to celebrate the opening of the first Sandro store in Los Angeles.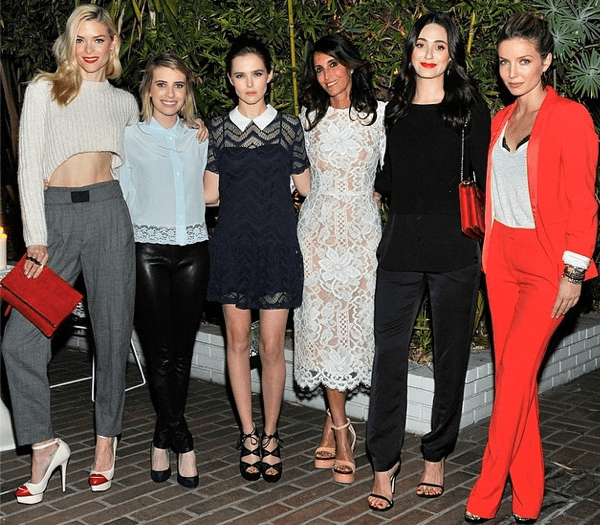 Sandro Paris' Instagram photo with the caption, @jaime_king @emmaroberts6 @zoeydutch @emmyrossum @annabellewallis celebrate with Sandro founder Evelyne Chétrite. #sandroLA – posted on March 25, 2014
Evelyne Chétrite looked sophisticated in her white lace dress and nude platform sandals. She hosted a spectacularly chic affair with a bevy of beauties in attendance, such as Jaime King, Hilary Rhoda, Emma Roberts, Brie Larson, Zoey Deutch, Emmy Rossum, and Annabelle Wallis.
Jaime King was definitely one of the best-dressed stars at the soiree. She was in an outfit from Thakoon Addition's fall 2014 collection that showed off her toned stomach and her impressive style. She wore an ivory cable cropped sweater, which she paired with gray wool pants. The 'Hart of Dixie' star finished her look with gorgeous red accents, such as a bright red clutch, quirky pumps from Charlotte Olympia, and a perfect red pout.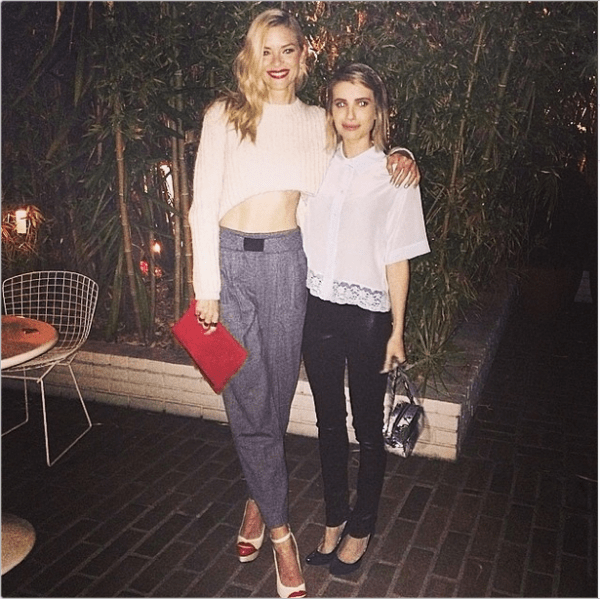 Sandro Paris' Instagram photo with the caption, "@jaime_king and @emmaroberts6 arrive at the Sandro celebration in Bungalow 1. #sandroLA" – posted on March 21, 2014
The stunning model and actress wore the Charlotte Olympia "Kiss Me Dolores" pumps in ivory with red lips. These delightfully quirky shoes feature adjustable ankle straps, island platforms, and the brand's signature gold spider web logo on the sole.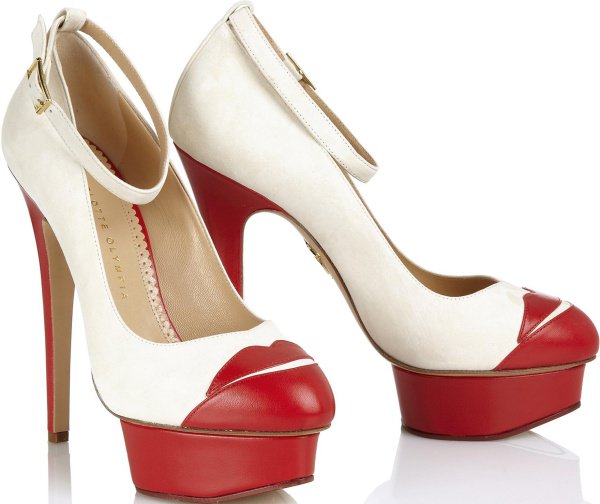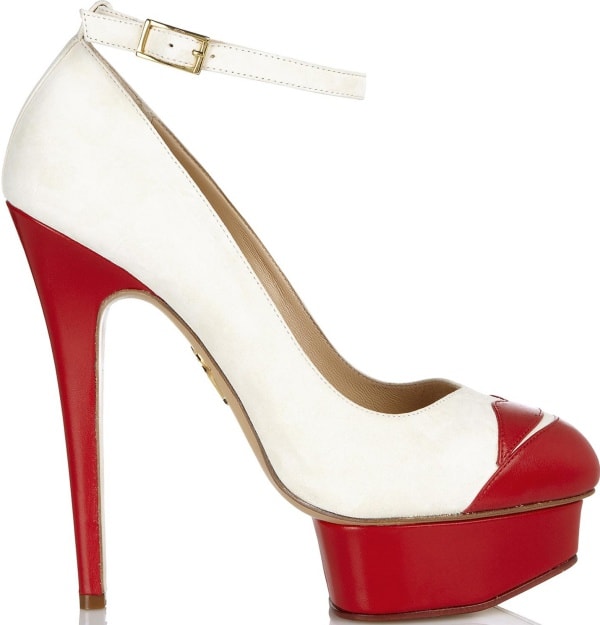 Charlotte Olympia "Kiss Me Dolores" Pumps, $970
In the above photo, Jaime is with Emma Roberts, who looked chic in a pale blue shirt from Sandro paired with black leather pants. She finished off her look with black shoes and an "Anaconda" snakeskin crossbody bag from Sandro.
Ashley Anastasia's Instagram photo with the caption, "#sandroLA beauties @zoeydeutch #brielarson @emmaroberts6 all in @sandroparis cc @starworksgroup #chateau #sandro #paris #vip #style #starlets #swgLA #french #chic" – posted on March 22, 2014
Zoey Deutch was also in attendance at the star-studded bash. The 'Vampire Academy' actress looked beautiful in a sheer navy frock with a crisp white collar from Sandro. She styled it with a black clutch and a pair of "Langley" sandals from Bionda Castana, which feature suede, mesh panels, ankle ties, and external platforms.
Bionda Castana "Langley" Sandals, $882.60
Brie Larson, on the other hand, opted for a simple yet edgy look in a gray "Vacances" soft biker jacket, a "Sully" black mesh sweater with a coated front panel, and black leather "Platon" pants from Sandro's spring/summer 2014 collection. She finished off her look with black shoes and a blue shoulder bag, which added a pop of color to her ensemble.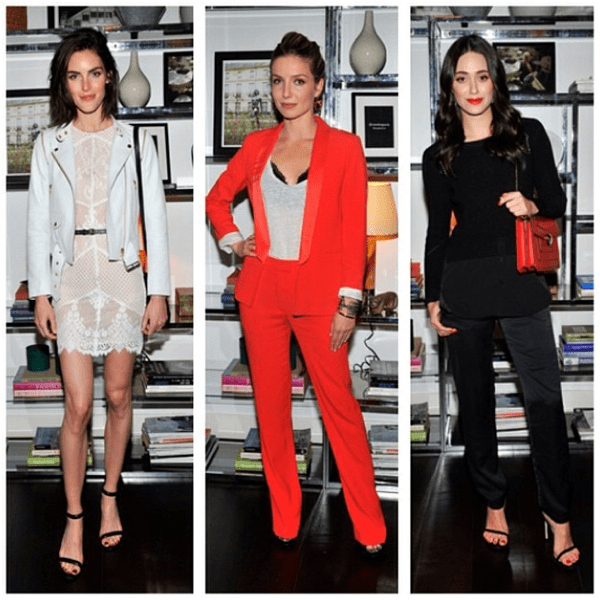 Ashley Anastasia's Instagram photo with the caption, "@hilaryhrhoda @annabellewallis @emmyrossum wear @sandroparis ⭐️ cc @starworksgroup #sandroLA #chateau #vip #sandro #french #chic #swgLA" – posted on March 22, 2014
Hilary Rhoda showcased her romantic flair with a beautiful white lace dress from Sandro. Her white leather biker jacket from the same label added a subtle edge to her pretty frock. The stunning model finished off her look with flawless makeup and a pair of black ankle-strap heels.
Annabelle Wallis was clad in a red jacket and matching trousers from Sandro. She showed off her sultry side with a see-through, low-cut white top that gave a glimpse of her black bra.
Emmy Rossum also graced the exclusive bash with her stunning presence. She channeled Parisian chic in her all-black ensemble from Sandro, which consisted of a long-sleeved knit sweater paired with black trousers. The 'Shameless' actress styled it with a red leather shoulder bag from Bulgari, bold red lips, and black "Nudist" sandals from Stuart Weitzman.
Stuart Weitzman "Nudist" Sandals in Black, $385
These shoes feature covered heels, skinny ankle straps with tonal buckles, thin straps across open toes, and sexy black leather. We've seen these heels on several stylish stars, such as Diane Kruger, Jennifer Lawrence, Shailene Woodley, and Jennifer Connelly.
What do you think of the latest looks from these A-list celebrities? Whose style is your favorite? Feel free to let us know in the comments section below.
Credit: Sandro Paris' Instagram/Ashley Anastasia's Instagram