Scarlett Johansson has been causing quite the stir lately! Not only did the actress cause a commotion with her new short blonde hairdo, she's raised up quite a bit of controversy with her latest film "Ghost in the Shell." Scarlett isn't a stranger to on-screen action, and she's back again with her latest adventure-packed film based on the anime of the same name.
The actress arrived at Paris, France to premiere "Ghost in the Shell" with her French fans. Scarlett and the rest of the film's cast spoke briefly about the film at the Le Grand Rex.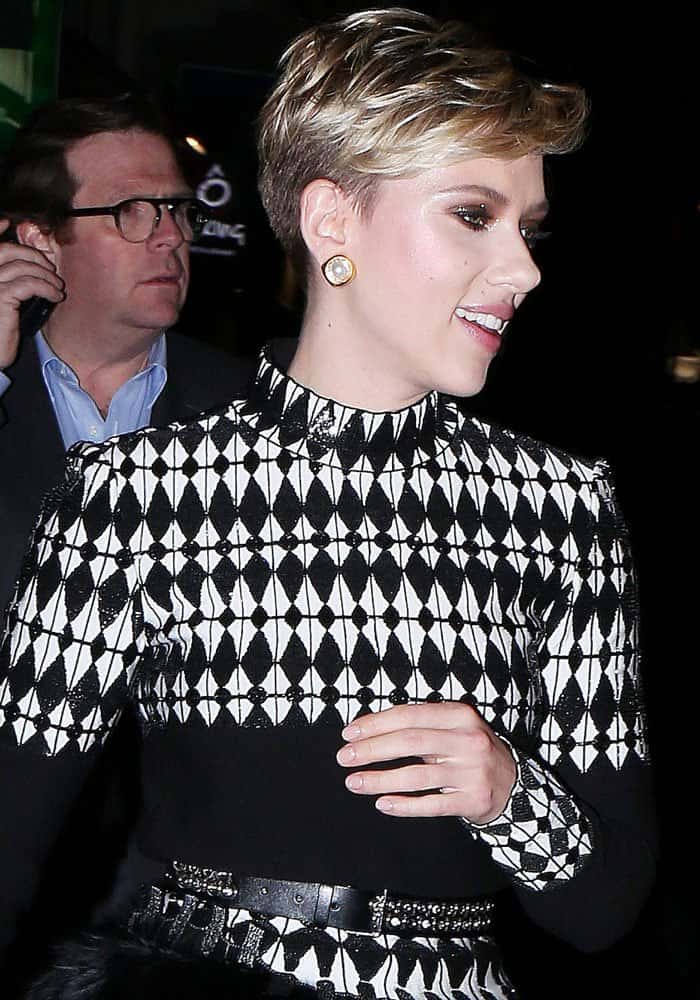 Scarlett Johansson at the premiere of "Ghost In The Shell" at Le Grand Rex in Paris on March 21, 2017.
ScarJo grabbed everyone's attention in a head-to-toe Azzedine Alaïa outfit.
Scarlett echoed her two-tone look with her Alaïa clutch.
Scarlett kept things uncomplicated by pulling out an entire outfit from Azzedine Alaïa. Her actual outfit, however, was anything but boring. The actress combined a geometric patterned top with a fur skirt, a clutch, and an grommet-studded pair of ankle boots.
The working mom complemented her edgy new do with gold and pearl earrings from Zolotas.
The actress wears a pair of Alaïa's signature studded and scalloped boots.
The actress enjoys a night out after the film's premiere.
As edgy as Scarlett may look, we're quite disappointed by her outfit. The usually flawless Azzedine Alaïa put Scarlett in an outfit that looked like combination between a Power Ranger and an English soldier's bearskin hat.
The two-tone palette didn't help with offsetting her bizarre outfit combination.
Scarlett signs autographs for her French fans.
If anything, at least Scarlett was in a good mood when she met with her French fans. The actress spoke about what drew her to her character, a cyberterrorist survivor named Mira Killian who was given a cyborg body after losing it in the attack.
Scarlett said it was interesting to play a character who had to deal with her complicated inner being conflicting with her robot body. In a separate interview, Scarlett joked that she was ready to put down her guns.
Shop Alaïa boots similar to Scarlett's at Italist.
Alaïa eyelet ankle boots, $669.62 (original: $956.60) at Italist
Credit: WENN