You're probably out of school but that doesn't mean you can't enjoy wearing a cute preppy school girl outfit.
But if you're worried about crossing the line between preppy-chic and costume-y, try looking up to these celebrities for some styling ideas:
1. Make it look more mature by adding lace touches
Reese Witherspoon exuded a preppy vibe with her white undershirt collar peeking out from her Tory Burch sweater.
Reese Witherspoon wears a Tory Burch Sandy sweater and Manolo Blahnik BB pumps outside a hair salon in Beverly Hills, California on October 24, 2014 (Credit: WENN)
But her trick to looking great in this school girl-inspired attire is opting for a lace sweater and keeping it loose over the skirt.
Throw in a pair of pumps to cement the look. Get this:
JOA Pleated Neoprene Skirt, $68.00
2. Going for pleated skirts? Try something in leather
Chloe Sims arrives in a lace pussy-bow blouse paired with a pleated leather skirt to film at the Freedom Bar in Wardour Street in London on October 15, 2014 (Credit: Mario Mitsis / WENN)
Pleated skirts and collared shirts scream "school girl". But to make it look more interesting, opt for pleated leather skirts instead. Get this: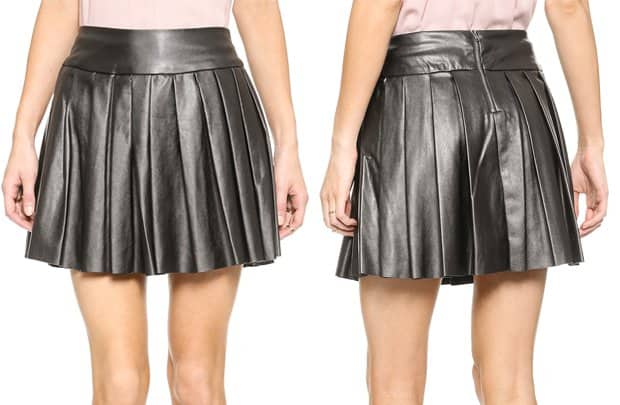 Ella Moss Raquel Miniskirt, $148.00
3. Wear your a-line skirt with a pair of tall boots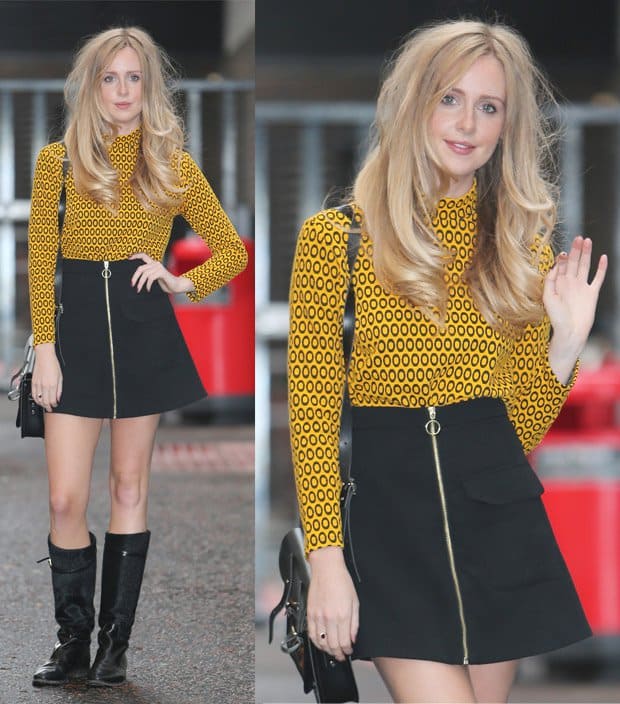 Diana Vickers flaunts her legs in a black Topshop A-line skirt and knee-high boots outside the ITV studios in London on October 14, 2014 (Credit: Rocky / WENN)
Think '60s school girl outfits. A-line skirts are a staple of that era.
But rather than wearing a collared shirt, opt for high-neckline sweaters and then finish off the look with a pair of shin-high or knee-high boots for a nod to mod style. Get this:
Carven Braided A-line Skirt, $570.00
4. Look for a box-pleated skirt with a slightly longer length
One that sits just above your knees would give a classier effect just like what Olivia Palermo was wearing in this outfit.
She wore a white, black and red colorblock dress by Valentino, a green leather fringe flap bag, and pastel pink Oberoy ankle strap sandals by Sergio Rossi.
Olivia Palermo in white, black and red colorblock dress the Valentino show as part of Paris Fashion Week – Haute Couture Fall/Winter 2014-2015 at Hotel Salomon de Rothschild on July 9, 2014, in Paris, France (Credit: Chris.K / WENN)
A long-sleeved collared top and a pair of sandals would work quite nicely with your skirt. Get this:
Charlott Baroque Pleated Mini Skirt, $302.77
5. Pick a tartan skirt with a modern silhouette
Holland Roden arrives at the Alice + Olivia presentation during Mercedes-Benz Fashion Week Fall 2014 at The McKittrick Hotel on February 10, 2014, in New York City (Credit: Ivan Nikolov / WENN)
Tartan skirts will always have a preppy vibe to them. Try something with a flounce shape or a modern mini cut for a more grown-up feel to your look. Get this:
Saint Laurent Tartan Mini Skirt, $1089.98
If these celebrities didn't inspire you to tap into your inner school girl, we don't know what will!