If Selena Gomez is hurting from being slammed for wearing a bindi during her "Come & Get It" performance at the 2013 MTV Movie Awards, she's not showing it. In fact, she seems to be completely ignoring the attacks. Despite being asked by no less than the officials at the Universal Society of Hinduism to apologize for this insensitivity toward their religion, Selena continues to wear bindis in and out of all her performances of her new single.
Selena addressed the controversy on her interview on 'The Z100 Morning Show' yesterday, and she defended her actions of repeatedly wearing the spiritual and religious symbol on her forehead: "I think the song has that Hindu, tribal feel and I wanted to translate that," explained Selena. "I've been learning about my chakra and bindis and the culture — it's beautiful."
Clearly not the apology her critics were hoping for. It's rather a clear statement saying that she's not going to stop wearing bindis, as evident in her "Come & Get It" performance on the 'Late Show with David Letterman' last night. See for yourself in this video:
Cultural appropriation and a timely reconciliation with ex-boyfriend Justin Bieber? Selena Gomez's publicists seem to be working real hard to promote her new single.
Selena Gomez arrived at the Letterman studios wearing a black zipper-sleeved trench coat and trendy gladiator boots. We think Selena could've just stuck with wearing just the gladiator boots — we know the super sizzling hot shoe trend is already enough to get people talking about her!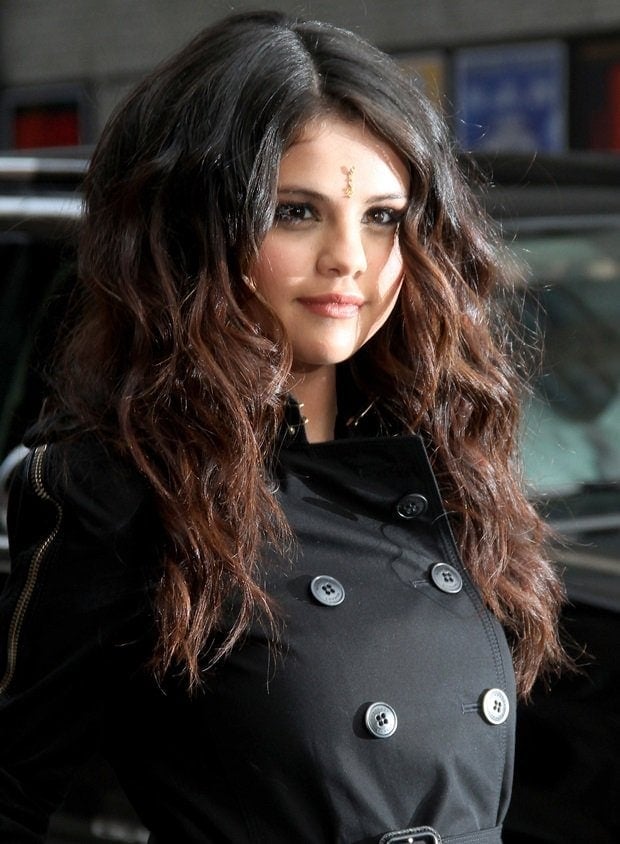 Selena Gomez wearing a bindi, a decorative mark worn in the middle of the forehead by Indian women, especially Hindus
Selena Gomez wearing a black zipper-sleeved trench coat by Burberry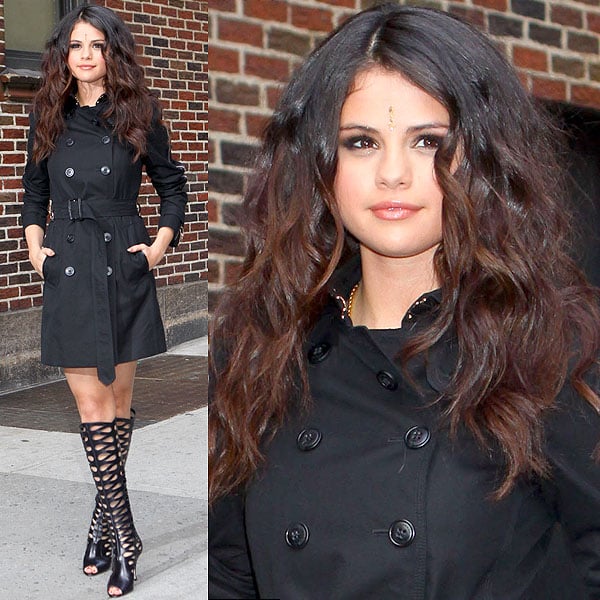 Selena Gomez at the Ed Sullivan Theater for the 'Late Show with David Letterman' in New York City on April 24, 2013
Selena Gomez showing off her feet in Brian Atwood "Electra" boots
Selena Gomez is wearing these Brian Atwood "Electra" boots in the pictures above.
Brian Atwood "Electra" Cutout Open-Toe Knee-High Boots, $1,750
At $1,750, we know these boots are expensive even for Brian Atwood, so here are 5 more reasonably priced tall gladiator sandals for those who want to get on this trend without spending a lot.
Selena Gomez's trench coat is this gorgeous piece by Burberry:
Burberry London Zip Detail 'Gabardine' Trench Coat, $2,195 at Nordstrom
Golden leather-tipped zippers accentuate the collar and trace the long sleeves of an ultra-modern trench coat cut from water-repellent gabardine. A classic double-breasted placket and waist-cinching belt balance the contemporary vibe.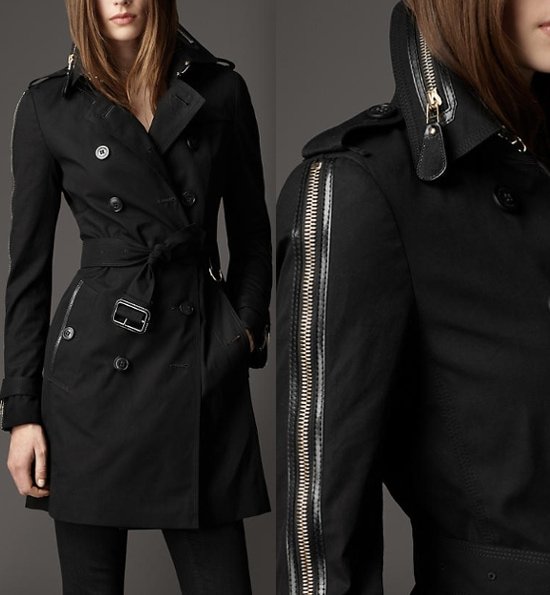 Credit: Michael Carpenter / WENN / PNP / Dan Jackman