Selena Gomez attended the 2010 GRAMMY Nominations Concert Live held at the beginning of this month.
She co-presented the nominees for a certain category at the event while wearing an affordable chic asymmetric corset maxi dress from ASOS.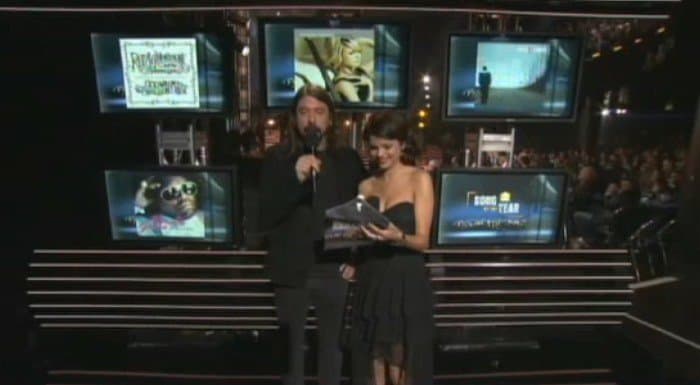 Selena Gomez at the 2010 GRAMMY Nominations Concert Live held at Club Nokia in Los Angeles on December 1, 2010 (Credit: YouTube)
Selena Gomez looked fabulous in this tiered dress, but she's never really been known to give us anything to get excited about fashion-wise.
So I have been skipping these pictures of the Disney star for over two weeks now, but today, something nudged at me and told me to click on them finally.
It's a good thing I listened to those instincts because otherwise, we would have completely missed featuring Selena Gomez's gorgeous Giuseppe Zanottis here on Your Next Shoes.
The details are somewhat lost under Selena's dress, but those shoes are just WOW up close: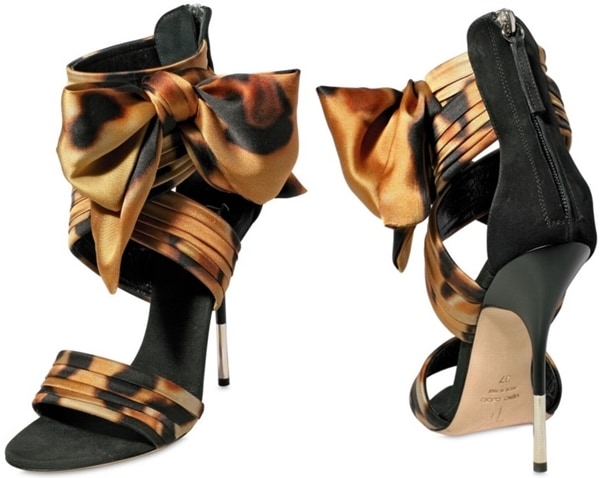 Giuseppe Zanotti Silk Satin Bow Sandals
Not the usual you would expect from Selena Gomez OR Giuseppe Zanotti, is it?
And what Selena saved on her ASOS dress, she spent on these GZs. These Giuseppe Zanotti silk satin bow sandals are $850, a price that you would totally expect to pay for shoes from this Italian luxury brand.
Selena Gomez also wore a pair of Giuseppe Zanotti shoes to the NewNowNext Awards.
She paired them with Plein Sud black leather pants with python detail and a Peter Pilotto Spring 2013 top. How do you like the Giuseppe Zanotti patent leather pointed-toe pumps with this outfit?
Selena Gomez was spotted wearing a fabulous digital print top by Peter Pilotto, featuring a monochrome print with bead accents, a trendy neoprene peplum, and billowing elbow-length sleeves at the 6th Annual Logo NewNowNext Awards held in Los Angeles on April 13, 2013 (Credit: FayesVision / WENN)
The Come & Get It singer received the Triple Play Award at the ceremony in a gorgeous top and hot leather pants!
Love the look? It's just so edgy and modern. Selena managed to look very sophisticated, too, in her ensemble. Her Peter Pilotto peplum top features mixed media, showing black and white print and elaborate embellishments that include multicolored sequins and beads.
The zipped back seems to feature a mesh design, too, and as you can see, the sleeves are a bit oversized and feature a ruffle effect.
Selena Gomez's Peter Pilotto peplum top was a standout piece, showcasing a mixed media design of black and white print and intricate embellishments such as multicolored sequins and beads (Credit: FayesVision / WENN)
Does this interest you? Would you wear this top as well? If yes, you better take it from Selena because she perfectly matched it with plain black pants, which simply let the top stand out.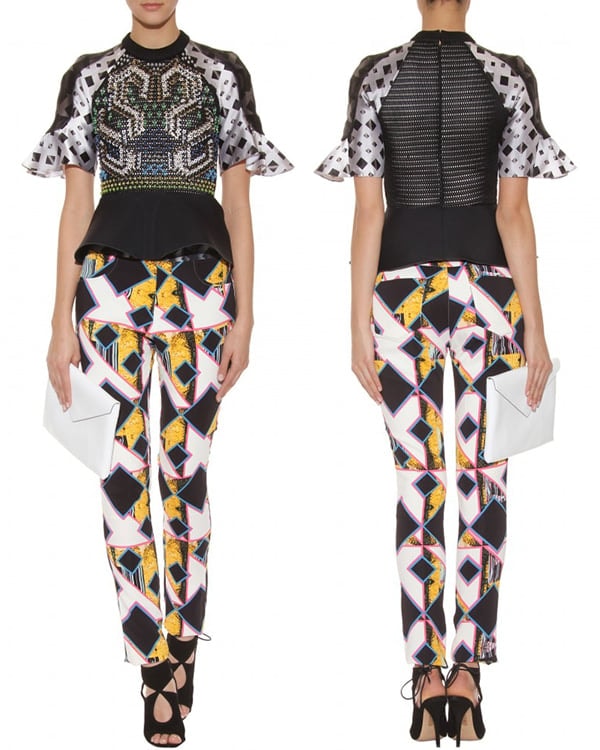 Peter Pilotto Carolina Embellished Print Top, $1,406
Naya Rivera also wore Giuseppe Zanotti pumps to the same award show with metallic jacquard strapless pleated peplum pants and a top by Monique Lhuillier:
At the 6th Annual Logo NewNowNext Awards in Los Angeles on April 13, 2013, Naya Rivera was seen wearing a stunning ensemble by Monique Lhuillier consisting of a metallic jacquard strapless pleated peplum top and matching pants (Credit: FayesVision / WENN)