She's a former world No. 1 in women's singles tennis, with 23 Grand Slam singles titles—the most by any player in the Open Era and the second-highest overall behind Margaret Court. She also holds the most Grand Slam titles—23 in singles, 14 in women's doubles, and two in mixed doubles—combined among active players.
In addition, she is the most recent female player and the third player in history to win all four Grand Slam singles titles simultaneously (2002-2003 and 2014-2015). Her tally of four Olympic gold medals — one gold in women's singles and three in women's doubles with her sister Venus—is also an all-time record.
Serena Williams' Penchant for Fashion
Achievements aside, Serena Williams has proven that there's so much more to her than just tennis. She's also a style icon, a fashion designer, a businesswoman, and a body-positive queen.
The 38-year-old professional tennis player's on-court style has become as fierce as her tennis matches. From her controversial black catsuit during the 2018 French Open tournament and denim skirt with knee-high boots during the 2004 US Open to her 2008 Wimbledon white trench coat and an array of tutu tennis dresses, Serena's statement on-court outfits never fail to make headlines around the world.
In addition, Serena once had a special line with Puma and a $40-million deal with Nike. Her penchant for fashion continued with the launch of her first propriety fashion line, called Serena, in May 2018.
Serena Williams for Stuart Weitzman 2020 Ad Campaign
Early this month, Serena again made headlines in the fashion world after being named as the new spokeswoman for Stuart Weitzman. Starring in the footwear brand's new 2020 ad campaign, the tennis powerhouse hopes to "share a message of hope and optimism."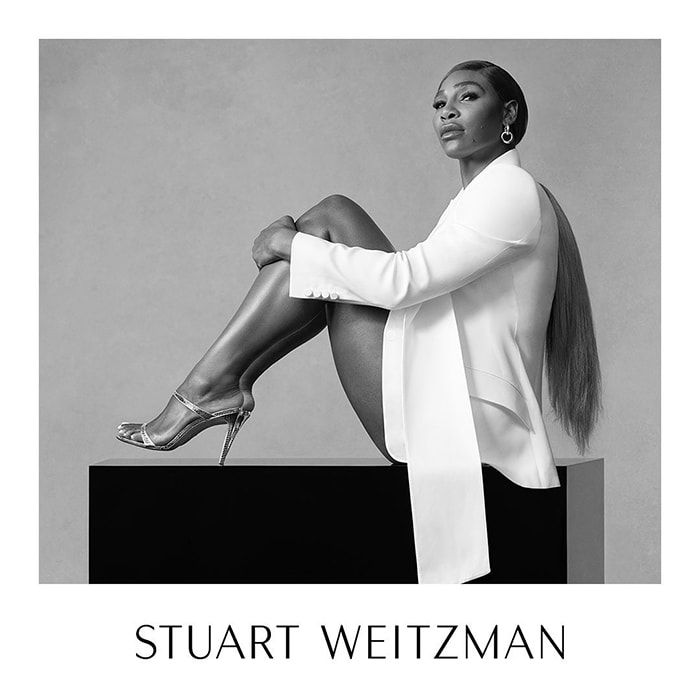 Serena Williams stars in Stuart Weitzman's 2020 Ad Campaign
"I worked and finished this exciting project with Stuart Weitzman at the beginning of this year and now we can't hold it in anymore! I hope through this campaign and Stuart Weitzman's partnership with Vital Voices, we can share a message of hope and optimism, and celebrate women and their ability to lift up their communities."
Serena is featured in a series of glossy black-and-white campaign images shot by Ethan James Green in Palm Beach, prior to the COVID-19 pandemic. In the photos, the tennis superstar is seen wearing high-fashion versions of classic tennis whites with glam footwear from Stuart Weitzman's latest collection.
Stuart Weitzman 'Aleena' Sandals, $425 at Stuart Weitzman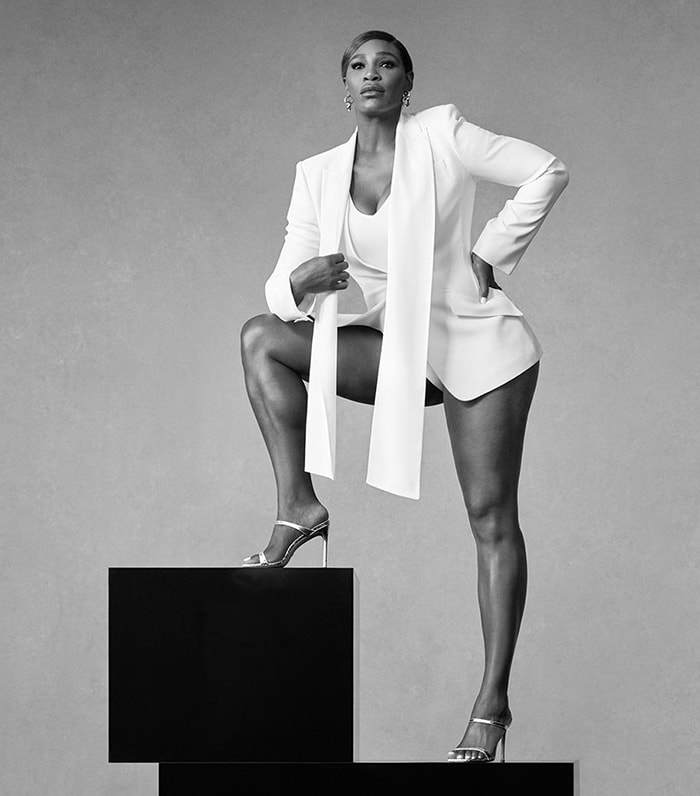 Serena Williams wearing a bodysuit and a blazer with Stuart Weitzman sandals
Standing on a podium, Serena shows off her toned physique in a white leotard with a white blazer and a stole. She looks sophisticated with her hair pulled back in a neat ponytail. She then completes her look with a pair of Stuart Weitzman "Aleena" slide sandals.
Stuart Weitzman Aleena sandals as seen on Serena Williams
These minimalist sandals feature sleek straps made of metallic snake-embossed leather, square toes, and about 3-inch mid stiletto heels.
Stuart Weitzman Aleena sandals in metallic snakeskin and pink leather versions
Stuart Weitzman 'Anny' Pumps, $398 at Stuart Weitzman
Serena Williams in a cutout belted bodysuit with blazer and Stuart Weitzman pumps
Here, Serena shows a glimpse of her toned midriff in a cutout one-shoulder bodysuit with belt detail and a button-detailed blazer.
A close-up of Stuart Weitzman Anny pumps as seen on Serena Williams
She teams the outfit with a pair of Stuart Weitzman's iconic "Anny" pumps, which are set on shorter heels. They are timeless with v-cut vamps, pointed toes, and low-cut sides.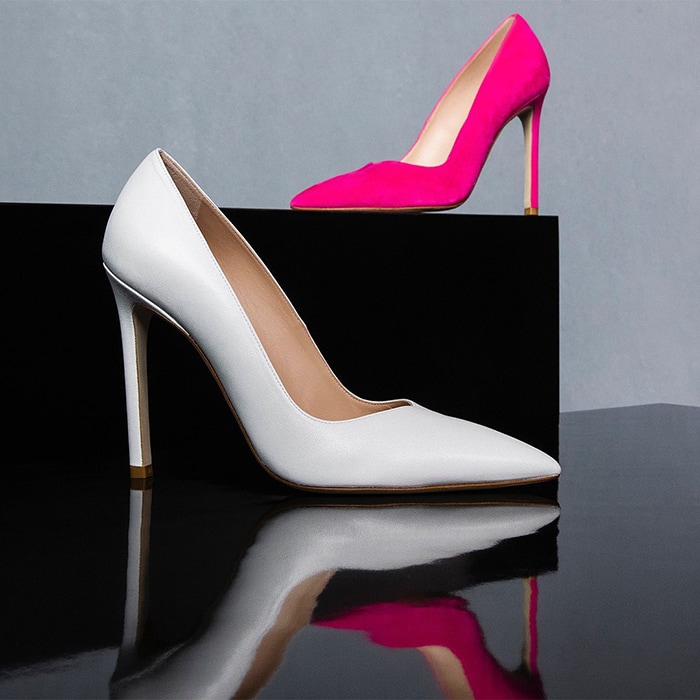 Stuart Weitzman Anny Pumps in white and hot pink versions
Stuart Weitzman 'Julina' Thong Sandals, $425 at Stuart Weitzman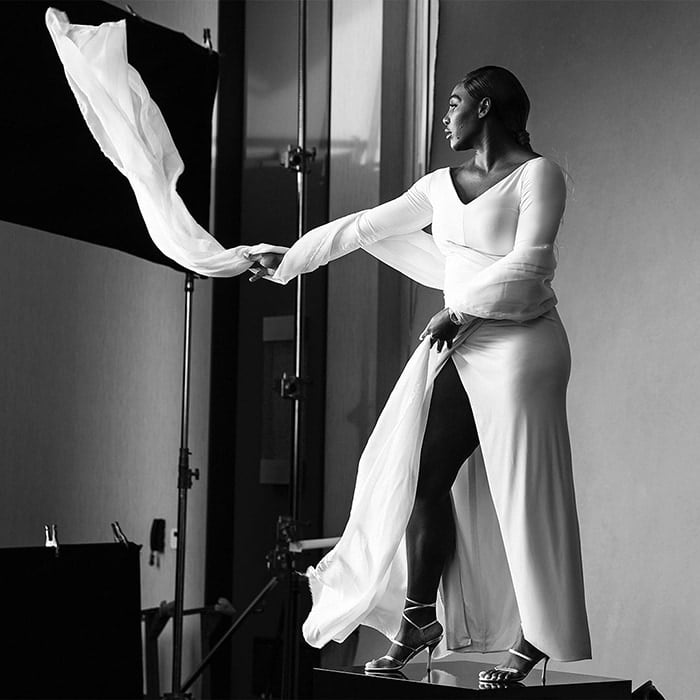 Serena Williams is ethereal in a white dress with strappy thong sandals
The iconic tennis player looks ethereal in this white dress with long sleeves and a hip-high slit, paired with Stuart Weitzman "Julina" sandals.
Serena Williams wears a pair of Stuart Weitzman Julina sandals
These sandals feature wrap-up ankle straps with thong toe posts, which are on-trend this year. They also have round toes and about 3.75-inch stiletto heels.
Stuart Weitzman Julina strappy high heels with thong toe post
Stuart Weitzman 'Manila' Loafers, $450 at Stuart Weitzman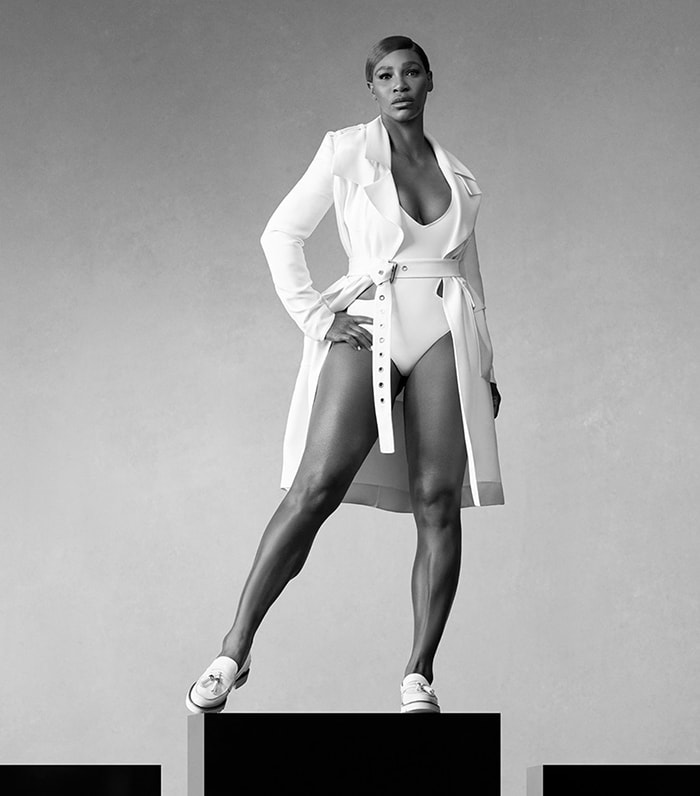 Serena Williams in a low-cut leotard with a trench coat
The mom-of-one proves she's a lady boss in her cleavage-baring bodysuit with side cutouts, teamed with a belted trench coat and a pair of loafers.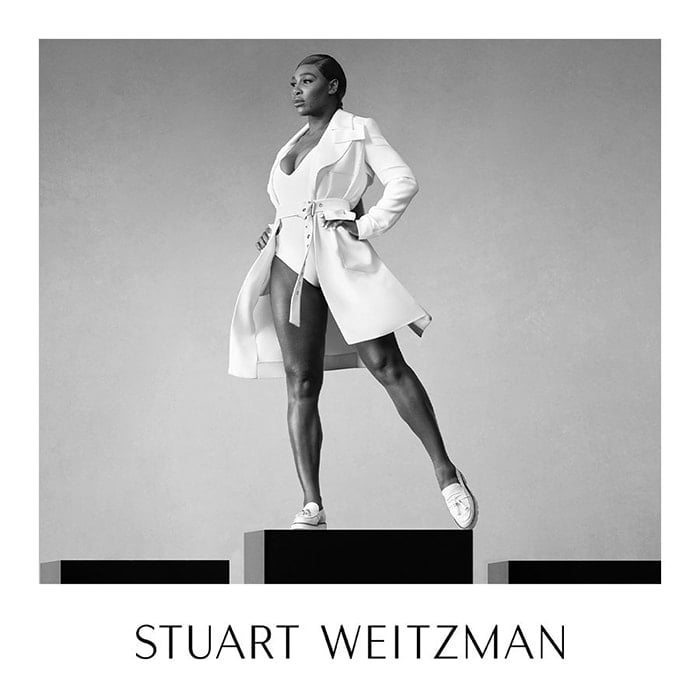 Serena Williams teams her white outfit with Stuart Weitzman Manila loafers
Stuart Weitzman's iconic "Manila" loafers are making a comeback this year. They feature the same lightweight lug soles as their predecessor, updated with the brand's SW logo hardware on the tassels.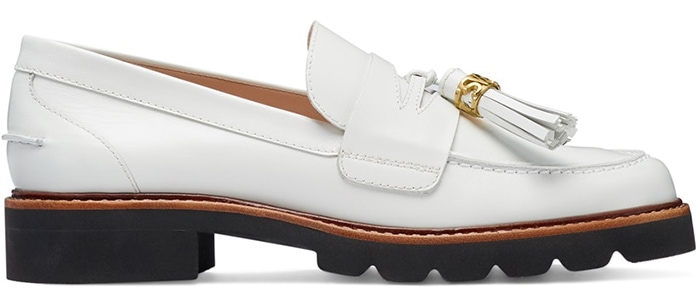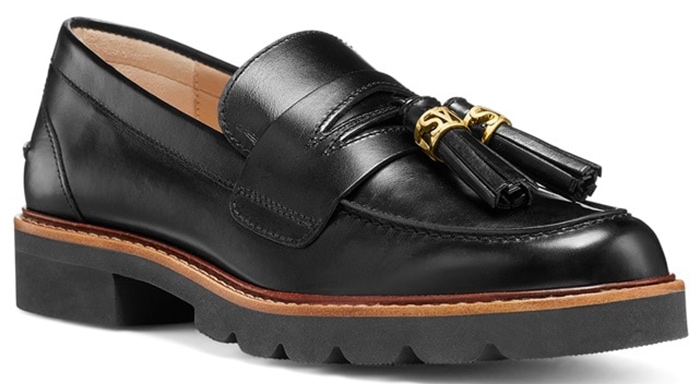 Stuart Weitzman Manila Signature loafers
Stuart Weitzman said of their 2020 campaign: "Inspired by Serena, who herself has demonstrated resilience and courage to overcome obstacles throughout her career, the campaign reinforces the notion of women standing as pillars of hope and optimism for their communities."
Serena said of why she loves the brand: "I've been wearing [Stuart Weitzman shoes] for probably over a decade now and they're a real staple in my closet. Most of all… it's SW and it has my initials."
The campaign is part of a philanthropic partnership with Vital Voices Global Partnership, an international non-profit organization that invests in women leaders with daring visions to improve the world and drive global change.
As part of the campaign, Serena and Stuart Weitzman selected two other women leaders whose organizations focus on lifting women of color. Sage Ke'alohilani Quiamno, the co-founder of Future For Us, a digital career education platform dedicated to helping women of color, and Ashlee Wisdom, founder of Health In Her HUE, a platform that connects black women to healthcare providers, services and resources, were chosen for the partnership.