Shania Twain is 57 years old and "unashamed" to bare it all with her new music. While promoting her upcoming album, Queen of Me, the music star opened up about how her recent nude photoshoot empowered her and helped heal her from her tragic childhood.
On September 23, 2022, the Queen of Country Pop dropped the song "Waking Up Dreaming," which serves as the lead single off her upcoming sixth studio album, set to be released on February 3.
Fans are anticipating Twain's new album—her first since 2017's Now—but what's generating the hype on social media is her buzz-worthy cover artwork, in which she posed topless.
Shania Twain poses nude in the cover artwork for her upcoming sixth studio album, Queen of Me (Credit: Shaniatwain.com)
"It was so empowering. I'm so glad I did it. I was petrified, but once I flipped that switch and dove into it, I'm like, I'm all in! I committed 100%," a pink-haired Shania Twain told Hoda Kotb on the Today Show.
The best-selling female artist in country music history also spoke to People about her nude photoshoot: "This is me expressing my truth. I'm comfortable in my own skin, and this is the way I am sharing that confidence. I think the best fashion is confidence, and whatever you wear—if you're wearing it with that, it's fashionable."
Embracing body positivity, Twain added: "I am a woman in my late 50s, and I don't need to hide behind the clothes. I can't even tell you how good it felt to do nude shooting. I was just so unashamed of my new body, you know, as a woman that is well into my menopause. I'm not even emotional about it; I just feel okay about it. It's really liberating."
In the said photo, Shania can be seen topless, wearing just a cowboy hat, tie-dyed pink boots, and a white shirt wrapped around her waist.
View this post on Instagram
Shania Twain debuted "Waking Up Dreaming" live for the first time at the People's Choice Awards 2022, where she was honored with the music icon award.
Aside from the lead single, the Queen of Me album also includes the track "Last Day of Summer," which was released as the album's promotional single on October 28, 2022, as well as the second single, "Giddy Up," released on Thursday, January 5.
Shania Twain was honored with the Music Icon Award at the 2022 People's Choice Awards on December 6, 2022 (Credit: BauerGriffin / INSTARimages / Cover Images)
On Conquering Insecurities
Queen of Me implies being comfortable in one's own skin. It reflects "embracing individuality, trusting your gut and drop kicking down those doors."
During her younger years, Shania Twain revealed on TalkShopLive that she "was a very insecure woman, girl…" "I was one of those teenagers that would never wear a bikini at the beach."
"So I'm saying, well, the heck with that. I didn't do it when I was younger, so I'm going to do it now. I'm going to feel and show that I feel comfortable in my own skin."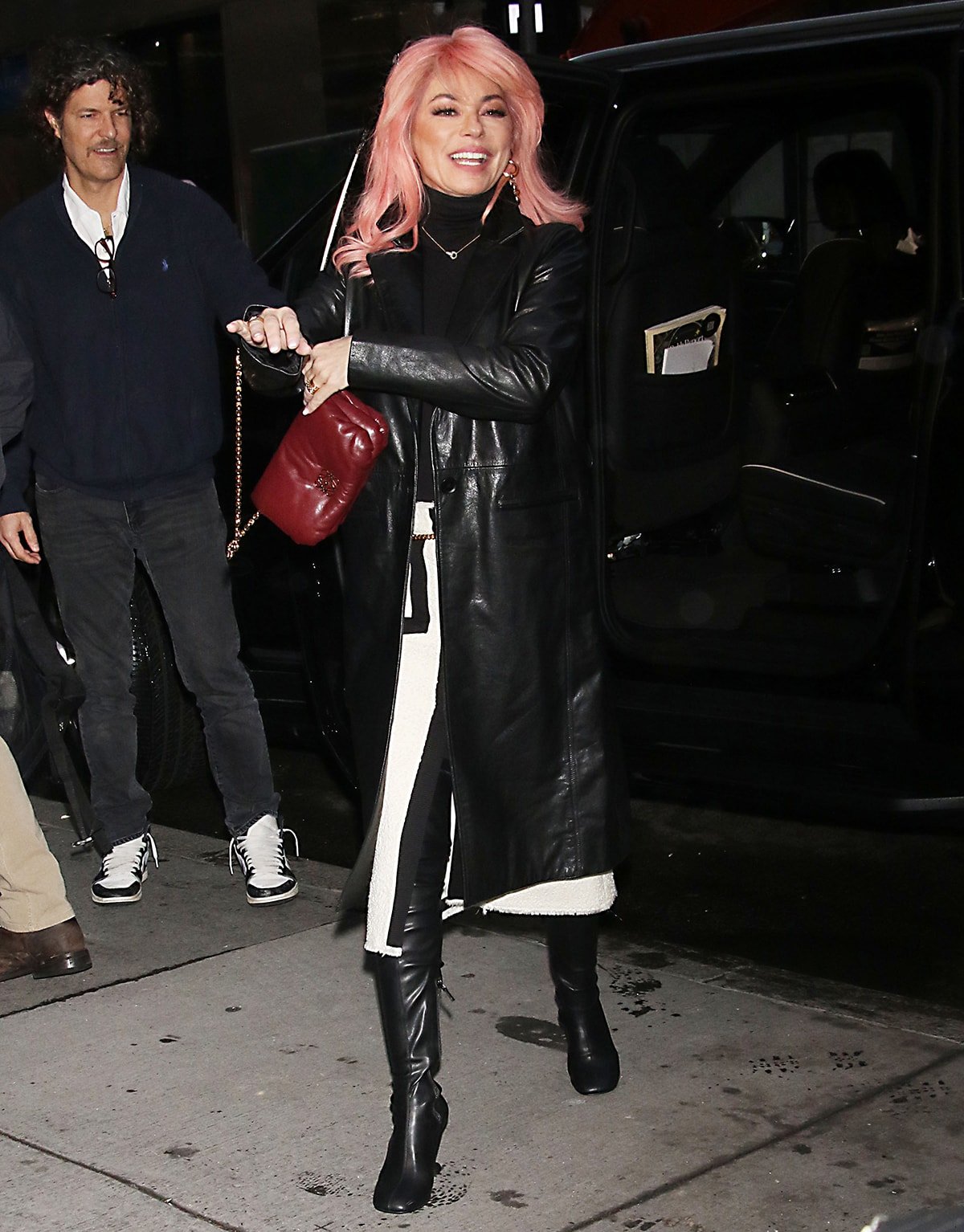 A pink-haired Shania Twain sporting a Maje leather coat with a black turtleneck top and a pair of thigh-high boots on her way to the Today Show studios on January 5, 2023 (Credit: Roger Wong / INSTARimages / Cover Images)
Not only was Shania topless for her "Waking Up Dreaming" single cover, but she also did a whole shoot for the album artwork where she was completely nude.
"Trust me, this took courage because I am so not an exhibitionist. It was all about my own message to myself. Just saying, you know, it's just time to feel comfortable in my own skin and share that with other people and just share those insecurities, shed that skin of insecurity."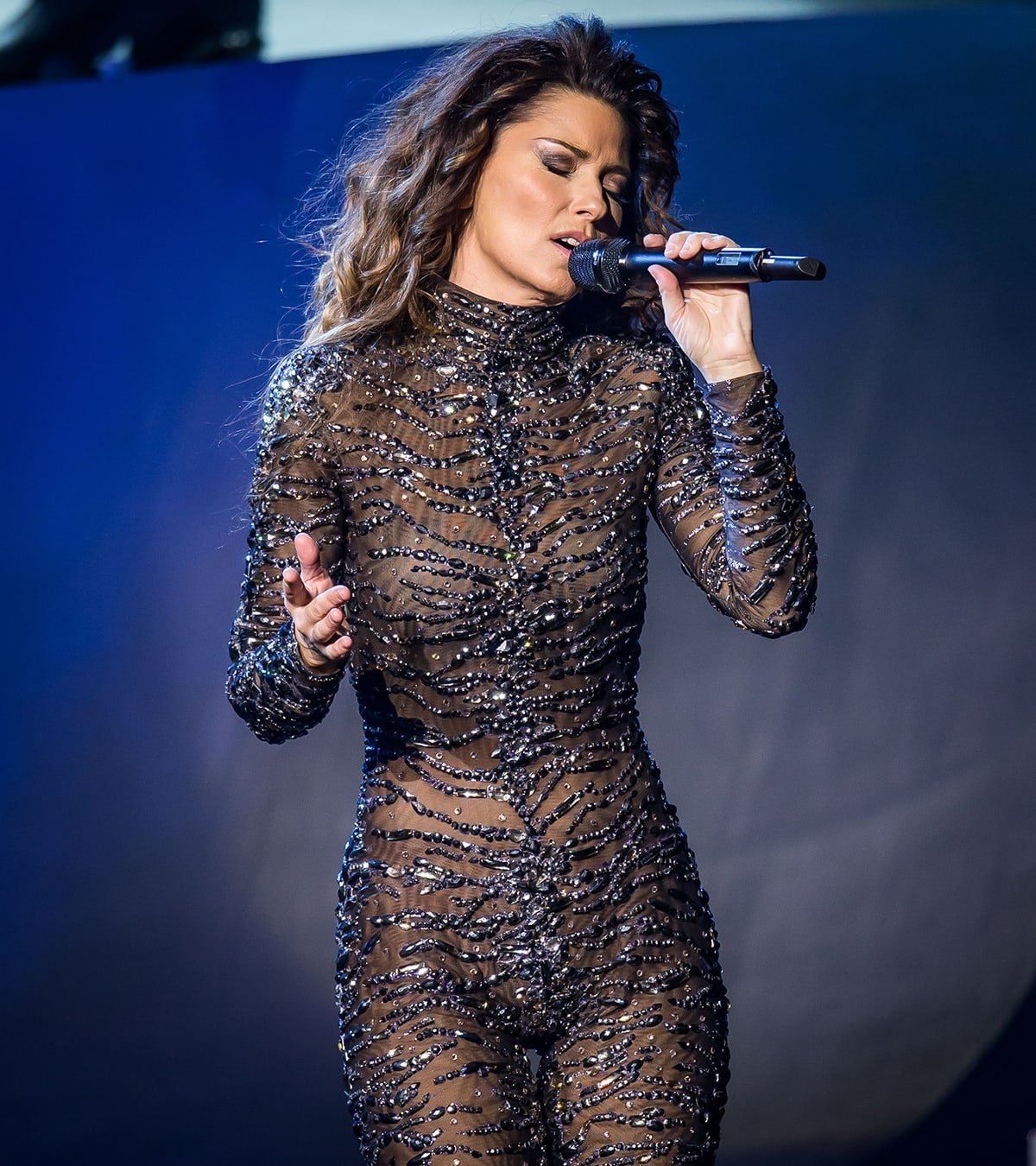 Shania Twain flaunting her figure at the premiere of her 'Still The One' residency show at Caesars Palace in Las Vegas in 2012 (Credit: INFphoto)
"It was really scary," she also told the Today Show. "I don't really love my body, I don't love looking at myself in the mirror with the lights on or looking in the mirror at all at my body. So I said, listen, I'm going to face that fear, I'm gonna go into that photo shoot, I'm gonna put fashion aside."
"So, fashion, we use to flatter our shapes, to maybe hide the things we don't like, to make us look more like what we wish we really did look like without the clothes. Putting fashion aside, this is me… I'm so glad I did it. I was petrified," she explained.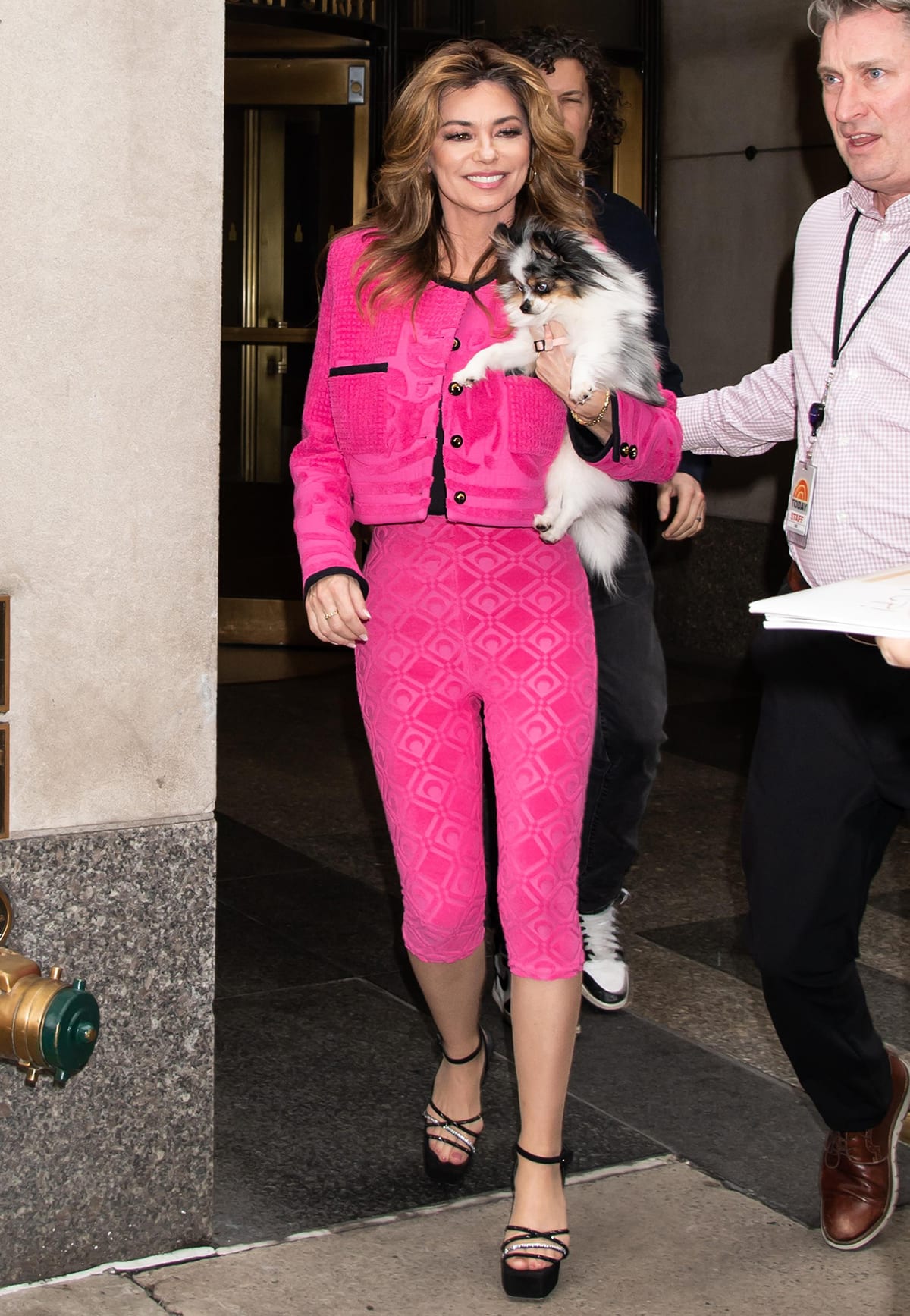 Shania Twain carrying her dog while channeling the 90s in a hot pink cropped jacket, capri pants, and black platform heels on January 5, 2023 (Credit: Janet Mayer / Startraksphoto / Cover Images)
Overcoming Her Childhood Trauma
Shania Twain may be one of the most successful pop stars in the industry, but she had to go through so much to get to where she is now.
In her 2001 memoir, From This Moment On, Shania, born Eilleen Regina Twain, recalled having a tough childhood. Her parents separated when she was young, and as a teenager, she suffered physical and sexual abuse at the hands of her stepfather.
At 22 years old, Shania was forced to raise her siblings after her mom and stepfather died in a car accident.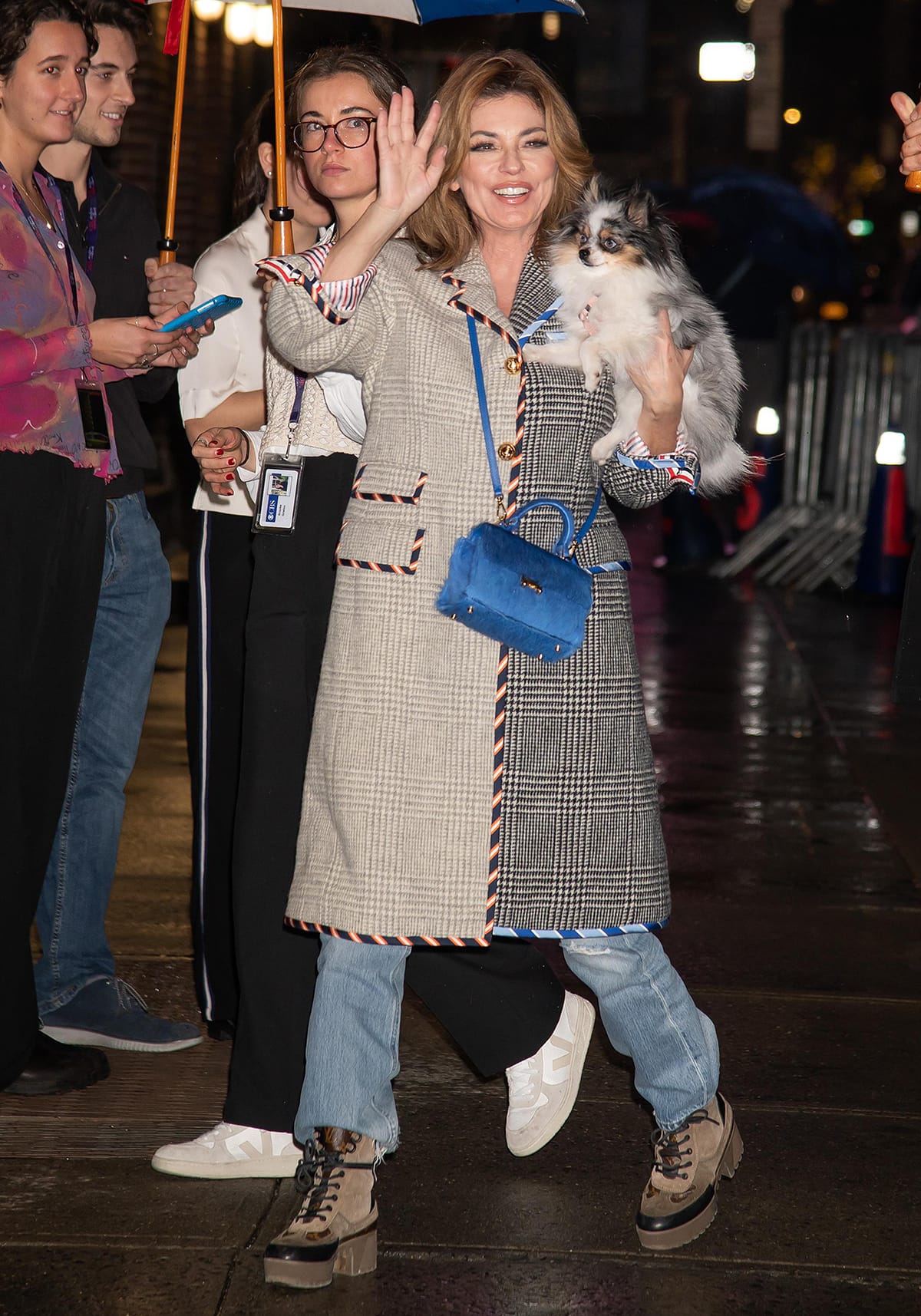 Shania Twain covers up in a multi-patterned coat with jeans and a pair of lace-up platform boots for her appearance on The Late Show with Stephen Colbert on January 4, 2023 (Credit: Janet Mayer / Startraksphoto / Cover Images)
Early last month, she told The Sunday Times that she had to "flatten" her breasts so she would go unnoticed.
"I hid myself and I would flatten my boobs. I would wear bras that were too small for me and I'd wear two, play it down until there was nothing girl about me. Make it easier to go unnoticed. Because, oh my gosh, it was terrible—you didn't want to be a girl in my house."
During her interview with Hoda Kotb on the Today Show, Shania blamed the traumatic events in her childhood for her insecurities. She went on to say that her decision to go nude in the cover art for her album served as a way for her to cope and finally put the past behind her.
Shania Twain says her nude photoshoot for Queen of Me album helped heal her from her tragic childhood (Credit: ROGER WONG / INSTARimages / Cover Images)
"It's a way of really about saying, listen, I was abused when I was a kid, my father would fondle up on the top and make me go without a shirt, and I was already maturing."
"I'm happy in my own skin. It's the only skin I have, so I don't have a choice. It's time to start loving myself in my own skin and really embracing that and not being embarrassed by it or shy of it."