Oh, to be rich and famous. While us mere mortals would reserve wearing the thousand-dollar Balenciaga cutout booties only for special occasions, Sharon Stone comes out and wears them to walk her dog like they're just her everyday slip-ons.
Can we be any more envious?
Sharon Stone walking her pit bull pup before heading out to lunch at Clafoutis at The Sunset Plaza in West Hollywood, California on April 16, 2013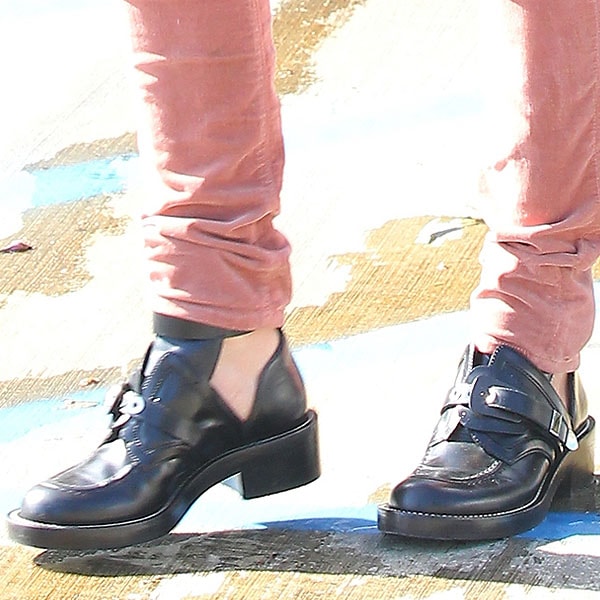 Sharon Stone's thousand-dollar Balenciaga cutout booties
To be honest, we never would have pegged Sharon Stone for someone who would wear the Balenciaga booties. We've spotted them on numerous celebrities before, but the lineup mostly includes trendsetters like Mary-Kate Olsen, Rihanna, Miley Cyrus, and Nicole Richie. Sharon Stone's personal style is more of sexy and elegant to us, so to see her in an uber trendy shoe style is a little off-putting.
But we know Sharon Stone has her own special brand of crazy, so maybe we shouldn't be surprised that she went for these Balenciaga cutout booties:
Balenciaga Cutout Buckled Booties, $1,275 at Saks Fifth Avenue
As expected, these booties that everyone's lusting after are now sold out everywhere. The demand for them has most definitely not been met yet, so other shoemakers like Topshop are still coming out with lookalikes these:
Topshop "Arabel" Studded Cutout Boots, $180 at Nordstrom
Credit: revolutionpix / WENN