Not so fast, Kardashians and Jenners. Sharon Stone may be 64, but she's still standing her ground as one of Hollywood's hotties. The Basic Instinct actress will turn 65 on March 10, 2023.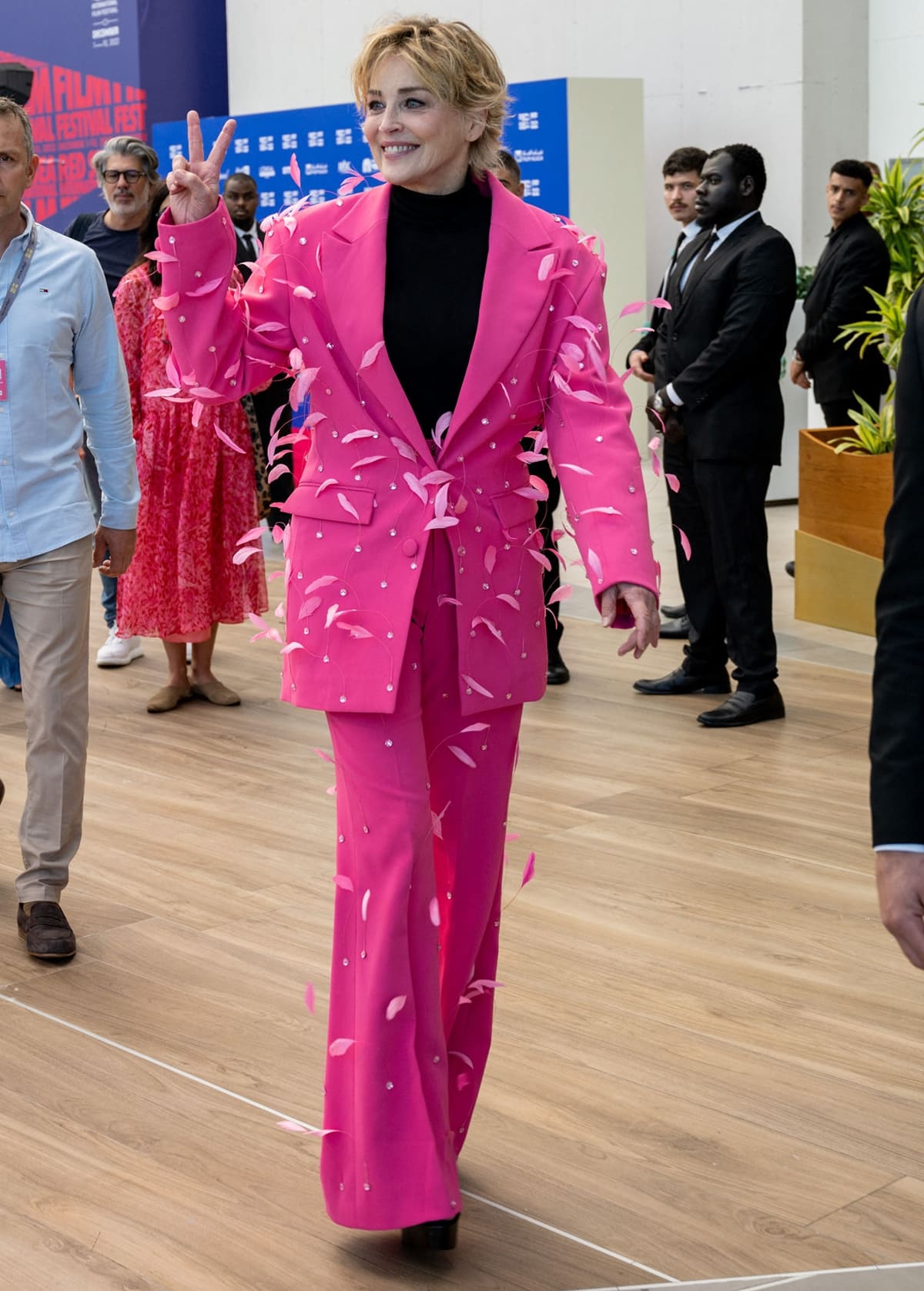 Sharon Stone leaves the in Conversation with Sharon Stone at the Red Sea International Film Festival on December 2, 2022, in Jeddah, Saudi Arabia (Credit: ABACA / INSTARimages / Cover Images)
Sharon Stone was 34 years old when she played the role of Catherine Tramell in the 1992 erotic thriller film "Basic Instinct," which was released in the United States by TriStar Pictures on March 20, 1992.
She celebrated her 34th birthday just ten days earlier, on March 10, 1992. Filming started in April 1991 when she was still 33. Catherine Tramell's last name comes from the American former professional baseball shortstop Alan Stuart Trammell.
Actresses who declined the role of Catherine Tramell because of the nude scenes include Kim Basinger, Julia Roberts, Greta Scacchi, Meg Ryan, Michelle Pfeiffer, Geena Davis, Kathleen Turner, Kelly Lynch, Ellen Barkin, and Mariel Hemingway.
"I thought Sharon could capture the evil and the charm of the character in one performance because these two elements are strongly present in her. I wouldn't call her evil," Verhoeven told Los Angeles Times in 1992.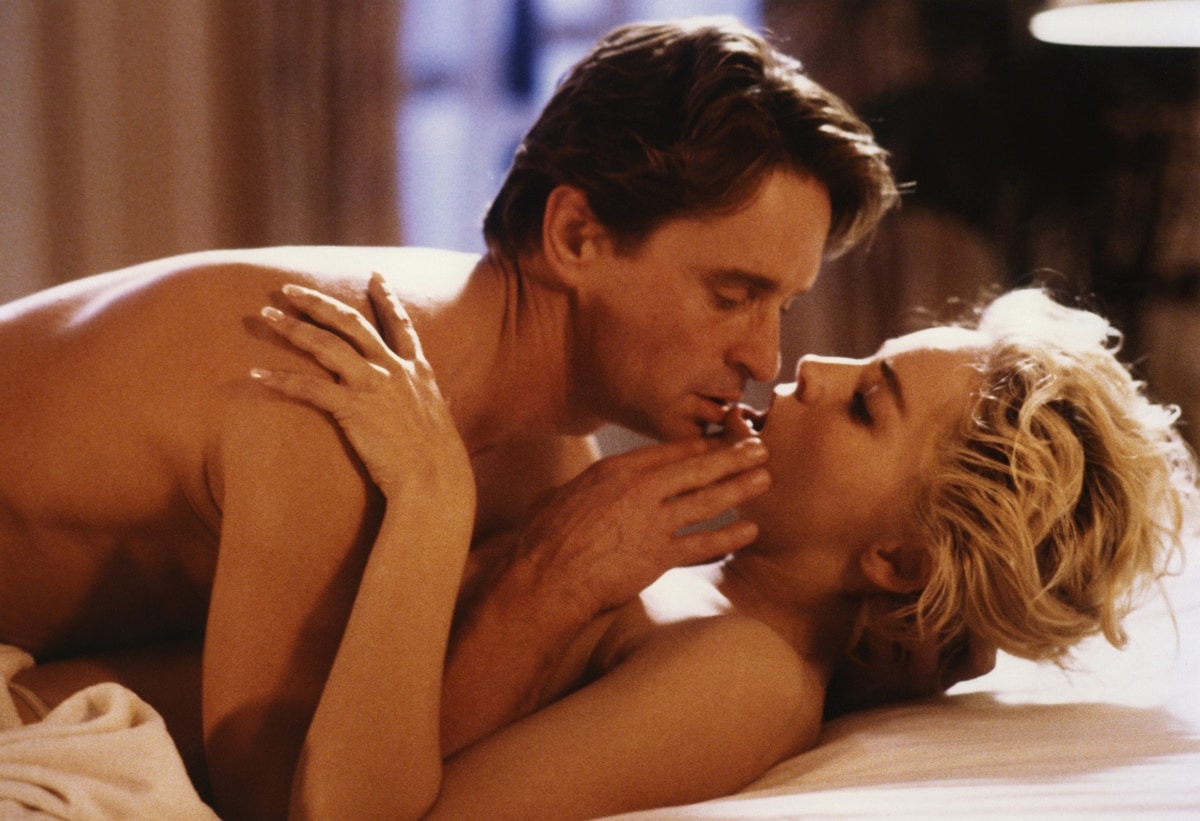 No body doubles were used in any of the Basic Instinct sex scenes and Michael Douglas and Sharon Stone had to wear flesh-colored genital pads (Credit: TriStar Pictures)
"But she has a lovely side and a shadowy side and in the film she has to play someone who is in control of those parts of herself but Sharon, I don't think is in control of them in her own life so much. She is very volatile, very shadowy."
"She can be so goddamned mean. She really knows what buttons to push to get to you. She's manipulative. I don't know if it's a feeling of power or if some man hurt her although that's a little bit of a cliché. But Sharon is very hard to know," he added.
"I was 32 when I got the part of Catherine Tramell in Basic Instinct. It was probably as late as you could be in your career without a big break. But from the moment I read the script, I knew I was the right person for the role. It was an intellectually complex part, and I felt like I had a real grasp on it," she told Instyle in February 2022.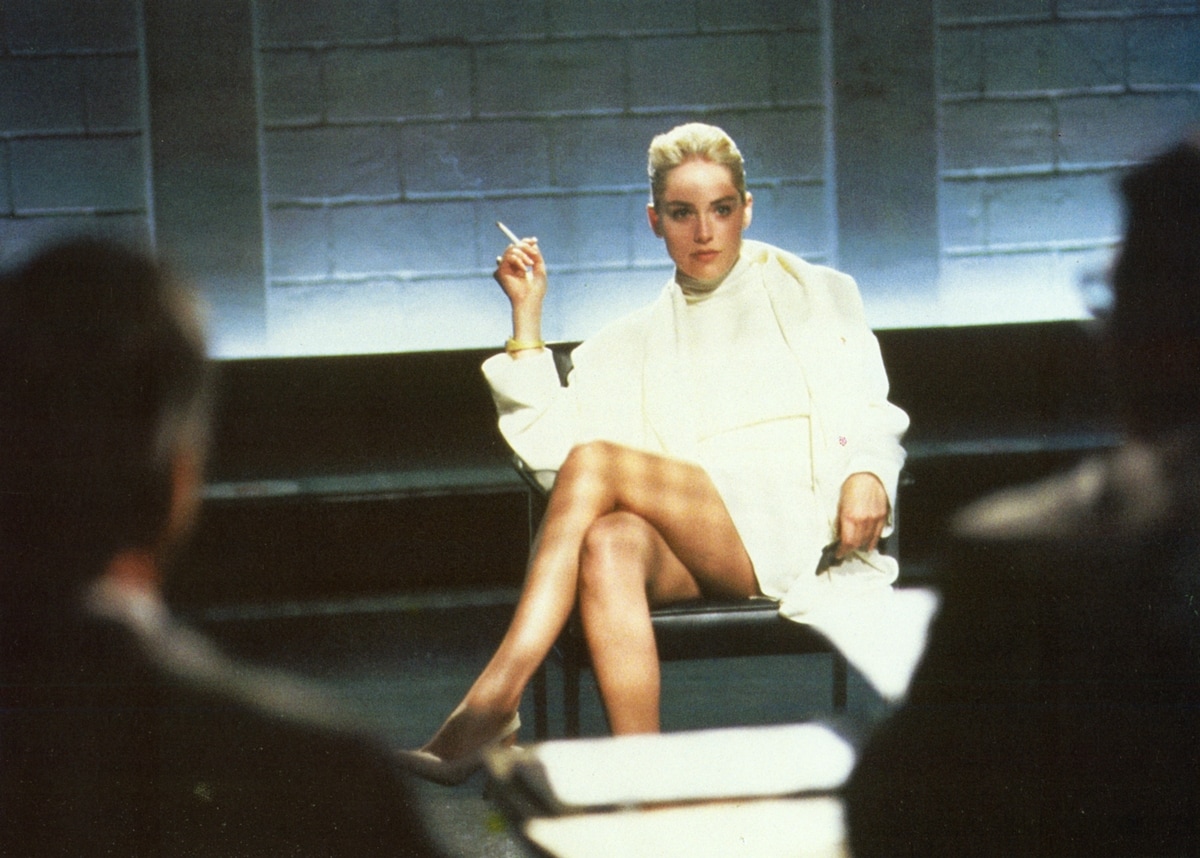 The interrogation scene in "Basic Instinct" features Sharon Stone's character, Catherine Tramell, being questioned by police detectives about the murder of her boyfriend (Credit: TriStar Pictures)
Stone was paid $500,000 for the film, while her co-star Michael Douglas took home $14 million. "I put in my contract that I could keep the clothes. People thought I was crazy, but the truth is I wasn't getting paid much compared to my male co-star. I made $500,000; Michael made $14 million. So keeping my costumes was a really smart thing to do."
Sharon Stone was paid $13.6 million to reprise her role as Catherine Tramell in the 2006 sequel "Basic Instinct 2," which flopped at the box office due to a convoluted and uninteresting plot, poorly developed characters, and extremely negative reviews.

Michael Douglas, George Dzundza, Wayne Knight, Denis Arndt, Chelcie Ross, and Sharon Stone in the Basic Instinct interrogation scene that has had a significant impact on popular culture and the film industry (Credit: TriStar Pictures)
Paul Verhoeven's 1992 neo-noir erotic thriller film Basic Instinct is best remembered for its iconic interrogation scene in which Sharon Stone's character, Catherine Tramell, crosses and uncrosses her legs, revealing that she is not wearing any underwear.
Her iconic white dress also became famous, and she got to keep it and the rest of the wardrobe from the film.
"All of the costumes in the film had that effect. Of course, the most memorable one is the white dress and coat I wore in the interrogation room scene. I remember asking the director, Paul Verhoeven, what he wanted me to wear for it. He jokingly said, 'I don't care if you wear a turtleneck and your hair in a bun.' So I said, 'Good, because that's what I was thinking.' We decided to go for all white because my character had a very Hitchcockian vibe. But Ellen designed the dress so that I could sit like a man if he was being interrogated. It gave me the ability to move my arms and legs, take up space, and exercise control over a room full of men."
Michael Douglas earned $14 million for Basic Instinct, while Sharon Stone was paid $500,000 for her role as Catherine Tramell (Credit: TriStar Pictures)
"It turned out to be a pretty big deal. [laughs] When we were filming the part [where Catherine uncrosses her legs, flashing the detectives], the director asked me to remove my underwear because he said the white was reflecting the light. So I did. And the cinematographer told me that they couldn't see anything. In those days, the monitors were much less sophisticated than they are now, so even when they played it back for me, I didn't see any issues."
According to director Paul Verhoeven, Sharon Stone was informed of the shot in which her character reveals she's not wearing underwear during the interrogation scene, and it was her agent who later changed her mind about it.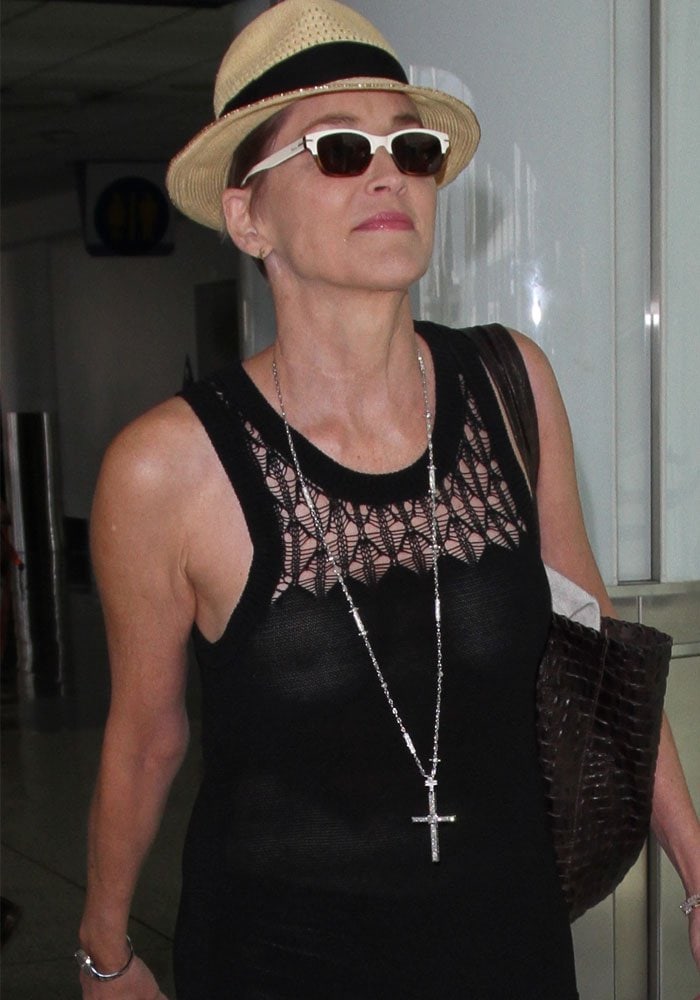 Sharon Stone tops her short hair with a hat as she arrives at Los Angeles International Airport on June 3, 2016 (Credit: WENN)
Yes, folks, the gorgeous actress is deceivingly almost a senior citizen. However, age clearly has not stopped her from pulling a Kardashian and showing up in something black, sheer, and underwear-less.
In June 2016, the LensCrafters commercial actress left little to the imagination as she strolled through the Los Angeles Airport braless in a sheer, bust-baring top.
Sharon definitely strayed far from her actual age in terms of style as the actress slipped into a youthful pair of leather pants paired with a black knit top.
Sharon Stone shows off her assets in a pair of leather pants and a black knit top (Credit: WENN)
The Golden Globe winner, who used to get filler and Botox frequently, accessorized with a cross pendant necklace, some silver bangles, a pair of sunglasses, a hat, and black Coclico "Mind" leather wedges.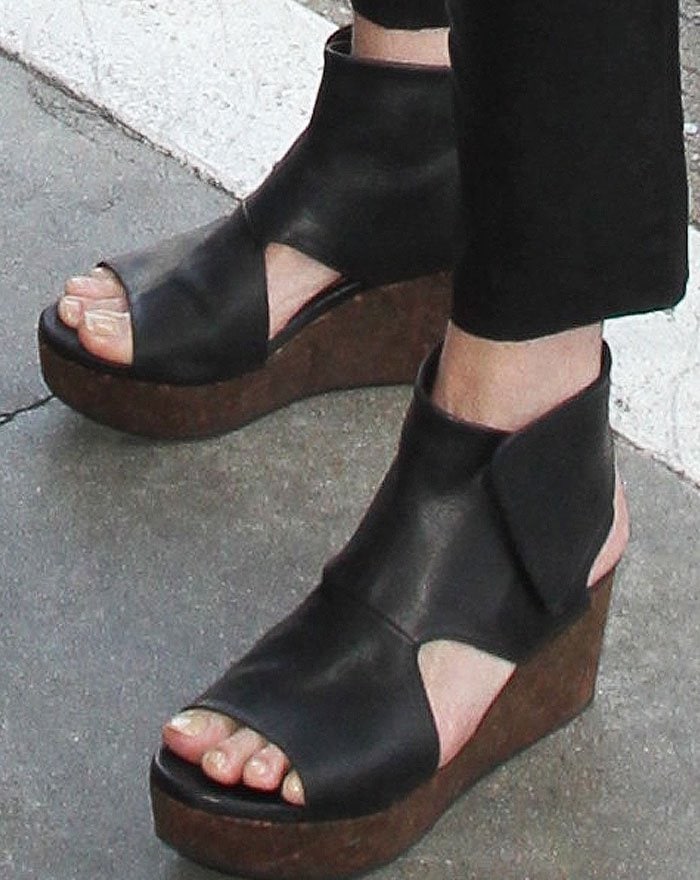 Sharon Stone's feet in leather Coclico wedges (Credit: WENN)
We're not sure whether she knew her shirt would reveal too much with cameras flashing, but we like to think she'd know since she's been in the industry for so long.
Regardless, we can say that the then-58-year-old was in great shape. Sharon's Coclico "Mind" leather wedges are no longer available online.
Coclico Women's "Mind" Leather and Cork Wedges, $212 – $415