Filmmaking and nudity have been intertwined ever since the invention of the motion picture, dating way back to the early 1900s. From the silent film era to modern blockbusters, nude scenes have proven both controversial and beneficial.
Throughout movie history, the opinion of both the industry and general audiences have swayed to both extremes in regard to nude scenes, leading to censorship and the formation of modern rating systems.
The best nude movies that aren't porn but are typically rated R – Restricted (Credit: Grenar / Shutterstock)
In 1930, the Motion Picture Association of America whipped up the Hays Code, which effectively banned any suggestive content in major Hollywood films. However, things changed in 1968 with the advent of the now-popular MPAA rating system, leading to a significant increase in skin-showing scenes.
Although there was a notable increase in movie nudity between the 1980s and 2000s, the popularity of nude scenes has since declined in favor of big-budget action.
Today, we're looking back through nearly 60 years of movies as we examine the most iconic and influential female nude scenes in modern cinema.
For this list, we're not interested in highlighting the most scandalous or explicit moments of nudity but rather the scenes that impacted Hollywood moving forward. In some cases, these scenes have remained iconic while the rest of the movie fades from memory.
To celebrate the countless confident actresses who have shed their clothes for the artistic sake of storytelling, these are the top 10 most iconic female nude scenes in modern cinema:
10. Sin City (2005) – Carla Gugino
Based on the epic graphic novel of the same name, Sin City was directed by Frank Miller and Robert Rodriguez, whisking viewers away on an anthology thrill ride with fantastic visual effects and plenty of violence.
Jumping between a handful of interconnected stories all set in the eponymous Sin City, the film features massive stars, including Jessica Alba, Bruce Willis, Clive Owen, and many more.
Although this noir-style thriller depicts tons of badass women, there are few as impressive and intimidating as Lucille (Carla Gugino).
Carla Gugino as Lucille in the 2005 neo-noir crime anthology film Sin City (Credit: Miramax Films)
In the segment entitled The Hard Goodbye, Carla Gugino plays the hardened parole officer of Marv, a violent yet empathetic career criminal framed for murder.
With a gun in hand and aimed at the camera, Carla Gugino is awakened in all but her underwear when Marv comes looking for help. Gugino effortlessly commands the camera in more than one way, providing one of the most powerful performances in the cast.
While there's a pervasive tone of sexuality throughout the film, Carla Gugino's nude scene shows that the most alluring women in Sin City are far more than simple femme fatales.
9. Swordfish (2001) – Halle Berry
Swordfish is one of those cases where the film's big nude scene has become more memorable than anything else included in the movie.
This heist thriller was directed by Dominic Sena and centers on Stanley Jobson (Hugh Jackman), a talented hacker recruited for a big-time job that's far more difficult than it seems. The cast is supported by other major actors, including John Travolta, Don Cheadle, and Halle Berry.
Halle Berry as Ginger Knowles in the 2001 action thriller film Swordfish (Credit: Warner Bros. Pictures)
In the film, Halle Berry plays the role of Ginger Knowles, an undercover DEA agent who becomes entangled with Stanley as she attempts to investigate the ongoing heist. In a nude scene that has since gone down in cinematic history, Stanley visits Ginger and asks to borrow her car but catches her during a topless reading session.
Although gratuitous and completely unnecessary for the scene, Halle Berry's topless performance helped her become more comfortable in her own skin, which is exactly why she agreed to film it in the first place. Additionally, she earned an extra $500,000 for the scene, nearly a quarter of her initial $2 million pay.
8. The Wolf of Wall Street (2013) – Margot Robbie
As modern movies continued to dial back the amount of undressing, The Wolf of Wall Street blew the minds of moviegoers by piling on the nudity and cursing while still garnering massive acclaim.
Based on the memoir by Jordan Belfort and directed by Martin Scorsese, the film centers around Belfort (Leonardo DiCaprio) and his career as a stockbroker on Wall Street during the 1980s and 1990s.
Although there are plenty of moments of brazen nudity in The Wolf of Wall Street, the most memorable steamy scene comes from Margot Robbie, whose character seduces Belfort immediately after he starts raking in the cash.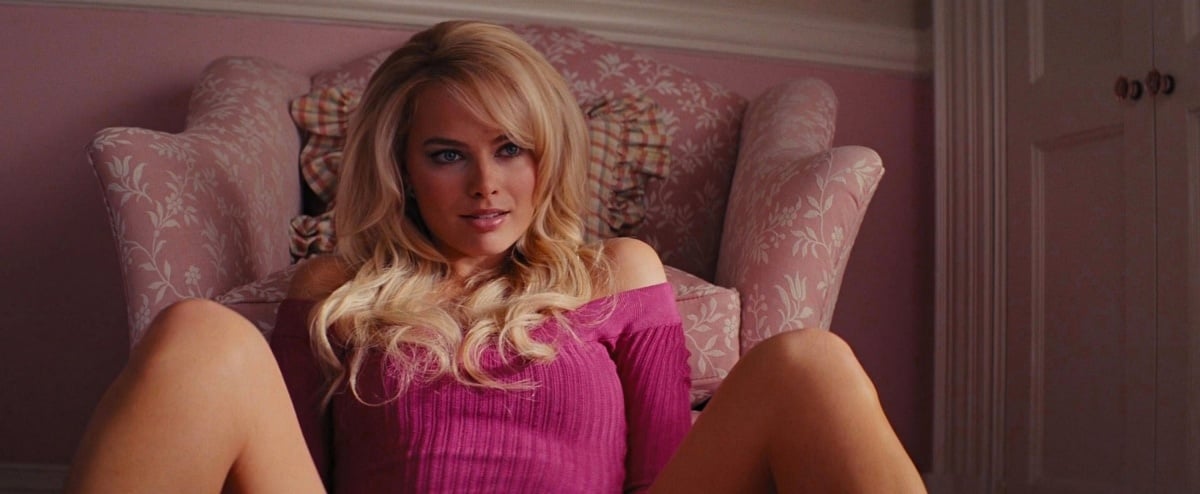 Margot Robbie as Naomi Lapaglia in the 2013 biographical dark comedy crime film The Wolf of Wall Street (Credit: Paramount Pictures)
Depicting Jordan Belfort's second wife, Naomi Lapaglia, Margot Robbie uses her undeniable sex appeal to woo the larger-than-life stockbroker in a scene that's equally tantalizing and hilarious.
After the pair first meet, they exchange an all-too-brief moment of intimacy as Belfort quickly buckles under Naomi's curvaceous form.
Interestingly enough, the scene was initially written with Naomi wearing a bathrobe, but Margot Robbie insisted that she appear nude instead. Although she has stated that this scene was uncomfortable to shoot, it made complete sense for her character.
Since The Wolf of Wall Street, Margot Robbie has easily become one of the most sought-after actresses in Hollywood, appearing in hit after hit.
7. Halloween (1978) – P.J. Soles
John Carpenter's seminal 1978 horror film Halloween is often credited as the movie that popularized the slasher genre, founding a formula that has since been replicated dozens of times over.
The film stars Donald Pleasance, Nick Castle, Jamie Lee Curtis, and many more. It tells the haunting story of a masked killer named Michael Myers (Nick Castle), who torments a suburb in Illinois on Halloween night.
Although wholly unintentional, one scene in Halloween helped cement the relationship between the horror genre and nudity as Michael Myers dispatches Lynda Van Der Klok (P.J. Soles), a flippant and promiscuous teen.
P.J. Soles as Lynda Van Der Klok in the 1978 independent slasher film Halloween (Credit: Compass International Pictures / Aquarius Releasing)
Partway through the night, as he stalks babysitter Laurie Strode (Jamie Lee Curtis) and her small group of friends, Michael stumbles upon Lynda and her boyfriend immediately after they have sex.
Killing Lynda's boyfriend downstairs and disguising himself with a bedsheet, Michael encounters Lynda, who still has her shirt open and is hardly horrified by his sudden appearance. As Lynda calls Laurie to chat, Michael strangles her using a telephone cord, swiftly ending her life.
While this scene was simply intended to be a depiction of average teenage debauchery, it established a key trope in horror, where a lack of chastity in a character often results in their death. When reflecting on the scene decades later, P.J. Soles has expressed no regret and is especially fond of revisiting the movie to admire her younger physique.
6. American Beauty (1999) – Mena Suvari
Directed by Sam Mendes and often considered one of the best dramas of all time, American Beauty is a beautifully shot film that contains one of the most visually striking scenes of partial nudity in cinema.
With a controversial narrative that has received more scrutiny as time goes on, the film follows Lester Burnham (Kevin Spacey), a depressed father with a failing marriage and an obsession with his teenage daughter's friend, Angela Hayes (Mena Suvari).
Mena Suvari as Angela Hayes in the 1999 dark comedy-drama film American Beauty (Credit: DreamWorks Pictures)
In a film full of sexually charged imagery, one of the most memorable scenes occurs as Lester daydreams about Angela, imagining her naked and covered in rose petals.
Aesthetically pleasing and undeniably beautiful, this shot was constantly used in promotional and post-release material for the film. This particular scene has also been parodied in popular shows like Family Guy.
While Suvari eventually goes topless in a sex scene later in the film, the rosy daydream has easily become more iconic. As is the case with our next pick, American Beauty proves that sometimes implied nudity can be just as effective as the real thing.
5. Psycho (1960) – Janet Leigh
Helmed by the mastermind of psychological horror, Alfred Hitchcock, Psycho was pushing boundaries hard in 1960, marking the dissolution of the aforementioned Hays Code.
It tells the story of a violent encounter between Norman Bates (Anthony Perkins), a motel owner, and Marion Crane (Janet Leigh), a real estate worker who steals cash so her husband-to-be can pay off his debts.
Although the film features no actual nudity, Psycho had one massively controversial scene that shocked audiences and pushed Hollywood toward more progressive pastures.
Janet Leigh as Marion Crane in the 1960 psychological horror thriller film Psycho (Credit: Paramount Pictures)
Doubling as one of the most iconic death scenes and instances of implied nudity in all of filmmaking, Marion is killed early in the film as she is mercilessly stabbed while showering in her motel room.
As the killer peels back the shower curtain and attacks Marion, she is appropriately depicted as nude, although the camera never reveals anything remarkably explicit.
Even though Janet Leigh used a body double for the scene, she was impacted so heavily upon seeing the finished product that she refused to take showers for the rest of her life, as it was an unabashed example of her complete vulnerability.
4. Basic Instinct (1992) – Sharon Stone
There are plenty of topless scenes that have captured the imagination of audiences. However, Basic Instinct is a rare case where bottomless female nudity still made it into the theatrical cut.
This thriller was directed by Paul Verhoeven and stars Michael Douglas as Nick Curran, a detective investigating a vicious killing and facing off against suspect and novelist Catherine Tramell (Sharon Stone).
While the film was plenty popular at the time of its release, the movie has been mostly forgotten, with the exception of a monumental nude scene.
Sharon Stone as Catherine Tramell in the 1992 neo-noir erotic thriller film Basic Instinct (Credit: TriStar Pictures)
Early in the film, Nick Curran interrogates Catherine Tramell regarding the bloody murder of her boyfriend and ex-rock star Johnny Boz (Bill Cable).
Cool and collected in a sexy white dress, Catherine refuses to offer much information and, in a blink-and-you'll-miss-it moment, exposes herself while uncrossing her legs.
Stunning both the detective and everyone in the audience, this brief moment of nudity has remained one of the most iconic interrogation scenes in modern cinema.
While Sharon Stone has stated that the use of nudity to intimidate was perfect for her character, there have been conflicting reports about whether or not the actress was aware of the shot composition while filming.
3. American Pie (1999) – Shannon Elizabeth
Among the pantheon of teen comedies, American Pie stands as the film that revived the sub-genre during the late 1990s, infusing over-the-top jokes with a stellar cast and a relatable coming-of-age story.
Directed by Paul Weitz, the movie focuses on a group of high school seniors who make a pact to lose their virginity before graduation.
When the socially awkward nerd Jim Levenstein (Jason Biggs) attempts to broadcast a fellow student changing clothes on the internet, things backfire as his inexperience costs him big time.
Jason Biggs as Jim Levenstein and Shannon Elizabeth as Nadia in the 1999 coming-of-age sex comedy film American Pie (Credit: Universal Pictures)
In the film, Shannon Elizabeth plays Nadia, a foreign exchange student requesting tutoring time with Jim after school.
When Jim sets up a webcam so his friends can watch Nadia change, he stumbles into a potential opportunity to lose his virginity.
Appearing naked on camera and eventually seducing Jim, Nadia struggles to withhold her laughter as Jim is sexually overwhelmed with minimal contact.
While the scene focuses heavily on Shannon Elizabeth's topless appearance, it defies expectations and quickly becomes a hilarious moment of retribution for Jim's voyeuristic betrayal.
Humiliated in front of his classmates online and failing to seal an all but certain intimate deal, the scene serves as a satisfying comeuppance and a blatant reminder to respect privacy.
2 Titanic (1997) – Kate Winslet
Without the need for debate, Titanic is by far one of the most celebrated movies in history, with 14 Academy Award nominations and the third-highest global grossing sales of all time.
Directed by James Cameron and based on the real-world disaster of the RMS Titanic shipwreck, the film tells a dramatic and emotional love story between the impoverished artist Jack Dawson (Leonardo DiCaprio) and a first-class passenger named Rose DeWitt Bukater (Kate Winslet). As they become closer, their torrential love is cut short by tragedy.
Kate Winslet as Rose DeWitt Bukater in the 1997 epic romance and disaster film Titanic (Credit: Paramount Pictures / 20th Century Fox)
Enamored by Jack's artistry, Rose eventually brings him back to her room and pays him to sketch her in the nude, resulting in one of the most iconic and tasteful topless scenes in all of modern cinema.
Uttering the unforgettable line, "draw me like one of your French girls," Kate Winslet wears nothing but an expensive necklace as she poses.
Although this was one of the earliest roles in her career, Kate Winslet had no problem with the nudity and refused to use a body double.
Interestingly, this was also the very first scene shot for Titanic, as James Cameron and the cast had to get it right in order to secure a PG-13 rating.
1. Fast Times at Ridgemont High (1982) – Phoebe Cates
When it comes to raunchy teen comedies packed with sex and nudity, Fast Times at Ridgemont High walked with confidence so later films like Revenge of the Nerds and American Pie could run with impunity.
As the feature film debut of director Amy Heckerling, the movie is based on the book by Cameron Crowe and follows a group of promiscuous students at a high school in Los Angeles, California.
In the film, Phoebe Cates plays Linda, an outgoing student working at a pizza parlor in the mall.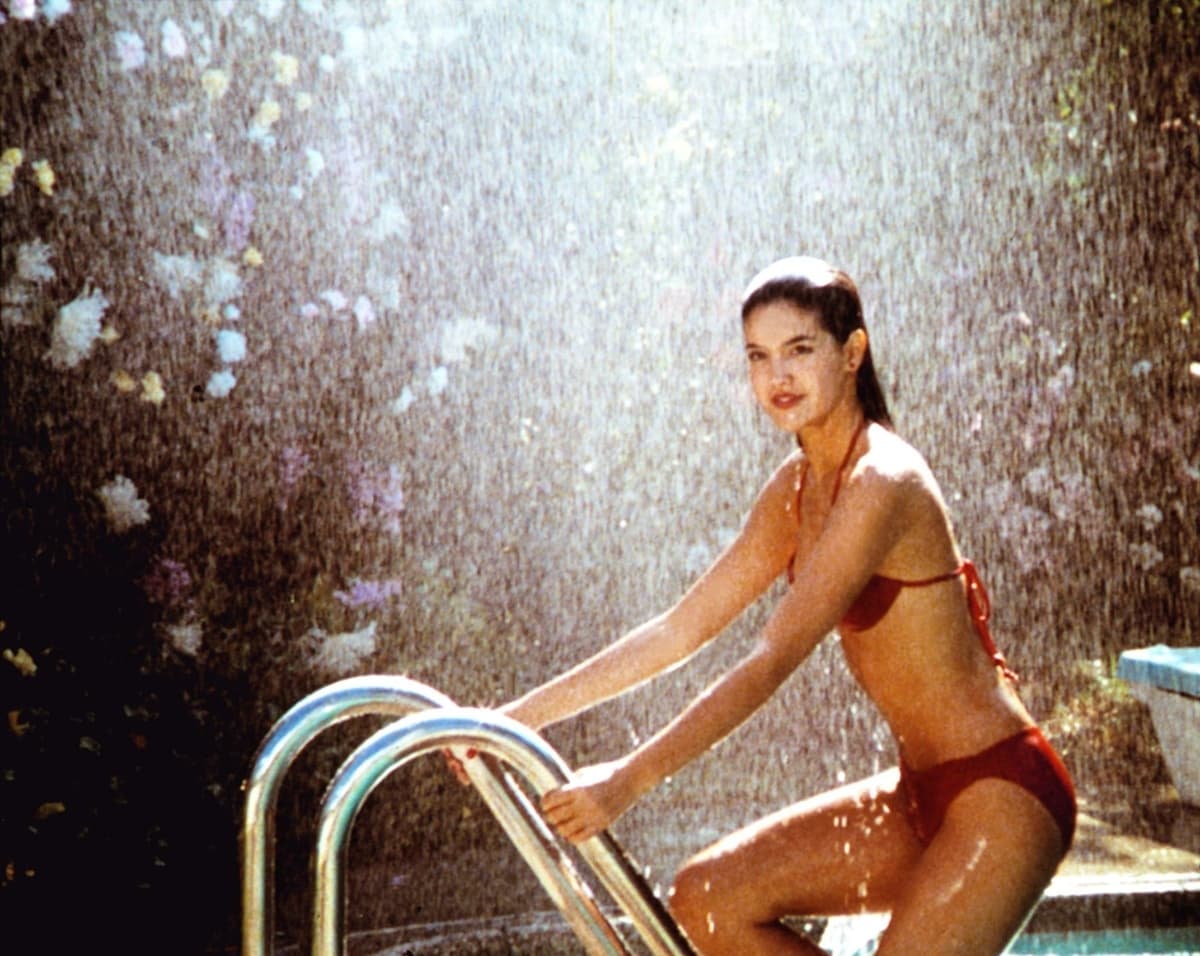 Phoebe Cates as Linda Barrett in the 1982 coming-of-age comedy-drama film Fast Times at Ridgemont High (Credit: Universal Pictures)
Throughout the movie, Linda offers romance advice to her younger friend Stacy (Jennifer Jason Leigh) and soon becomes an object of desire for Stacy's older brother, Brad (Judge Reinhold).
During a dream sequence wherein Brad fantasizes about Linda, Phoebe Cates exits a pool and opens her red bikini top, exposing her breasts in the single most iconic topless scene of all time.
In a movie packed with sexual content, Phoebe Cates' nude scene was a show-stopper and heavily contributed to the success of post-theatrical video rental sales.
The scene still receives nods over 40 years after the film's debut, with pop culture hits like Netflix's Stranger Things referencing the scene.