Sharon Stone is usually a fashion chameleon. She looks great in practically anything she wears, whether it's a golden dress with wings or a simple pair of black pants with a top and flats.
That's why we were kind of surprised to see the awful outfit she wore while out shopping for rugs at Hamilton Oriental Rugs two weeks ago.
Sharon Stone wears her hair back while rug shopping at Hamilton Oriental Rugs in Beverly Hills on December 4, 2015
We're not sure why the "Basic Instinct" star wore what looked like a rug as a poncho for her Beverly Hills shopping trip.
Sharon Stone wears a rug-like poncho while out rug shopping in Beverly Hills
Did she want to match the environment of Hamilton Oriental Rugs in West Hollywood?
Sharon Stone takes her shoes off and tests out rugs while wearing a poncho
She wore the carpet poncho over a simple white tee and black skinny pants paired with Oscar de la Renta Spanish mules.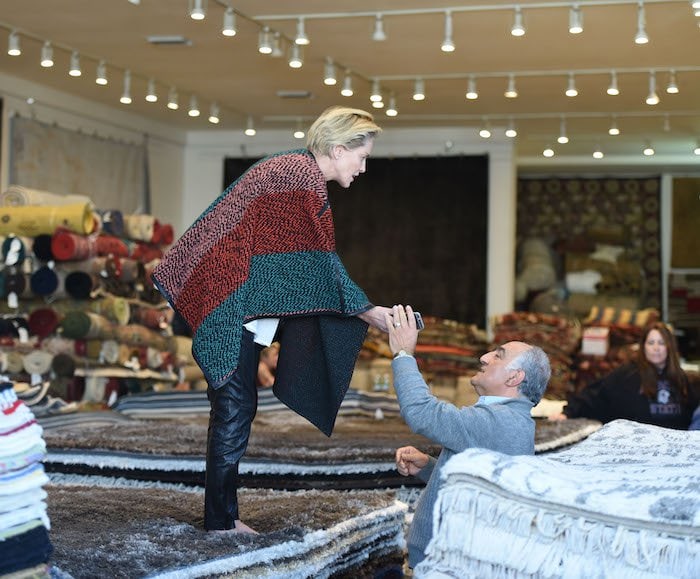 Sharon Stone ditches her mules to test out rugs while shopping
We wish she stuck with just the tee and pants instead of donning an awful rug.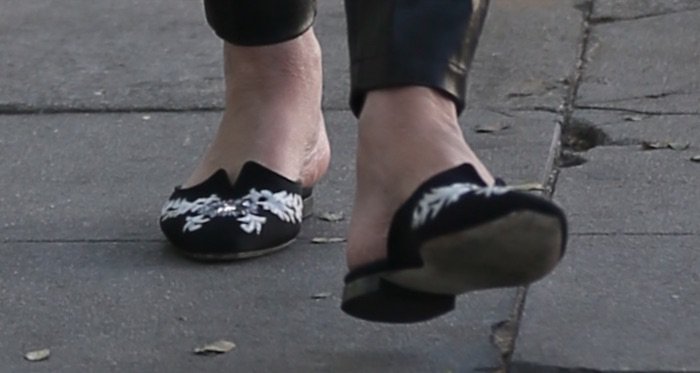 Sharon Stone rocks Oscar de la Renta Spanish mules
Despite the ridiculous poncho, we love how the 57-year-old actress kicked off her shoes and plopped herself on a pile of rugs to test them. She even jumped from one pile to the other to get a good feel.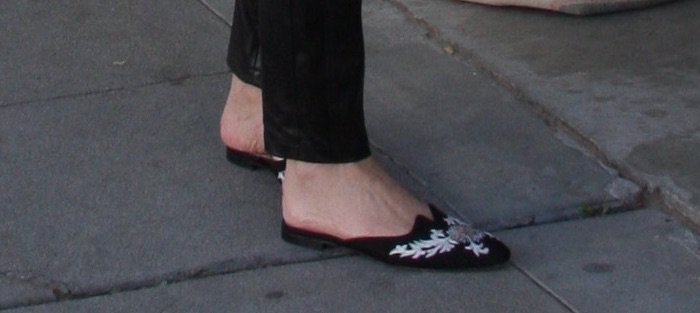 Sharon Stone's feet in Oscar de la Renta mules
Her exact mules are no longer available online, but here's another black, embroidered pair from Oscar de la Renta that you can buy at Amazon.
Embroidered Oscar de la Renta "Vesna" 10mm Slide, $379.99
Credit: Owen Beiny / WENN