Jaime King joined Amy Poehler at the 2019 Women In Film Annual Gala that took place at the Beverly Hilton Hotel on Wednesday.
The 40-year-old actress was the Lady in Red of the night in a Max Mara red-satin gown with crystal piping. She matched it with a red coat worn over her shoulders and a swipe of flamenco-red on her lips.
Jaime King in a Max Mara crystal-trimmed red-satin gown, a red coat, sheer black gloves, and black-satin platform sandals
As ravishing as Jaime was that evening, we think what really made her look were her sexy, sheer black gloves.
They lent a mysterious, intriguing appeal to her "look at me" red ensemble.
Jaime King wearing sheer black gloves at the 2019 Women In Film Annual Gala Presented by Max Mara at the Beverly Hilton Hotel in Beverly Hills, California, on June 12, 2019
We are a bit concerned though by how Jaime wore her expensive-looking rings on her gloved fingers.
With mesh gloves over her arms and hands, the White Chicks star must've kept a close eye on her rings the whole night to make sure they don't slip off!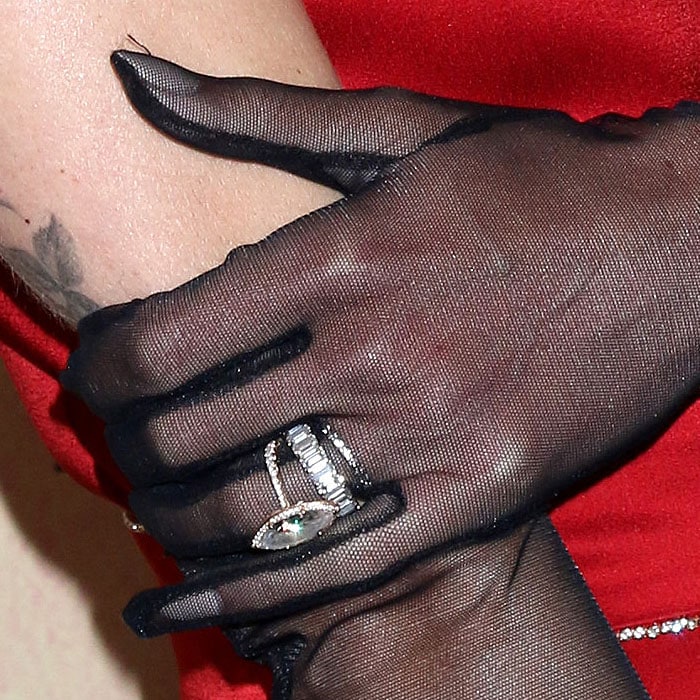 Jaime King's rings threatening to slip off her gloved fingers
It's difficult to get an ID on Jaime King's black-satin platforms when all we can see are the toes. Thankfully, the look is easy to cop, like with the 'Gonzo' platform sandals from Steve Madden below.
Steve Madden 'Gonzo' Platform Sandals, $44.95 at Amazon
Credit: FayesVision / Nicky Nelson / WENN