If you didn't know shoe accessories as high heel shoe ring holders existed, you're not the only shoe addict in this category. You can buy these beautiful jewelry organizers at Amazon.
For shoe lovers, it's the cutest way to store your rings, which will all look beautiful lined up in one of these adorable shoes. Perfect for a bridal shower or any kind girl party, these shoes will hold up to 8 rings each.
1. Pearl Crystal Shoe Ring Holder, $19.99 at Amazon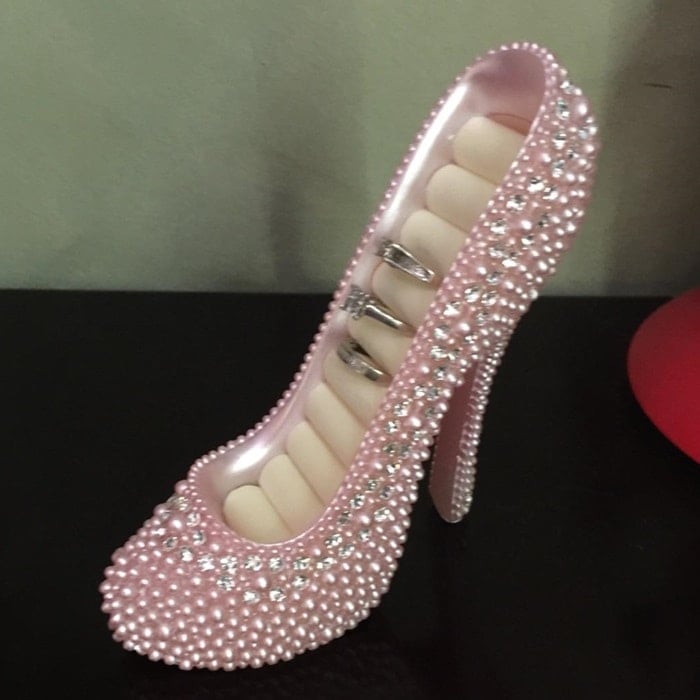 The whole pump is covered by glittering pearls and crystals. Don't miss the following reviews from some of the happy owners of this fashionable ring holder:
My wife is a shoe lover, so I can't go wrong with buying anything shoe related. She loves this ring holder, especially since she really likes the color pink (yes, she's a girly girl!). She's able to display something that is both functional and makes it convenient for her to grab her favorite rings. It's well made, the one we received was not missing any of the pearls or crystal pieces.

I didn't even know something like this existed until I stumbled upon it the other day. It's the cutest way ever to store your rings, which look beautiful all lined up in this adorable shoe. Too awesome for words and definitely worth the price.

Get this if you have at least 3 rings to store and nowhere to put them. This keeps them nice and safe while you have them off. Not to mention it's absolutely gorgeous
If a pearl-encrusted pump isn't your style, try these other shoe-inspired design options for pretty ring holders:
2. Vintage Style Linen-Covered High Heel Jewelry Holder for Rings, $12.99 at Amazon
3. Handcrafted High Heel Jewelry Holder for Rings, $8.99 at Amazon
4. Tassel Bootie High Heel Shoe Jewelry Ring Holder, $14.99 at Amazon
The cushion spaces can accommodate 5 rings separately. This bootie jewelry organizer is also available in pink and olive.
5. Red Sequin Shoe Ring Holder, $13.99 at Amazon