Based on observation, singers and musical performers usually have the boldest fashion sense. In the days leading up to the Grammy Awards, we've already seen a number of stars in stylish designer outfits. Take, for example, Rihanna, Rita Ora, Adrienne Bailon, and Bridget Kelly, who all attended the Roc Nation Pre-Grammy Brunch presented by MAC Viva Glam on January 25. These girls definitely stood out in their fashionable outfits, not to mention in their striking heels!
1. Rita Ora in Christian Louboutin for Alexandre Vauthier Sandals
Rita Ora selected a look from Alexandre Vauthier's Spring 2014 collection consisting of a beaded white shirtdress and a matching bomber jacket. She finished off her white-and-gold ensemble with a striking pair of sandals by Christian Louboutin for Alexandre Vauthier. They feature clear front straps, back zipper fastening, and padded white ankle cuffs with gold trimming.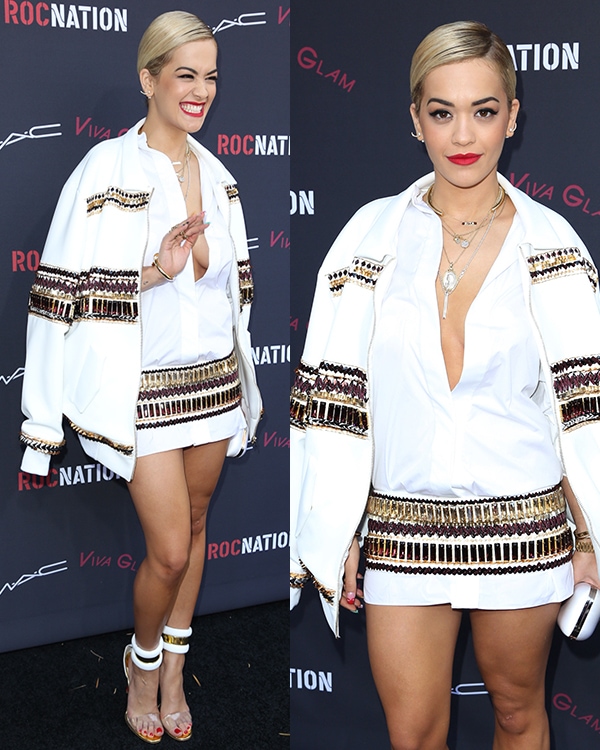 Rita Ora at the Roc Nation Pre-Grammy Brunch in Los Angeles on January 25, 2014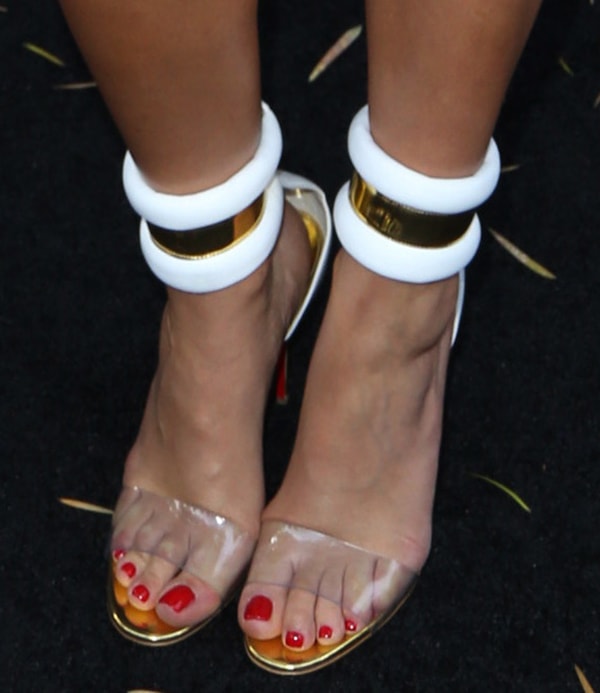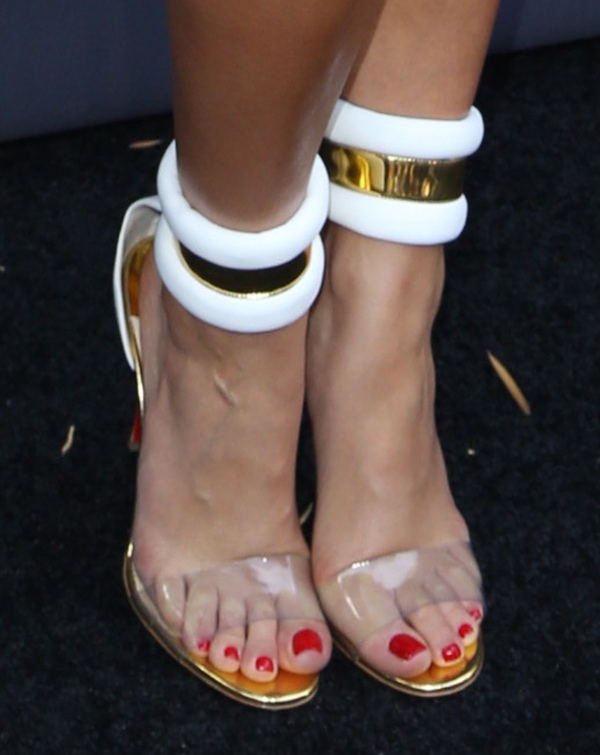 Rita Ora wearing Alexandre Vauthier spring 2014 sandals
2. Rihanna in Manolo Blahnik Lace-Up Shoes
Rihanna has a way of making an outfit look really sexy (even if it looks like a bed sheet!). At the event, she wore an Altuzarra Spring 2014 ensemble that included a long-sleeved striped blouse, which was unbuttoned down to the waist, and a striped fold-over skirt with a thigh-high tie slit that flaunted her legs. She completed her sizzling outfit with a pair of snakeskin Manolo Blahnik lace-up pumps.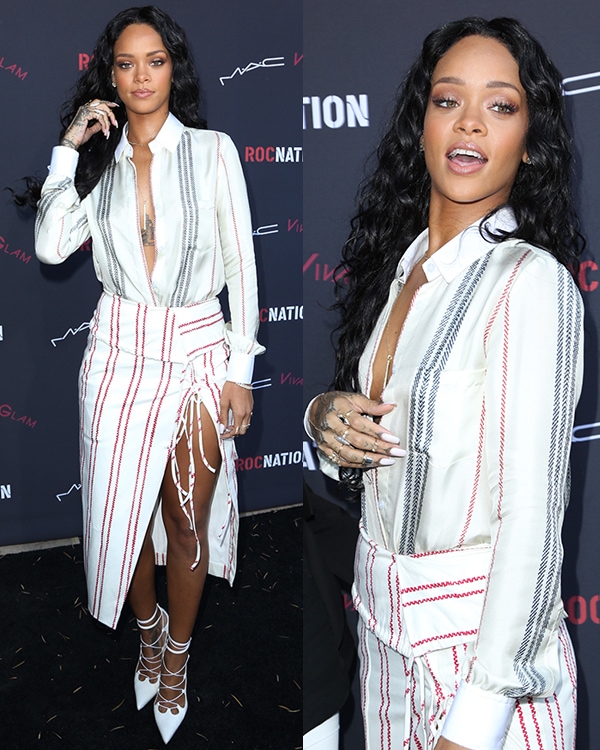 Rihanna at the Roc Nation Pre-Grammy Brunch in Los Angeles on January 25, 2014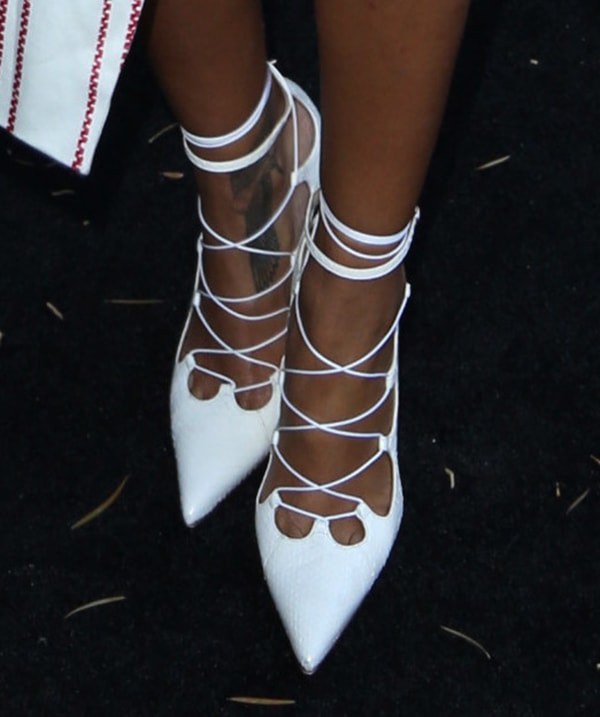 Rihanna wearing Manolo Blahnik lace-up shoes
3. Adrienne Bailon in Givenchy Sandals
30-year-old Adrienne Bailon brought fire to the black carpet in a Cushnie et Ochs V-neck crop top and a croc-stamped high-waisted skirt from the same brand. She perfected her look with a pair of Givenchy sandals that feature metallic calfskin ankle and front straps and contrast elastic bands at the vamps.
Adrienne Bailon at the Roc Nation Pre-Grammy Brunch in Los Angeles on January 25, 2014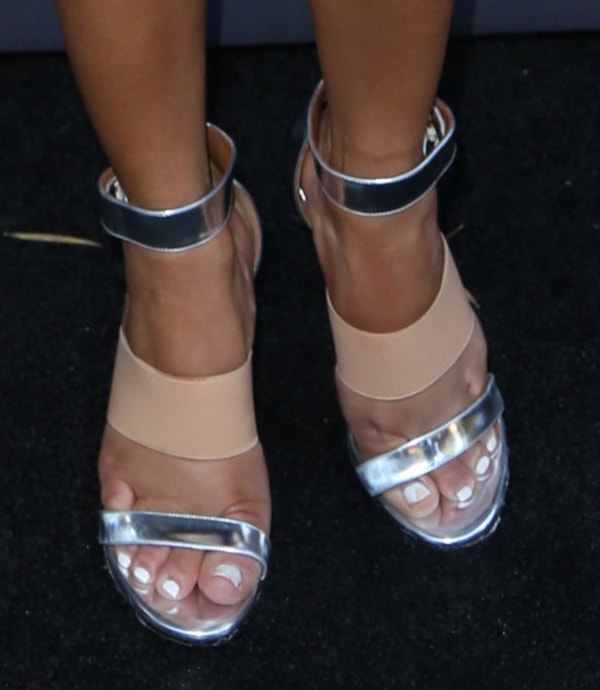 Adrienne Bailon wearing Givenchy sandals
Givenchy Banded Metallic Sandals, $895
The American recording artist, singer-songwriter, actress, dancer, and television personality also wore black satin Givenchy leather sandals to an event in November last year. Adrienne styled the sandals with a lace peplum cocktail dress by Jovani featuring a sheer top bodice and a scalloped hemline.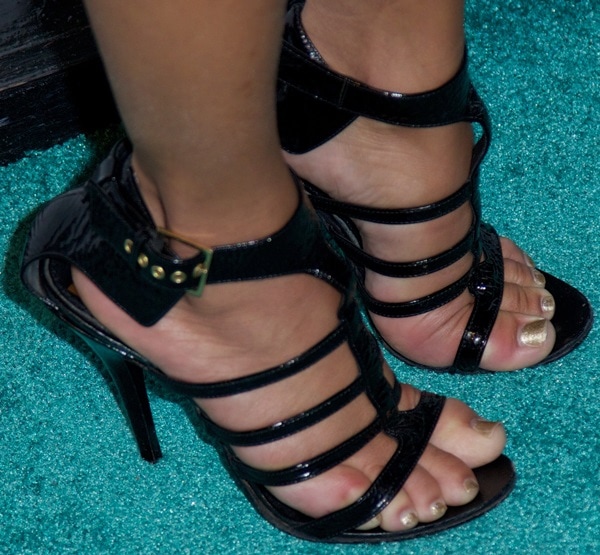 Adrienne Bailon celebrates the launch of her custom Sparkle Louder cocktail recipe for HPNOTIQ liqueur in New York City on November 26, 2013
4. Bridget Kelly in Neon Sandals
Bridget Kelly was hard to miss in her colorful outfit. She even matched her pink lipstick with her ensemble, while her nails complemented her neon sandals. Can you help us ID them? They seem to be crafted from croc-skin material with gold-tone hardware details.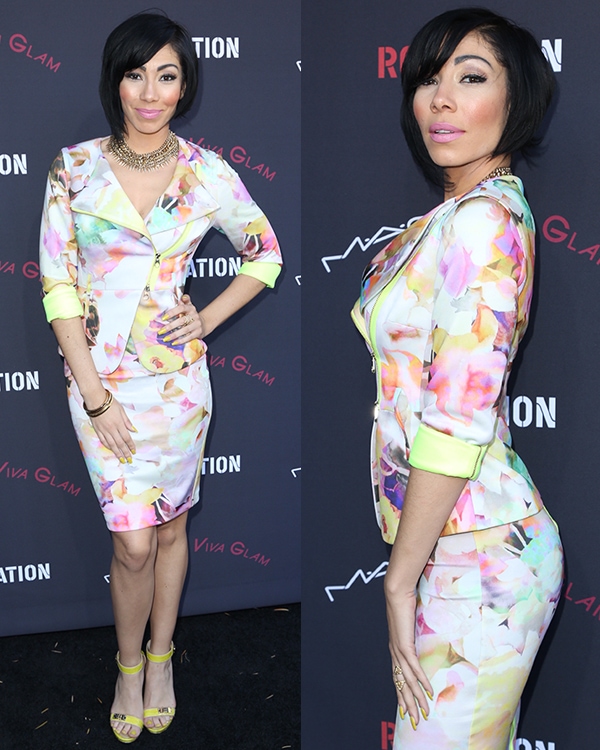 Bridget Kelly at the Roc Nation Pre-Grammy Brunch in Los Angeles on January 25, 2014
Bridget Kelly wearing neon sandals
Credit: Guillermo Proano/WENN/Alberto Reyes