The verdict for Kate Mara's latest film is in: the most recent addition to the Fantastic Four franchise bombed at the Box Office, garnering only $25 million on its first weekend, which is only around a fifth of the film's estimated production cost of $120 million.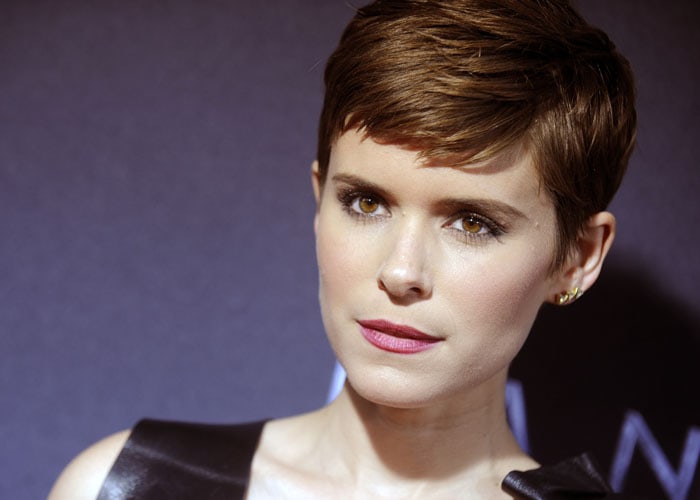 Kate Mara's oh-so-cute pixie hairstyle
Critics were quick to point out that the film's failure may have been due to two things: 1) a studio other than Marvel taking over and rushing a Marvel film and, 2) Kate's horrible re-shoot wig. Okay, maybe it was more of the former.
Nonetheless, the awesome foursome was spotted smiling it up for the cameras at the Fantastic Four New York premiere.
Kate Mara flashed her legs in a leather Valentino dress
At least one thing has survived this tragedy – Kate Mara's rockin' new pixie 'do by celebrity hairstylist Mara Roszak has her frontlining celebrity style headlines. The actress' new look pretty much raises all her outfits up a couple of notches in the styling department.
"This look was inspired by her Valentino black leather dress and the new pixie haircut that I gave Kate. We decided to go for a slight 90's inspiration with texture and pieciness."
Kate Mara's sexy feet in Stuart Weitzman "Nudistsong" heels
Kate flaunted her sexy legs in a leather Valentino dress with Jennifer Meyer earrings and Stuart Weitzman "Nudistsong" heels.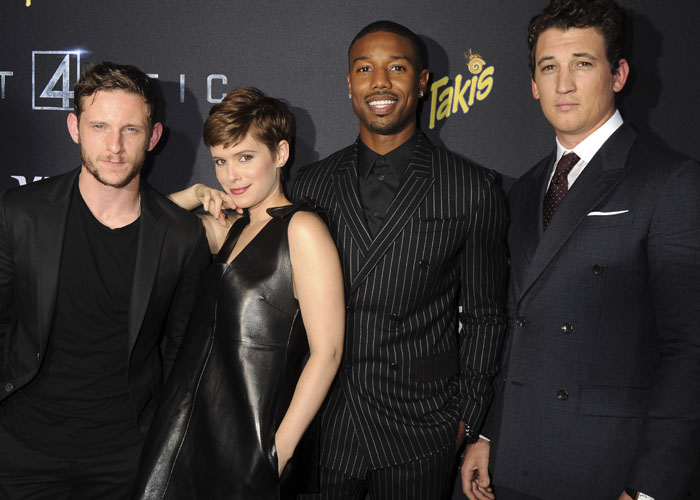 Jamie Bell, Kate Mara, Michael B. Jordan, and Miles Teller pose for a photo on the red carpet at the Fantastic Four premiere
Kate Mara arriving at the New York premiere of Fantastic Four at the Williamsburg Cinemas on August 4, 2015
To work a pair of heels with a leather dress, head on over to Nordstrom or Zappos and grab a pair of these pebbled classics.
Stuart Weitzman Nudistsong Sandals in Black Leather, $415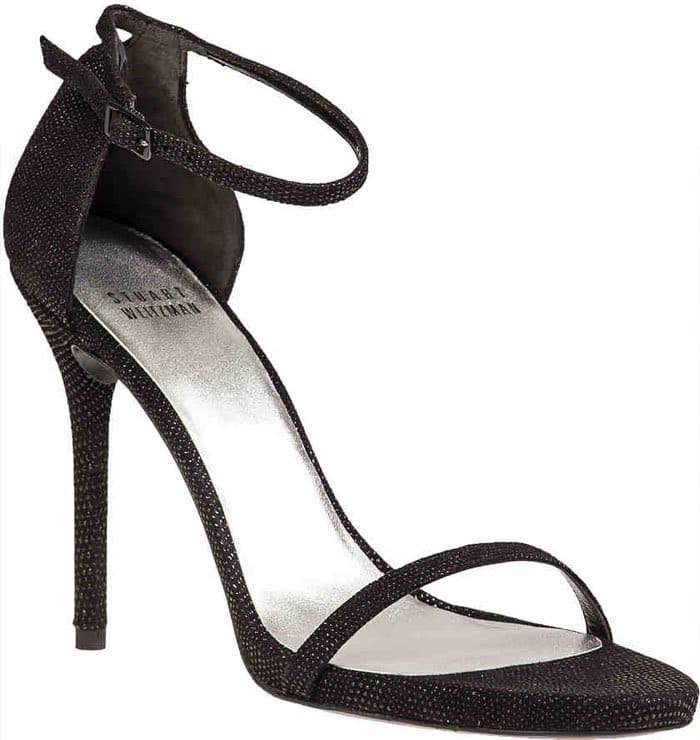 Credit: Abel Fermin / Dennis Van Tine / Future Image / WENN