In September 2015, Chloe Lukasiak got emotional when discussing her rare medical condition in a touching video that she shared on Youtube. Often teased for what she thought was just a lazy eye (amblyopia), the Dance Moms star revealed that she suffers from a rare condition called silent sinus syndrome that causes painless facial asymmetry.
Chloe Lukasiak wearing a Tadashi Shoji dress with Sarah Flint shoes and Csarite jewelry at the 2019 Race to Erase MS Gala held at The Beverly Hilton Hotel in Beverly Hills, California, on May 10, 2019
"I started noticing it about a year ago or so, but it started getting worse this year," she said. "People started saying things about it, so that was really hard."
Chloe just underwent surgery one day earlier and seemed to be making a quick recovery. If she had waited much longer, doctors were concerned she could suffer long-term damage to her vision. "It feels good. I feel a lot more secure," the dancer/actress/model said.
Chloe Lukasiak revealed that her "Lazy Eye" is caused by silent sinus syndrome
What girl doesn't want to be a Disney princess? Between the crown, the prince and the furry woodland creatures on hand to do your hair at all times — it seems like a lifestyle to be envied.
In March 2017, Chloe took her princess ambitions a step further than most of us, channeling some major (modern) Cinderella vibes as she arrived on the orange carpet of Nickelodeon's Kids' Choice Awards.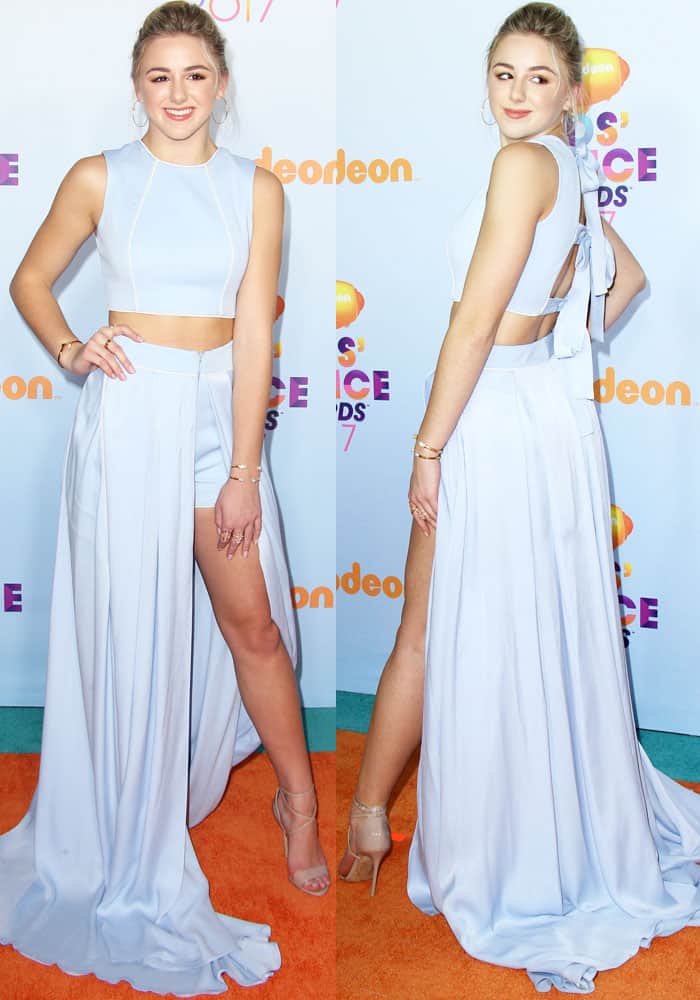 Chloe Lukasiak flaunts her legs at Nickelodeon's 2017 Kids' Choice Awards in Los Angeles on March 12, 2017
While Chloe got Cinderella's gown color down, there was definitely nothing damsel-in-distress about her outfit. The "Dance Moms" star wore a skin-baring two-piece dress by John Paul Ataker, with the top showing off Chloe's back as well as some pretty chiseled abs.
Chloe Lukasiak lavishes herself in fine jewelry
The then 15-year-old finished her look with a generous layering of rings and cuffs from Nialaya Jewelry, earrings from Dana Seng Jewelry, and showed off her pretty feet in Brian Atwood "Tamara" sandals.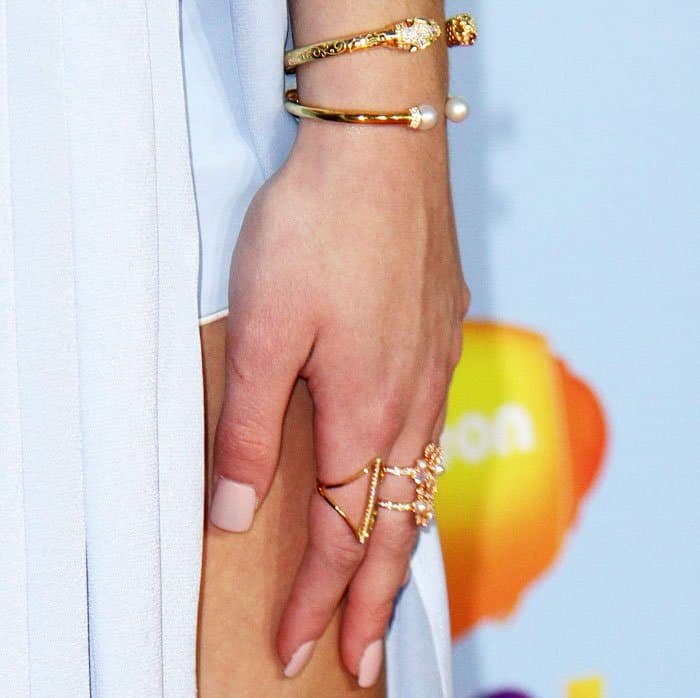 Chloe Lukasiak's generous layering of rings and cuffs from Nialaya Jewelry
You can shop sandals similar to Chloe's at Nordstrom and Farfetch.
Chloe Lukasiak shows off her feet in Brian Atwood "Tamara" sandals
Chloe Lukasiak twirls around in her gorgeous John Paul Ataker dress
In all fairness, we had to agree with Chloe when she shared that she felt like Cinderella at the Kids' Choice Awards. Except, Chloe, you're at Nickelodeon. It's probably not the best place to feel like a Disney princess.
The teenager also took a minute to talk about her upcoming summer plans, mentioning that her warm months will probably feature a combination of working days as well as beach trips. Chloe was joined by her little sister Clara on the orange carpet.
Gianvito Rossi Ankle Strap Sandals, $785 at Nordstrom and Farfetch
Credit: FayesVision / Adriana M. Barraza / WENN / MEGA