Sarah Jessica Parker is best known for her iconic role as shoe-loving columnist Carrie Bradshaw in Sex and the City. Her character's fashion icon status in turn made her into a style icon in her own right. And even after the hit HBO series wrapped up 16 years ago, SJP has remained a permanent fixture on the fashion scene.
Like her character, Sarah Jessica Parker also has an affinity for shoes, which eventually drove her to create her footwear line, the SJP label, in 2014.
On Tuesday, the COVID-19 pandemic didn't stop the 55-year-old actress from celebrating the opening of her first SJP New York City flagship store in Midtown Manhattan.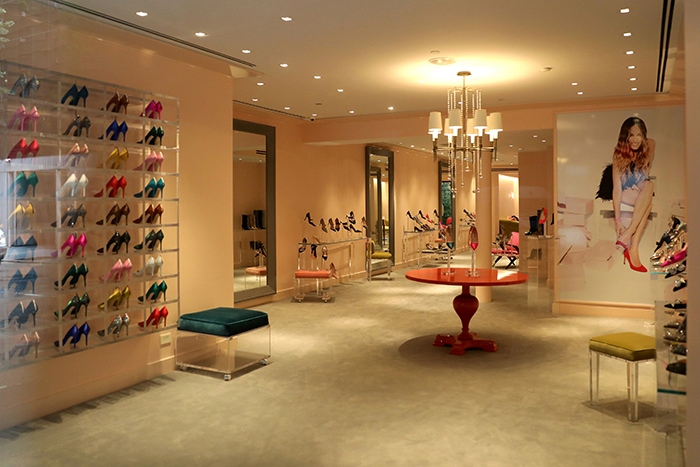 Sarah Jessica Parker's NYC flagship store opens in Midtown Manhattan on July 7, 2020
SJP made a personal appearance at her new store, wearing, of course, a pair from her own collection.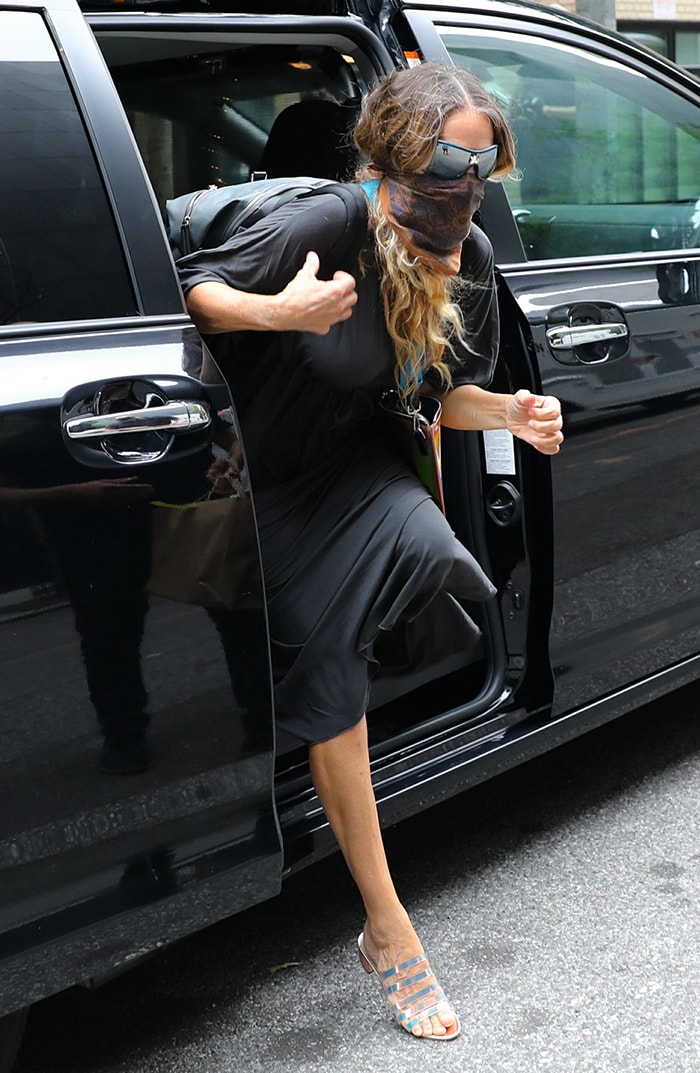 Sarah Jessica Parker arrives at her the opening her NYC flagship shoe store on July 7, 2020
She opted for strappy slide sandals, which feature iridescent PVC straps that sit atop an inch of block heels.
These SJP "Court" slides retail for $345 but they're currently on sale for $207 on Bloomingdale's.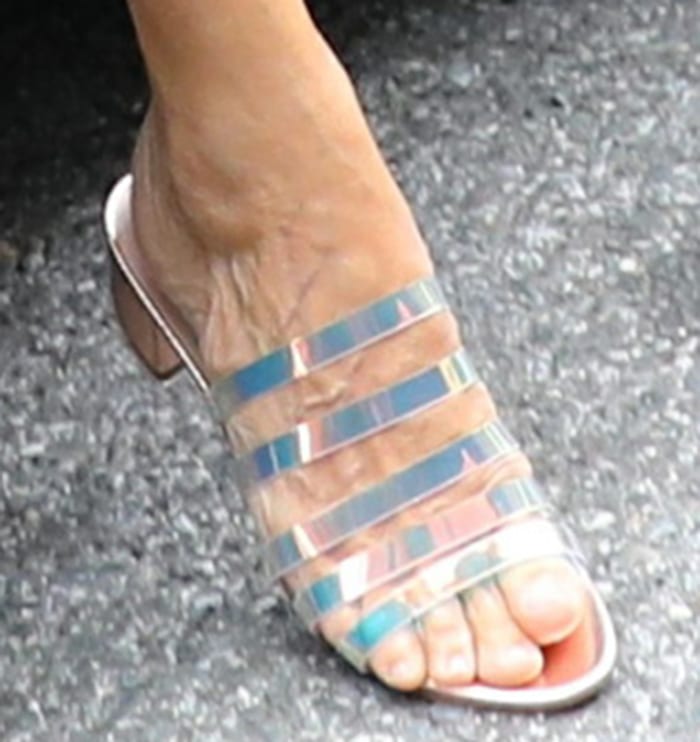 Sarah Jessica Parker's feet in iridescent strappy sandals from her collection
SJP by Sarah Jessica Parker 'Court' Slides, $241.50
The actress later traded her heels for comfier flat sandals, which have a rhinestone-embellished two-strap design. These glittering sandals are not yet available online.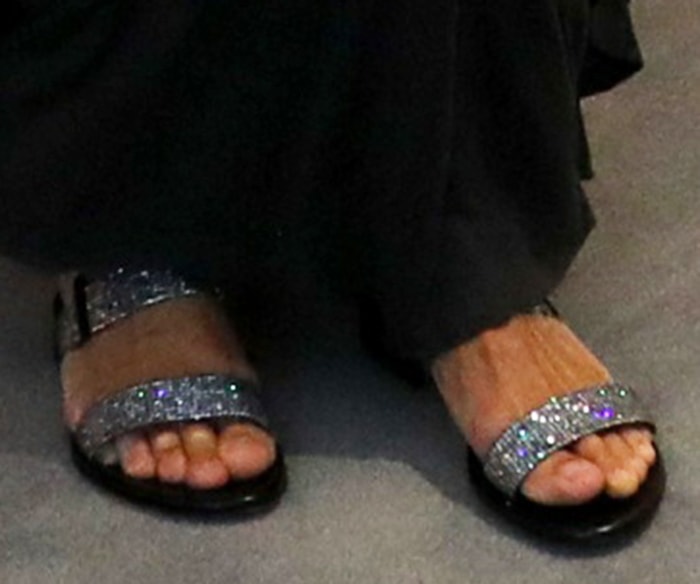 Sarah Jessica Parker trades her sandals for rhinestone-embellished flat sandals
SJP paired her shoes with a flowy dark charcoal boho-style maxi dress, which has a deep neckline, elbow-length sleeves, and a drawstring tie around the waist.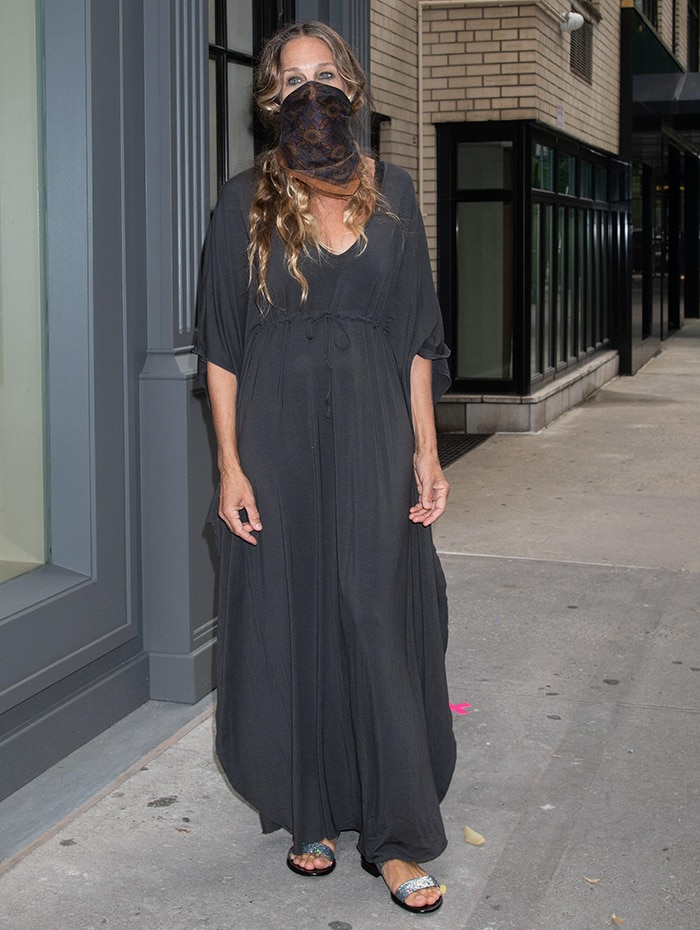 Sarah Jessica Parker slips into a charcoal-colored boho-style maxi dress
Keeping things low-key, the award-winning actress wore a pair of oversized sunglasses from her collaboration with Sunglass Hut ($147 at Sunglass Hut). She then styled her locks in natural loose curls and wore a printed scarf as a face mask for protection.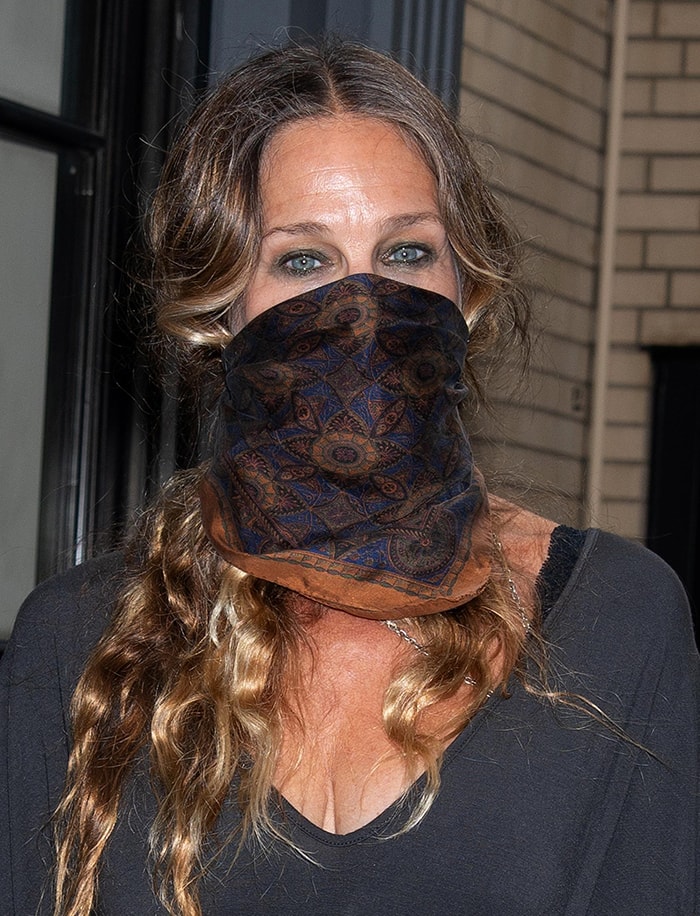 Sarah Jessica Parker wears a printed scarf as a face covering
Sarah Jessica Parker's new flagship store is located in Manolo Blahnik's former boutique in Manhattan. You can find it opposite the Museum of Modern Art in 31 West 54th Street between 5th and 6th Avenues.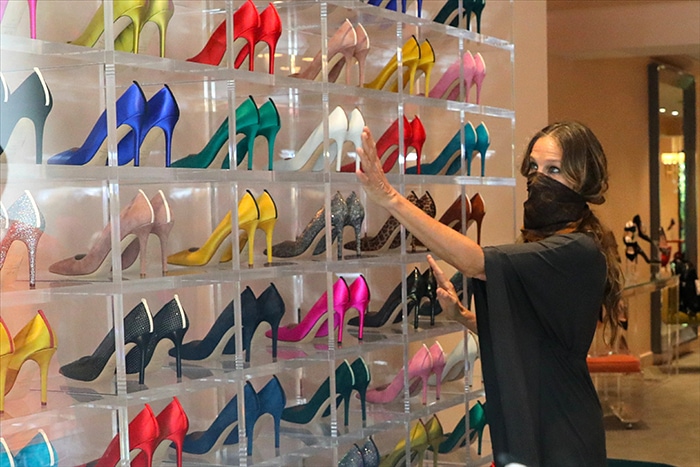 Sarah Jessica Parker browses shoes inside her new flagship store located in 31 West 54th Street Midtown Manhattan
In an interview with Gwyneth Paltrow for Goop's podcast in 2018, SJP admitted that her interest in shoes began even before she landed a role on the iconic HBO TV series.
"I've always loved them but not in the way that Carrie Bradshaw loved them. I didn't know you could love shoes and then have them, you know? When I was living in Cincinnati, there was a shoe store in this place called Kenwood which was a pretty serious drive from our neighborhood. But we went twice a year. We went like at the end of August for our school shoes for the year, and then we would go, we would get fall/winter shoes and then spring/summer shoes. We got two pairs of shoes a year, and then we had a pair of Mary Jane's — proper Mary Janes. But, if my sister outgrew hers then I would just get my sister's."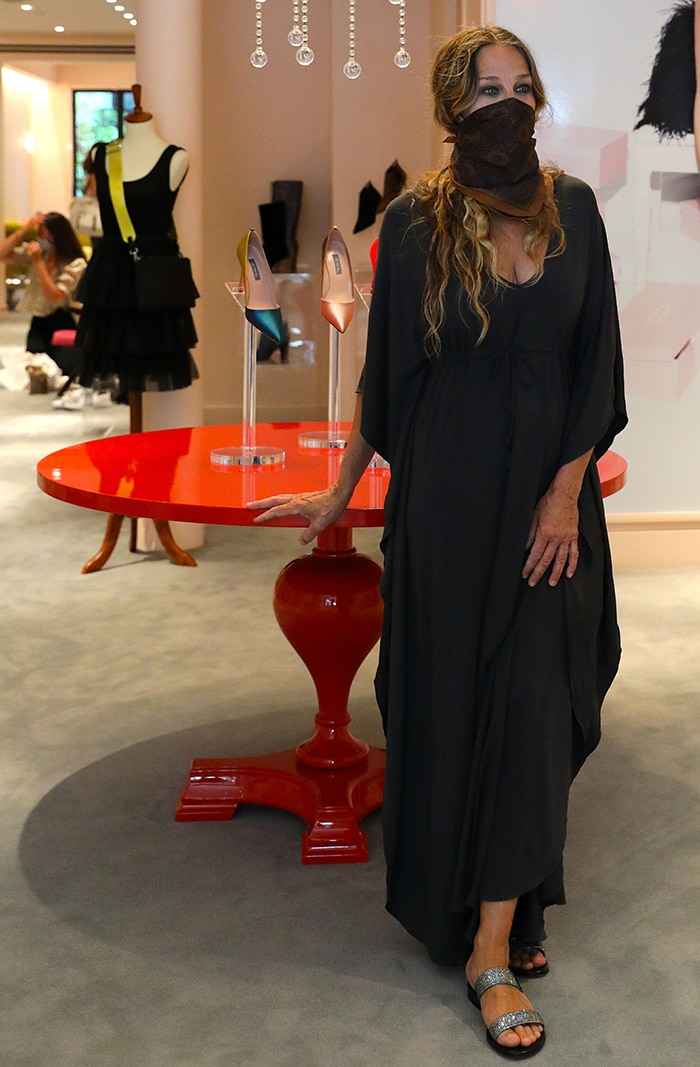 Sarah Jessica Parker has been in love with shoes since she was a young girl
"In those days, there weren't anything but leather shoes. It didn't matter how much money you had, there weren't Targets of the world or the Walmarts. These were mom and pop independently owned shoe stores. I really would pick up all the shoes and I would like smell them and I would look at the stitching on the soles, I would look at the sock liners, I would fantasize knowing full well what shoe my mom was going to make me get, but they were beautiful. It smelled so incredible and I loved my new shoes. Even if they really weren't the shoes I wanted, I loved a new pair of shoes."
Credit: Instar / WENN