While everyone else focused on the $100,000 engagement ring Jennifer Lawrence flashed at the 2019 Veuve Clicquot Polo Classic, we, naturally, zeroed in on the affable actress' shoes.
What we saw was a crime against shoemanity: Jen had the back of her feet out of her sandals and the slingback straps were sloppily hanging down the sides!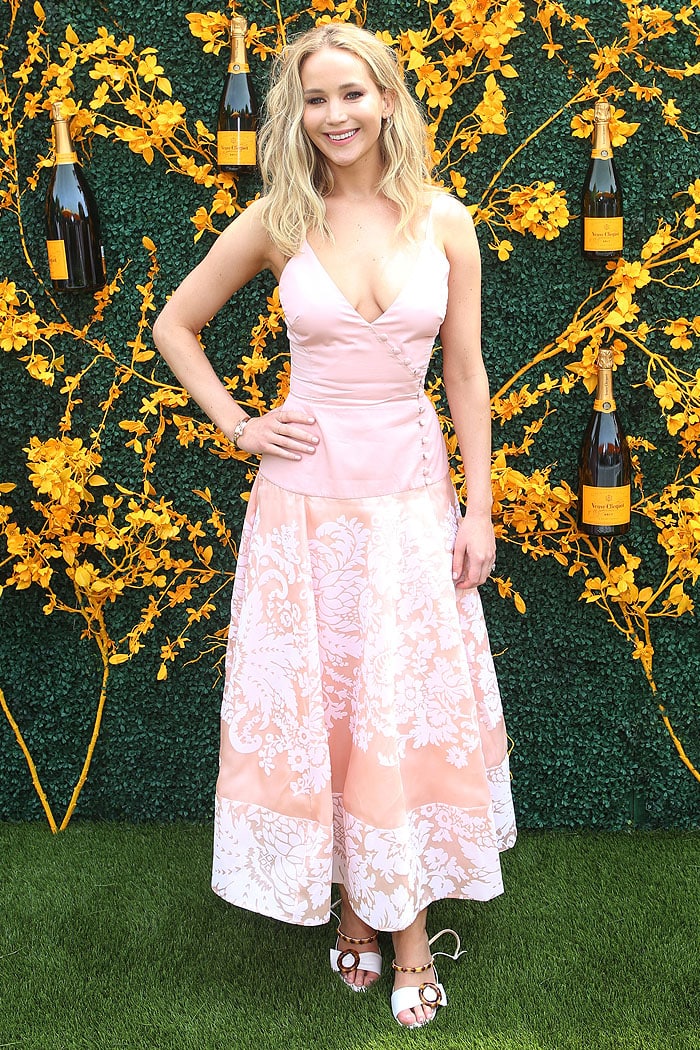 Jennifer Lawrence at the 12th Annual Veuve Clicquot Polo Classic at the Liberty State Park in Jersey City, New Jersey, on June 1, 2019
Do you think this was a case of too-big shoes? Or do you think Jen intentionally wore her shoes this way in front of the cameras as part of her "I'm a regular, relatable girl" image?
Sloppy strappy sandals: Jennifer Lawrence's feet out of the straps of her Chloe Gosselin 'Celeste' sandals
Whatever the reason, we don't think shoe designer Chloe Gosselin intended for her 'Celeste' heels to be worn this way. Even if it was 2012 Oscar Best Actress Jennifer Lawrence in them, sloppy strappy sandals still aren't a pleasing sight.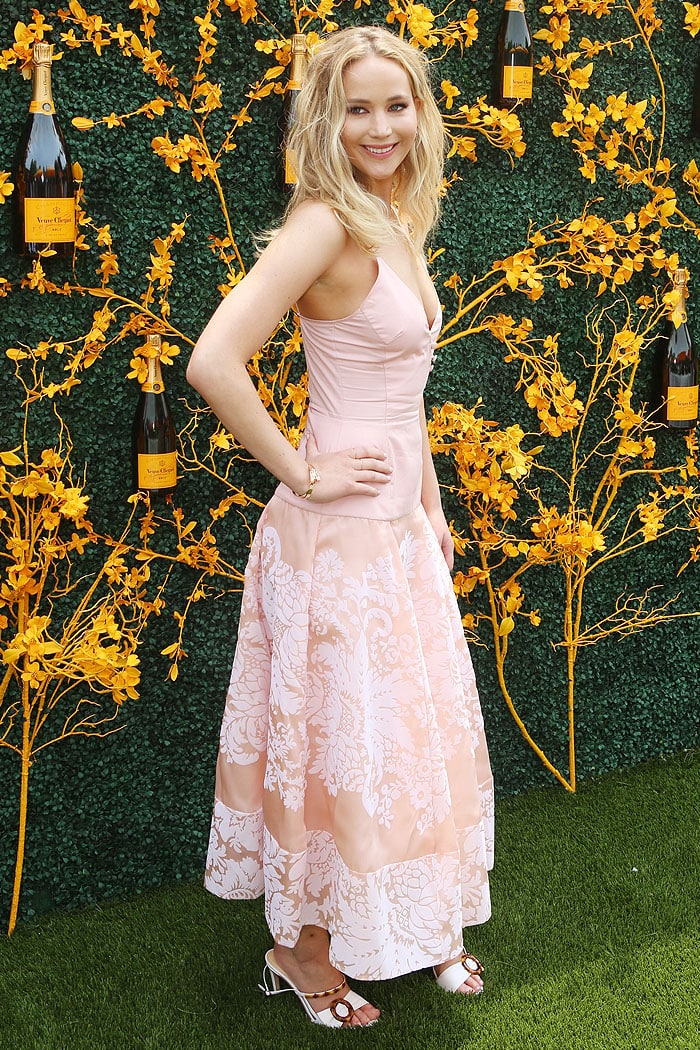 Jennifer Lawrence not bothering to fix the slingback straps on her white sandals with tortoise-shell details
The shoe wearing isn't the only issue we have with JLaw's Veuve Clicquot Polo Classic look.
While we can overlook all the wrinkles on Jen's Rosie Assoulin silk dress ($1,243 at Farfetch), we don't understand why the bodice and the damask skirt are two different shades of pale pink.
Jennifer Lawrence in a Rosie Assoulin champagne-pink silk-damask midi dress
The Chloe Gosselin 'Celeste' sandals feature tortoise shell buckles and cuffs shaped to mimic bamboo. This, combined especially with the yellow linen uppers, embody the ultimate summer sandal.
Chloe Gosselin's Instagram post of their shoe of the day: the 'Celeste' sandals in white nappa with handpainted bamboo buckles and cuffs — posted on May 30, 2019
Chloe Gosselin 'Celeste' Sandals in White Leather, $739 at Farfetch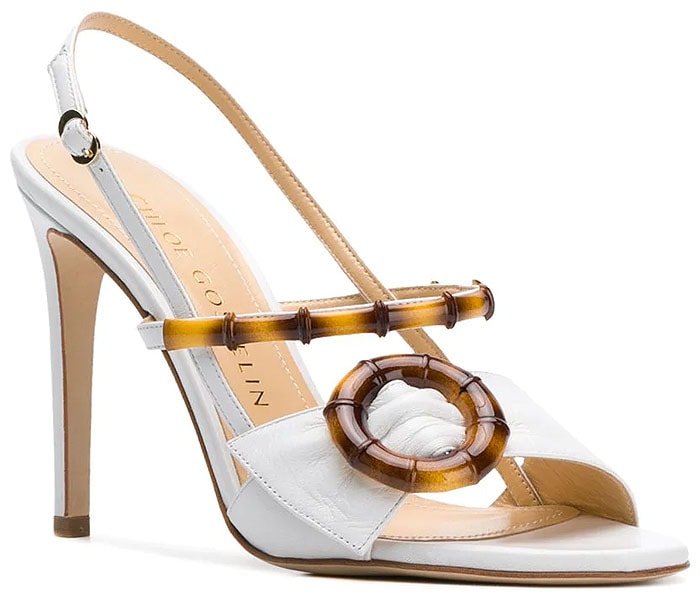 Chloe Gosselin 'Celeste' Sandals in Yellow Linen, $739 at Farfetch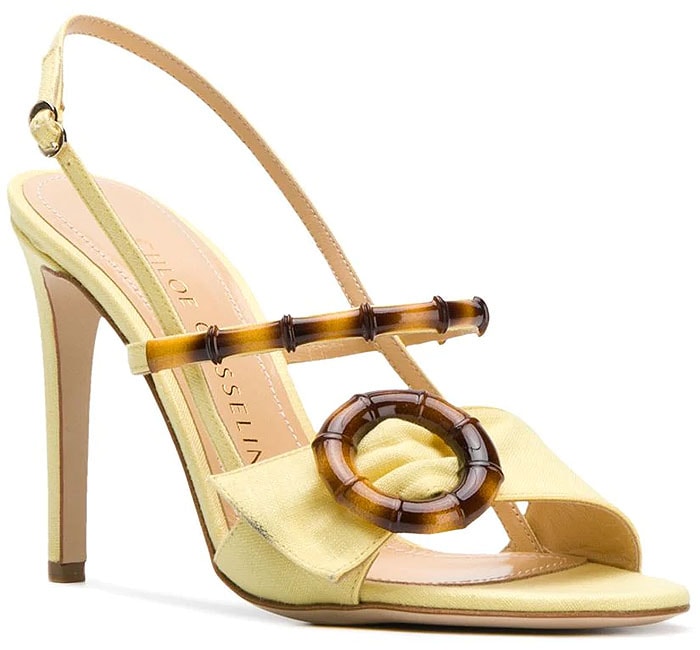 Chloe Gosselin 'Celeste' Sandals in Gold Nappa Leather, $840 at Farfetch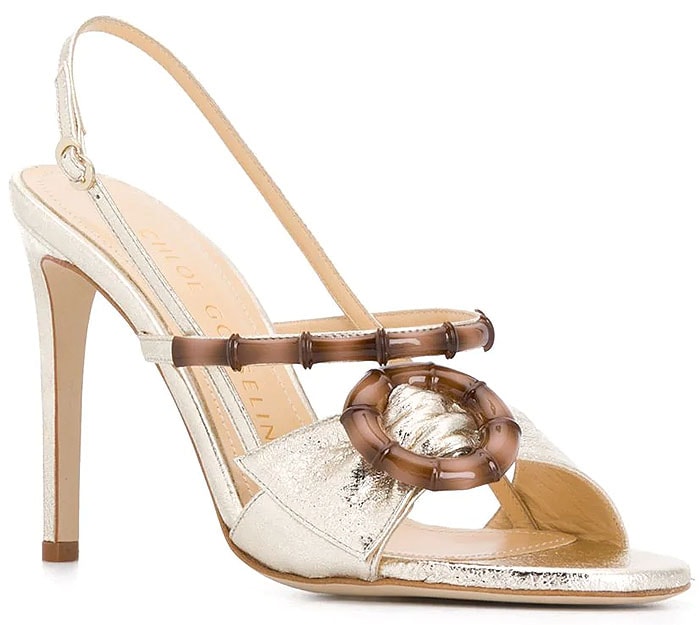 Chloe Gosselin 'Celeste' Sandals in Silver Nappa Leather, $739 at Farfetch
Credit: Chloe Gosselin's Instagram / Derrick Salters / WENN