It looks like Angela Simmons is a Beyoncé fan. But then again, aren't we all?
The producer/actress showed off a star tattoo on the top of her left foot while attending Beyonce's private screening of "Life Is But a Dream" on Tuesday at Ziegfeld Theater in New York City.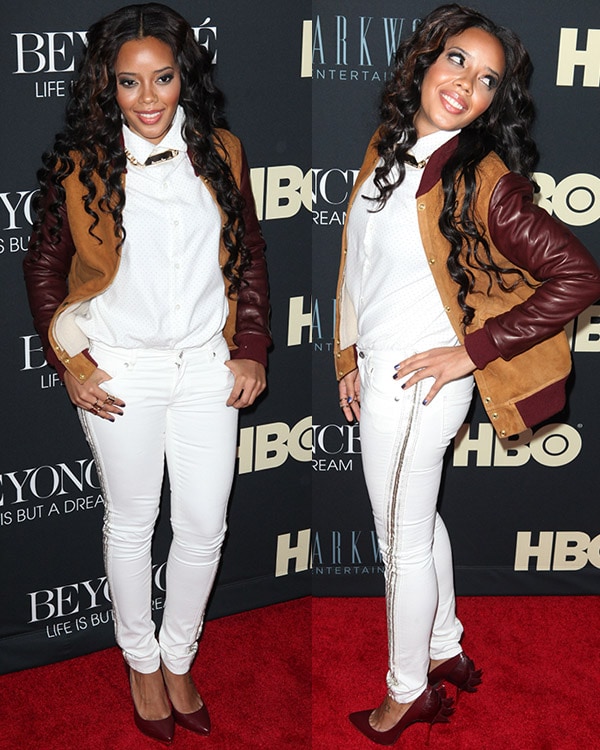 Angela Simmons attends the Beyonce: Life Is But a Dream New York premiere on February 12, 2013, at Ziegfeld Theater
She looked casual in white jeans and a collared top paired with a burgundy and brown leather jacket.
Her outfit itself wasn't too fancy, save for her shoes — which, of course, you know we love. How do you feel about foot tattoos?
Angela Simmons shows off her star foot tattoo in Monika Chiang pumps
These pumps are the very definition of "business in the front, party in the back." When viewed from the front, these Monika Chiang pumps look plain and classic, save for a sliver of metal trimming at the pointed-toe platform.
But, when viewed from the back? You catch the croc-embossed leather spikes and metal stiletto heels in all their glory.
While this style, unfortunately, has sold out online, you can browse more recent Monika Chiang arrivals at Shopbop.
Monika Chiang "Croc Mohawk" Pumps in Black, $495
Monika Chiang "Croc Mohawk" Pumps in Gray, $495
Credit: PNP / WENN