Freeform's Cruel Summer Season 2 premiere turned into a girls' night out for Tori Spelling and daughters Stella and Hattie McDermott.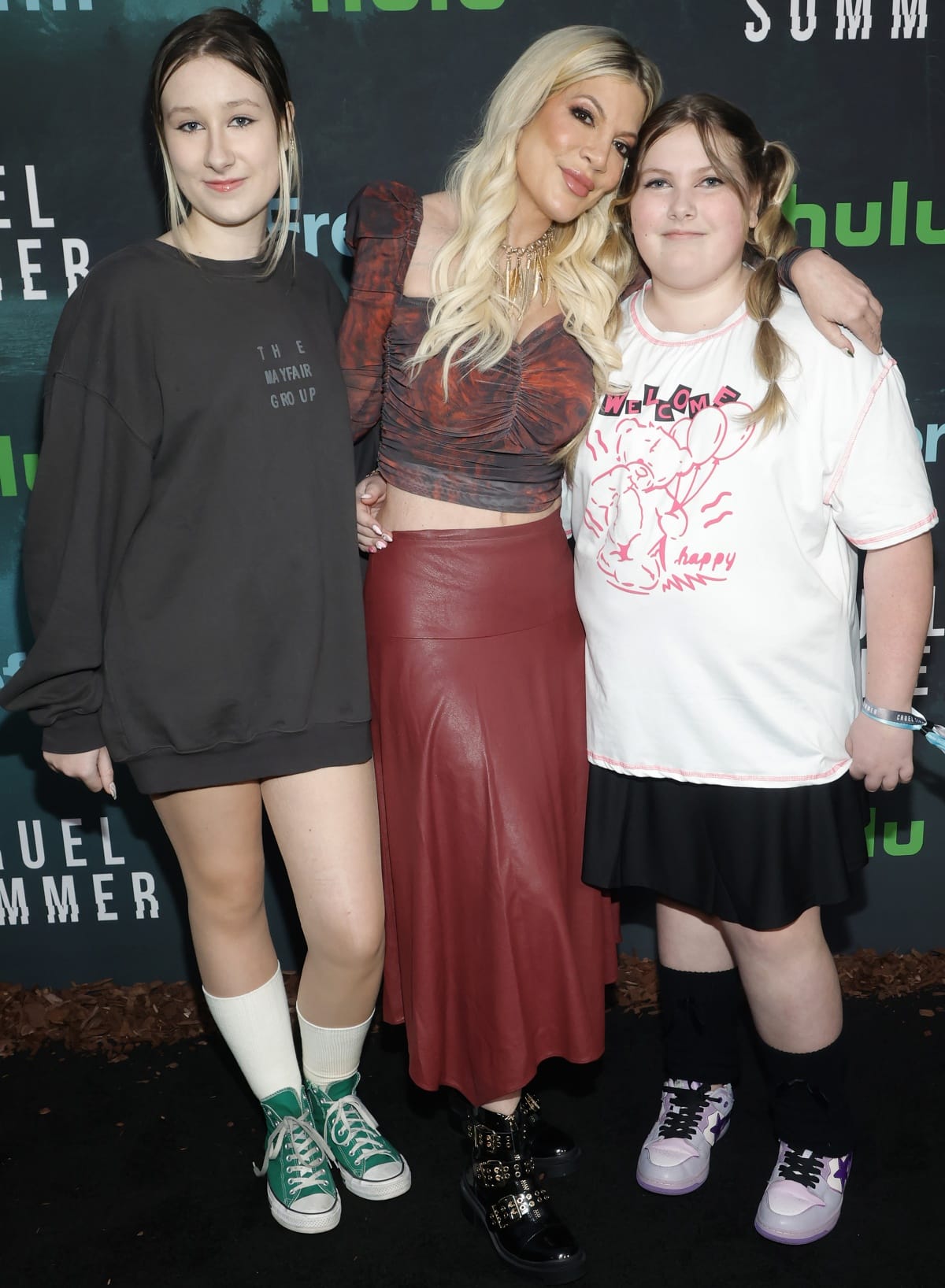 Stella McDermott, Tori Spelling, and Hattie McDermott spending a girls' night out at the premiere of Cruel Summer Season 2 held at Grace E. Simons Lodge in Los Angeles, California on May 31, 2023 (Credit: Faye's Vision / Cover Images)
Are Dean McDermott and Tori Spelling together?
Tori Spelling and Dean McDermott are actively striving to maintain their marriage. The seasoned couple, having always weathered the ups and downs that come their way, remains committed to fostering a healthy relationship.
Embracing marriage counseling as an integral strategy for reconciliation, the couple appears to be progressing. Parents to Liam, 16, Stella, 14, Hattie, 11, Finn, 10, and Beau, 6, the couple is focused on creating stability for their family. In addition, McDermott has a 24-year-old son, Jack, from a prior relationship.
Dean McDermott and Tori Spelling, who met in 2005 and married in 2006, have weathered various ups and downs in their relationship and have five children together: Liam, Stella, Hattie, Finn, and Beau; McDermott also has a son, Jack, from a previous relationship (Credit: DFree / Shutterstock)
Tori Spelling and Dean McDermott first met in July 2005 while filming the TV movie "Mind Over Murder" in Ottawa, Canada. At the time, both were married to other people: Spelling to playwright Charlie Shanian and McDermott to Mary Jo Eustace.
Spelling and McDermott immediately connected, and they began dating soon after meeting. They divorced their respective partners and got engaged in December 2005, just months after their first meeting. They were married on May 7, 2006, in a private ceremony in Fiji.
Tori Spelling wearing a red-and-black ensemble at the Los Angeles premiere of Cruel Summer Season 2 (Credit: Faye's Vision / Cover Images)
The Beverly Hills, 90210 alum wore a red-and-black cropped blouse, a red leather skirt, and black combat boots. She accessorized with a gold feathered necklace and styled her hair in loose blonde waves.
Her girls decided to keep it casual, with Stella opting for a black sweatshirt with mini shorts and green Converse high-top sneakers and Hattie wearing purple lace-up sneakers with a white graphic tee and a black skirt.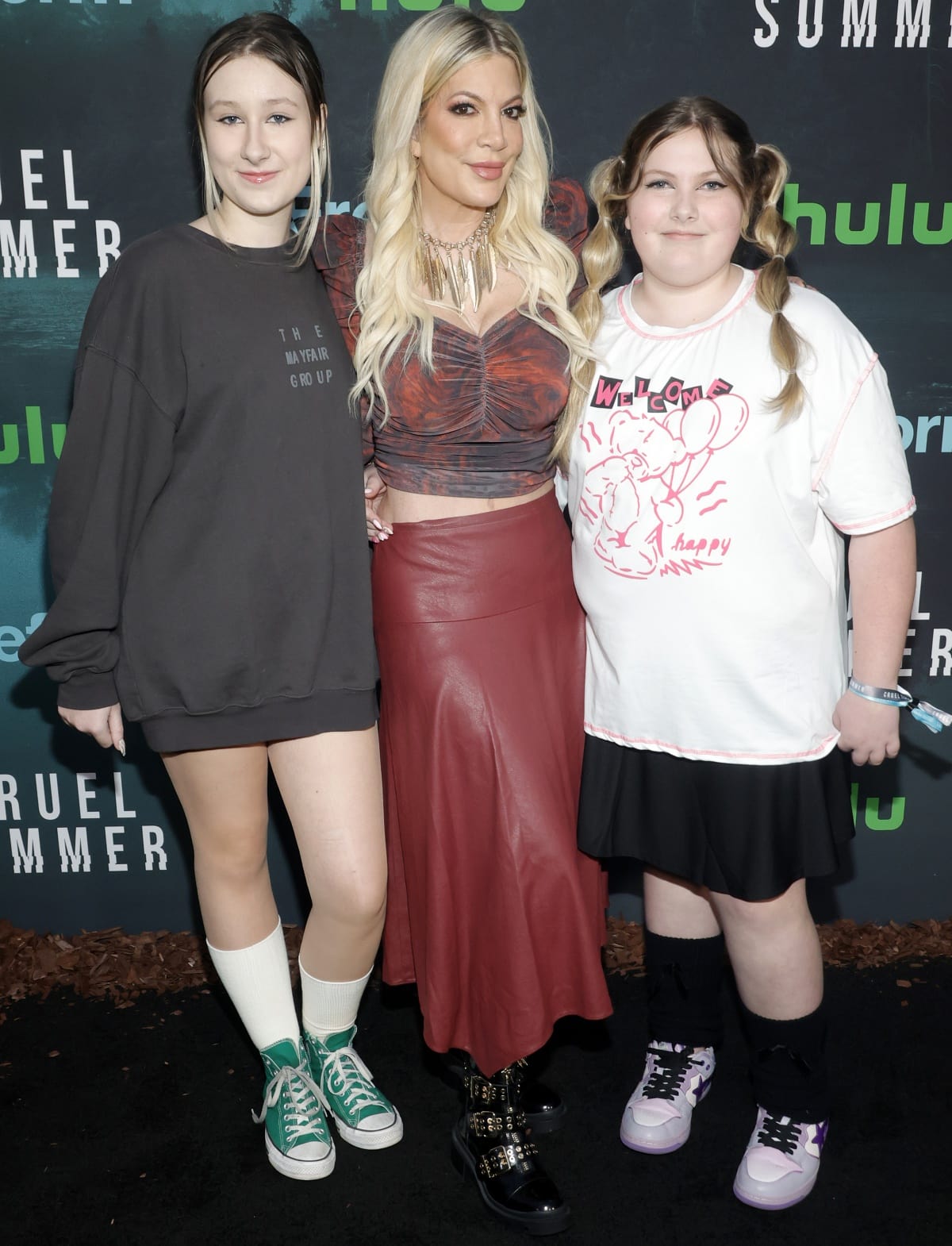 Stella and Hattie McDermott keeping it casual in a sweatshirt and graphic tee, respectively, with high socks and sneakers (Credit: Faye's Vision / Cover Images)
This event was a welcome respite for the Spelling family, who had been dealing with a series of health scares for months. Tori Spelling described the situation as a "continual spiral of sickness."
In addition to Stella, 14, and Hattie, 11, Tori Spelling shares sons Liam, 15, Finn, 10, and Beau, 6, with 55-year-old husband Dean McDermott.
View this post on Instagram
What happened to Tori Spelling's daughter?
In January 2023, the 50-year-old actress and author Tori Spelling shared an Instagram story of her 14-year-old daughter, Stella, lying in a hospital bed while hooked up to several wires.
In the caption, she wrote: "The hits just keep coming" with a crying emoji. She offered no other information about the illness or treatment in the post.
Spelling shared an update on her daughter's health the week after Stella's first hospital visit to reveal her scary diagnosis.
"At the ER, she was diagnosed with a Hemiplegic Migraine. It's a condition that affects one side of the body," she wrote in the caption of an Instagram story showing Stella resting with their dog.
A hemiplegic migraine is a rare type that causes paralysis on one side of the body. Stella's symptoms included numbness on her left side, difficulty speaking, and vision problems. She was treated with medication and released after a few days.
Tori Spelling at the Good Day New York studios wearing black platform shoes and a full-length coat with a checkerboard print in New York City on January 25, 2023 (Credit: Roger Wong / INSTARimages / Cover Images)
The month before, she posted an Instagram story of her son Beau and shared her frustration about her children's back-to-back illnesses.
In the caption, she wrote: "Poor guy was out 3 weeks sick from school. Finally got him well and back in school all last week and boom now sick again!"
She continued, "High fevers, [vomiting], and so stuffy. Parents, are you finding this to be true as well? That our kiddos are just getting sick again as soon as they get back to school? It's like groundhogs day…"
Tori Spelling wearing a pink ensemble with black ankle-strap sandals while out and about in New York City (Credit: Janet Mayer / Startraksphoto / Cover Images)
Tori Spelling also didn't escape the "continual spiral of sickness" as she suffered a health scare just three weeks before Stella's hospital visit.
She posted a selfie on her Instagram story informing her followers that she was admitted to the hospital after experiencing dizziness and difficulty breathing.
Spelling also revealed that her symptoms were "hard time breathing, high blood pressure and crazy dizziness. She said that doctors were "running a battery of tests" to find out what caused her unexpected health trouble.
Tori Spelling in a brown leather dress arriving at Good Morning America studios in New York City on October 6, 2022 (Credit: Roger Wong / INSTARimages / Cover Images)
The most recent health scare occurred earlier this month when Spelling shared on Instagram that her youngest children, Finn and Beau, were taken to urgent care after they unexpectedly fell ill.
As it turns out, the back-to-back illnesses were caused by a serious mold infestation in their house.
View this post on Instagram
"Our family needs help," Spelling wrote on her Instagram story, asking her followers to help her find a "major great MOLD lawyer."
She added, "Our troubles are next-level with our MOLD problem and the house that's been slowly killing us for three years."
ET reported that Spelling's family finally "moved out of the property and into another rental after the mold was confirmed to be a health hazard."
Here's hoping that their house issues will be dealt with immediately and that the entire family's health gets better soon.